A near-capacity crowd gathered on a stormy Wednesday afternoon in August for a pretty entertaining hockey game. But rather than the thrilling 3-2 shootout victory for the Russian junior team over the Canadian junior team, the big story of the night was a skirmish in the handshake line following the contest.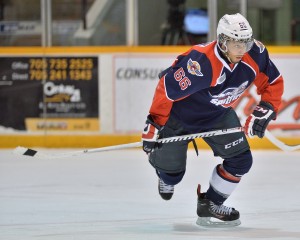 The apparent trigger for the skirmish was a post-goal celebration by Russian forward Marat Khayrullin, who emphasized the Russian crest on his jersey following his game-winning shootout goal. Words were exchanged between the teams during the post-game handshakes and, following some shoving, the two teams were separated by the officials. The Russian team left the ice to a chorus of boos from the partisan crowd at the Markin MacPhail Centre in Calgary.
It's a bit of a shame, as the shenanigans overshadowed a pretty excellent hockey game. Alexander Mikulovich and Alexander Protapovich scored for Russia, which really carried the play through the first period as the Canadians stood back and let them dictate the pace. The Canadians pushed back later on and tied the game up twice. Following Mikulovich's opening goal, Spencer Watson tied the game off a great feed from Joshua Ho-Sang. Travis Dermott scored on the power-play to tie the game mid-way through the second, sneaking in from the point to deposit a rebound from a Ho-Sang shot.
Russian goaltender Alexander Georgiev made 23 saves and stopped all three shootout attempts for the win. Samuel  Montembeault made 18 saves and stopped two of three shootout attempts for the loss.
Ho-Sang was by far the best player on either team. He was dangerous every time he had the puck in the offensive zone, and he displayed tenacity and a lot of patience. Noah Juulsen, Travis Konecny and Connor Bleackley also stood out for Canada. After not being noticeable in the first game against Canada, Denis Guryanov and Evgeni Svechnikov were two of Russia's best players, particularly in the third period.
Canada closes out their national junior program's summer development camp on Thursday night with a game against the Czech Republic.