Two teams from the same Canadian province. A storied rivalry, both with passionate fanbases, and past championship glory. Both cities are hockey-mad, hungry for a winner and faithful to the end. Both teams have seen little success over the last few seasons, and while they both appear to be in a re-build, it feels like they're moving in different directions.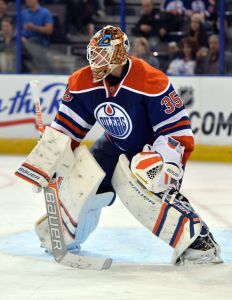 The Oilers Have the High Picks
For the Edmonton Oilers, years of futility landed them with three consecutive first overall picks. But at times that good fortune has felt like a curse rather than a blessing. With high picks come high expectations, that which the Oilers have failed miserably to live up to. They come with questions such as, when are the Oilers going to be good? How can they possibly be this bad? Are they overrated? When can we start labeling these players draft busts?
But before we start writing them off, a few things need to be considered. The management of this team has been baffling as it is frustrating. The personal decisions, trades and signings have garnered more criticism than results. After all, a goalie tandem of Ben Scrivens and Viktor Fasth is expected to compensate for the porous defensive play. Leon Draisaitl's development has been pushed up because there's no one else to play center. In other words, the expectations heaped on this team are unfair to a point. There is no timetable on development, no matter how high a draft position. There are also no guarantees in this sport, as hope often exceeds reality.
But why is that the Oilers seem to take all the heat while the Flames are lauded as a great young team on the rise? Do the draft picks really alter our perceptions that much? Is it because the Oilers have been re-building for longer? Did the Flames do a better job of tearing things down and starting over?
Can the Flames Sustain their Recent Success?
One thing is for sure, that unlike the Oilers, the Calgary Flames aren't expected to be good yet. They were expected to struggle. They aren't far enough along in the development process to be considered actual playoff contenders. Maybe the fans are getting anxious, but the rest of hockey world certainly seems to have a special amount of patience for this group. The Flames are becoming that team that you can't help for root for, while the Oilers are seen more as disappointments and sources of frustration.
Maybe the Flames don't have all the perceived young studs that the Oilers supposedly have. Maybe Calgary's young players don't have as much potential, therefore need more time to grow. Maybe they will always be a blue-collar team, lacking all the flashy skill that we are expecting out of Edmonton. But these Flames are as hardworking as they are underrated. Sean Monahan looks like a beast. Johnny Gaudreau is loaded with skill. TJ Brodie and Lance Bouma have been unexpected surprises. Captain Mark Giordano looks like a Norris candidate.
The Flames have started the season 11-6-2, good for fifth place in the Western Conference. 19 games in the season, not many would have expected to see them there. Calgary's schedule is getting tougher, and thus no one is expecting them to sustain these results. The funny thing is that it seems to be acceptable. They almost feel like last year's Colorado Avalanche, ahead of their time, not expected to really continue all the winning, but let's enjoy the ride.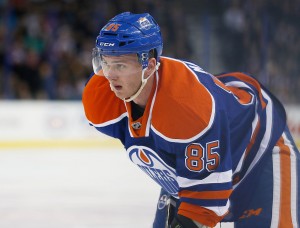 Which Team would you Rather Cheer for?
Other than residing in Alberta, and starving for playoff hockey, these two teams could not be more different. The Flames goalie tandem of Jonas Hiller and Karri Ramo seem to head and shoulders above the Oilers netminders. Bob Hartley seems to be getting more out of his group than Dallas Eakins has. The question is, which young group would you rather have? Do you love the idea of having Monahan, Gaudreau, Sven Baertschi, Giordano, Brodie, Sam Bennett, and Mikael Backlund as your core? Or do you prefer the group of Taylor Hall, Ryan Nugent-Hopkins, Jordan Eberle, Nail Yakupov, Justin Schultz, Draisaitl and Darnell Nurse? Is it too soon to compare? Should we wait a few more years before determining which players are truly better?
But at this point in time, a fan, which team would you rather cheer for? Which team appears to have more promise? Or the biggest question, who will make the playoffs first?