With no games to report on from last night, we have a potpourri of news items from around the world of hockey.  Lawsuits, mysterious ailments and individual accomplishments are making the headlines today.
Powers settles suit, receives apology
Former National Hockey League referee Eddie Powers has settled his slander lawsuit against the Montreal Canadiens and their coach Toe Blake.  Powers settled for an undisclosed sum of money, as well as a full retraction and apology by the Canadiens and Mr. Blake.  The parties arrived at the settlement just before the matter was to go to trial in Ontario Supreme court and was announced by Powers' lawyer, A.M. Austin.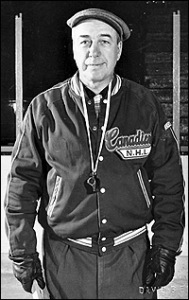 The suit stemmed from an incident that took place in February, 1963 when Blake was quoted in the French-language newspaper Montreal Matin.  Blake made a  statement   about Powers' officiating in a game in which the Toronto Maple Leafs defeated the Canadiens 6-3.  The statement was broadcast across Canada.
Austin told Mr. Justice Edson L. Haines that Mr. Blake apologizes for his remarks and retracts any suggestions he may have made about Powers' integrity.  Austin went on to say that Mr. Blake admits that his remarks were inspired entirely by his anger at losing a hockey game in which Powers was the referee.
Newspaper reporter, editor apologize as well
Austin also said that the reporter and the editor for the newspaper who quoted Blake and published the statement also apologized to Powers.  They admitted the statement was without foundation and regretted its consequences.
Powers later resigned as an NHL official after president Clarence Campbell fined Blake a total of $200 for his remarks.  Powers felt the amount of the fine was insufficient and quit, citing a lack of support by the league for its official.
While Powers was in the court room at the time of the announcement, Blake did not attend because his plane was grounded in fog-bound Rochester, NY.  Other Canadiens officials were in the room.
Campbell: "No chance whatsoever"
Campbell was asked if Powers might be re-appointed to the league's officiating staff.  His reply was "no chance whatsoever." He was asked if he would want Powers back with the league and he said, "Definitely not."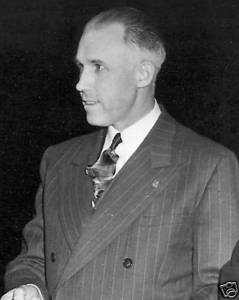 Powers said that the NHL governors "have agreed to meet with me within 30 days."  This gave rise to speculation that Powers would be back working NHL games.
Campbell commented about the meeting: "Powers apparently wants a chance to say something to the governors and I said I would try to arrange a meeting.  There is certainly no guarantee that anyone will listen, and absolutely no chance whatsoever he will return to the refereeing staff."
Big M still out, Leafs mum
The Toronto Maple Leafs have said that Frank Mahovlich will be out of the lineup for the rest of this week and possibly for an upcoming 3-game road trip.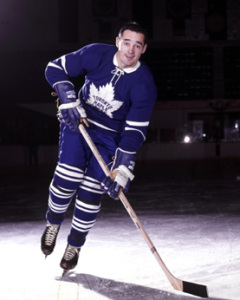 The Leafs refused to elaborate on Mahovlich's condition or the cause of the fatigue that caused the superstar left winger to enter Toronto General Hospital.  When asked if the cause had been determined, Leafs general manager-coach Punch Imlach refused comment:
"No announcement is forthcoming on Mahovlich other than that he will miss tomorrow night and also the weekend games.  It had been reported we would have a statement regarding his condition Monday or Tuesday.  This is impossible and I can't say when we will have anything definite."
Toronto will be at home to Montreal tomorrow night and both teams have key players on the shelf.  Aside from Mahovlich, Allan Stanley, Dave Keon and Ron Stewart are all doubtful starters.  Henri Richard and Jacques Laperriere are definitely out for Canadiens, with Jean Beliveau in the doubtful category with a groin injury.
Mikita, Hull 1-2 in scoring race
Stan Mikita of the Chicago Black Hawks continues to lead the NHL scoring derby, now by a single point over team mate Bobby Hull.  Mikita has scored five goals, adding 12 assists for a total of 17 points.  Hull has scored 11 times, by far most in the league.  He has added five assists for a total of 16 points.  Claude Provost, long considered one of the best defensive players in the game, is surprisingly sitting in third place with 14 points, based on his seven goals and a like number of assists.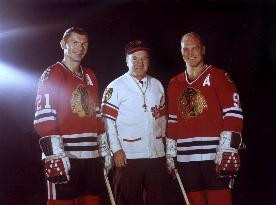 In the race for the Vezina Trophy, awarded to the league's top goaltender, Montreal's Charlie Hodge has pulled even with Detroit's rookie sensation Roger Crozier.  Each sports a goals-against average of 2.00.  New York Rangers combination of Marcel Paille and Jacques Plante sit third with 2.29.
Mikita, not satisfied with leading the NHL in points, is also its most penalized player with 46 minutes.
Wings recall two
The Detroit Red Wings have recalled two players from their Pittsburgh Hornets AHL club for two games only this week.  Forwards Ted Hampson and Claude Laforge will play tonight against the New York Rangers and tomorrow evening versus Chicago.
NHL rookie crop tops
With the NHL season now into its second month, this year's bumper crop of rookies gives every indication it will be a horse race to determine who will win the Calder Trophy for best freshman this season.  Every team has at least one solid first-year player making his mark.  Here's a look at each team's rookies:
Boston: The Bruins have only one rookie in the lineup on a regular basis this season and he is Ron Schock, 20.  He comes to the Bruins directly from the Niagara Falls Flyers of the OHA.
Chicago:  The Black Hawks are employing five first-year men.  Phil Esposito looks like he could develop into a front-line centre, and winger Doug Robinson is getting a regular turn as well.  John Brenneman, Dennis Hull and Freddie Stanfield, all graduates of the St. Catharines Black Hawks, are with the team but seeing limited action so far this season.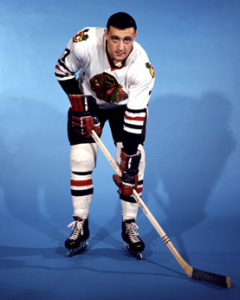 Detroit: Little Roger Crozier is the considered the league's top freshman at this point in the season.  The 22-year-old netminder has taken over the number one goaltending job with the Red Wings and is one of the main reasons Detroit is sitting atop the NHL standings.  At 5-8 and 160 pounds he was considered too small to be an impact goaltender, but Crozier is proving the skeptics wrong with his acrobatic, never-give-up style of puckstopping.
New York:  New general manager Emile Francis believes that his two rookie rearguards, Arnie Brown and Rod Seiling, should run one-two in the Calder Trophy race.  The pair were acquired last February from the Toronto Maple Leafs in the trade that saw Andy Bathgate and Don McKenney go to Toronto.   Both have stepped directly into the Ranger lineup and are taking a regular turn on defence.  Rangers have a couple of other first year players in Lou Angotti and Jim Mikol, young forwards who are playing regularly.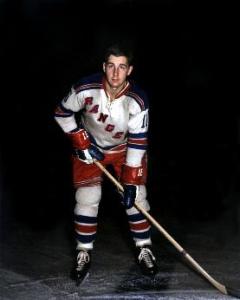 Montreal: Yvan Cournoyer and big Ted Harris are the rookies who have cracked the Canadiens' lineup this season.  Cournoyer is the heir-apparent to the right-wing slot formerly occupied by the now retired Bernie (Boom Boom) Geoffrion, while Harris has won a regular spot on the Montreal blue line with his bruising, take-no-prisoners style of play.
Toronto: The Leafs' prize rookie Ron Ellis has made the jump to the NHL directly from junior hockey.  He has scored six goals in his 14 games this year and has been responsible defensively as well.  Most observers have Ellis and Crozier as running neck and neck for rookie of the year honours.