Who are these guys? One night they are sluggish, lackadaisical, and just plain awful. A couple of nights later fresh, intense, and leaving it all on the ice. Who are these guys? They are the Carolina Hurricanes, and they went into Pittsburgh Friday night and took the game to the Metropolitan Division leading Penguins. They were rewarded for their efforts with a 4-2 victory. Yes, the same team that filled South Florida with the pungent aroma of rancid hockey, losing to the Florida Panthers 1-0, looked entirely different and actually won.
Who are these guys? First, Cam Ward
Reams have been written this season about Cam Ward. He has emerged as 'the stud" that Coach Bill Peters was seeking in the preseason. Alternating outings gave Ward and Anton Khudobin a chance to earn that gloss and the starting spot. Cam Ward played extremely well, and has continued to do so as the season has progressed. He is 'the stud' for this team. Saving 20 of 22 shots he faced from the Penguins, he kept the Hurricanes in the game throughout. If there are any doubts, watch him absolutely rob Penguins' Blake Comeau midway through the first period:
https://www.youtube.com/watch?v=LriZf4cDyeE
Cam Ward has been working extremely hard with Hurricanes' goalie coach David Marcoux, and it is paying off. His stick play thus far has been nothing short of outstanding. They have worked on his puck handling behind the net, and it is showing up in the confidence he exudes when sending the puck to his teammates. He has shown "old Cam" vision and confidence in between the pipes. For all of the up and down play the 'Canes have exhibited this season, one constant has been Cam Ward in-goal. His November speaks for itself:
Cam Ward's month of November:

*7-5 record
*save percentage of .929
*G.AA of 2.09
*1 shutout

…and a partridge in a pear tree

— 🔴⚪⚫Canes Stats⚫⚪🔴 (@CanesStats) November 29, 2014
I'm not sure about the partridge in a pear tree, but I am sure that Cam Ward is playing very well.
Who are these guys? Nathan Gerbe for sure
If you have been following my work, you know that I am a huge Nathan Gerbe fan. And Friday night, he did not disappoint. On the power play in the third period, he received a pass started by Victor Rask and then perfectly relayed to him by Elias Lindholm and launched a laser past Pens' goalie Marc-Andre Fleury. This was no small feat, as Pittsburgh was at the time third overall in penalty kill percentage in the NHL. Enjoy Gerbe's game winning goal:
It was Gerbe's third goal of the season and brings his point total to 9. Not stellar statistics, admittedly. There is not a stat line for hustle, but if there were, Gerbe would undoubtedly be a league-leader. I was talking with a Hurricanes fan last Sunday evening and the verdict was clear. No matter who else on the team is doing what, Nathan Gerbe is going to be giving 100% effort all the time. Saturday night was a perfect visual of Gerbe being where he needed to be to get the puck and score. To quote a fan from the Carolina Hurricanes' Facebook fan sight,
"Nathan Gerbe was the best player on the ice tonight."
Who are these guys? Let's not forget Jiri Tlusty
Jiri Tlusty had a great night. As the game recap shows he was named the game's first star. He put the Hurricanes out front early scoring on an assist from Jay McClement at 15:47. He also scored an empty-net goal at 19:47 on the 'Canes power play to seal the victory. He also had an assist on Patrick Dwyer's second period goal for a total of 3 points on the night.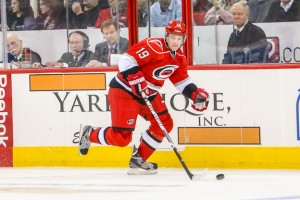 The 26-year old from the Czech Republic has 13 points on the season and is an invaluable asset to the team. His play has been consistent and he has earned every minute of ice time that he has seen. The implementing of Coach Peters' system has seemed to come easy to Tlusty, and he is helping those around him play better. Should he continue to do what he has been doing, the team should be better able to find a groove of better performance. But the question remains, "who are these guys?" Will they feed off of the consistency of Tlusty, or look more like they did in Florida?
Can the 'Canes do it again Saturday night?
The Pens will skate into Raleigh's PNC Arena Saturday night, for the second game of this home and home tilt with the 'Canes. This tweet expresses the sentiment nicely:
Very surprised that the @NHLCanes managed to beat the penguins tonight. Now if they can just keep that up…

— yung tostaguac (@tostaguaccc) November 29, 2014
Can the Hurricanes keep it up? A win Saturday night would be a sweet end to a November that started strong, was not very consistent in the middle, and had the potential after the Florida outing to wind up horribly. Friday night's win left me and other asking, "Who are these guys?" Perhaps Saturday night will answer that query with a statement that says, "They are a decent team finding its way under a new coach."
Let's hope their play doesn't elicit a different, less positive response. And let's hope that the "Caniacs" show up, and get over being frustrated fans. The team could definitely use a huge dose of positive energy from their fans as they try to knock off the Penguins on a second consecutive night.
Oh, and by the way
The empty-net goal that Jiri Tlusty scored was on a power play in the final seconds of regulation. This is normally not a big deal, except that the penalized Penguin was none other than Sidney Crosby. The NHL's current most valuable player was called for misconduct and received a ten-minute penalty.
While at first called a collision by the Hurricanes' television color analyst, Tripp Tracy, further review called into question whether or not it was intentional on the part of Crosby:
#GottaSeeIt: Was it intentional? Sidney Crosby's shoulder connects with Riley Nash's head http://t.co/gJihYUDnKS

— Sportsnet (@Sportsnet) November 29, 2014
You can watch and come to your own conclusions. There are varying reactions:
Try celebrating your own team instead of whining/talking about Sidney Crosby. It's really simple.

— Esbee (@Esbee92) November 29, 2014
So, #87 with a nut shot to @JustinFaulk27 and a stick to the face to @rileynash20? Never expected that from him.

— CaryAnn (@ivyleager) November 29, 2014
As I am writing, the Hurricanes have not given an update as to Riley Nash's status. He was bleeding on the ice either from a collision, or possibly an intentional elbow to the face from Crosby. We all hope that he is okay, and that he will be on the ice Saturday night in Raleigh. I wonder if the 'Canes will be particularly "close" to Sid the kid, or if the team feels that it was simply an unfortunate incident. We will see.
Mark lives in the Raleigh, NC area and covers the Carolina Hurricanes.