With the Toronto Maple Leafs supposedly on the verge of a complete overhaul, the Trade Deadline should be an interesting one for Leafs fans.
They've already made some significant moves in the last couple of weeks, proving their word is good with regards to a looming rebuild.
With the Trade Deadline just two days away, will the Leafs continue to tear apart their roster in hopes of a top three pick, and more importantly, better odds to win the draft lottery? Will they be able to deal away their core players and go for as few wins as possible in the last 20 games? Time will tell.
Leafs Trades So Far
In the past two weeks, the Leafs have made three significant trades to not only get what they can for their pending free agents, but also to free up cap space and let go of the players not in their future core. Let's take a look at those three trades.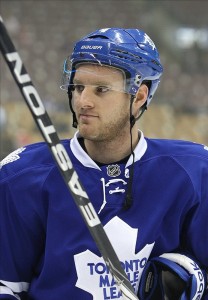 Toronto trades Cody Franson and Mike Santorelli to Nashville for Olli Jokinen, Brendan Leipsic and a 2015 1st round pick.
The Leafs let go of two pending UFA's for a 25th to 30th overall pick in this year's draft, another trade deadline asset, and a former 2012 3rd round pick.
Franson was arguably the Leafs best defenceman, but his expiring contract made him both expendable and extremely valuable. In the end, the 2015 1st round pick was acquired for him. Santorelli was an effective third liner in Toronto keeping over a 0.50 points per game in the blue and white. Taking on Jokinen's contract, who should hopefully be dealt for a 5th or 6th round pick, was a need for Nashville. Leipsic was the 89th overall pick in 2012 and led the WHL in scoring in 2012-13 with 120 points. He's a small scrappy forward who can provide offence, with 38 points in 51 games in his rookie AHL season.
Toronto trades Daniel Winnik to Pittsburgh for Zach Sill, a 2015 4th and a 2016 2nd round pick.
The Leafs trade another pending UFA for a role player, a below average draft pick this year and a solid pick in next year's draft.
Dan Winnik did everything the Leafs asked him to in his one year stint. He played his third line role, killed penalties, and took his face-offs. He will join his sixth career NHL team for his best shot at a Stanley Cup in his career. The Leafs get back a player with 3 points in 63 career games who is very doubtful to be apart of their future. The hope is they will strike an NHL player with one of their acquired picks.
Toronto trades David Clarkson to Columbus for Nathan Horton.
The Leafs trade the untradable player for a player who will likely never play again.
David Clarkson was paid a ludicrous amount to come to Toronto and both the Leafs organization and their fans expected way too much. Clarkson became a solid goal scoring grinder in New Jersey. Then, the Leafs wanted him to be a sniper. That didn't work out. This is basically a way of buying out Clarkson, as Horton is unlikely to ever play again, so Toronto can spend use his cap space as he will be on the LTIR.
Who Else Needs To Go Right Now?
Phil Kessel- 
Kessel cost the Leafs big time when they acquired him from Boston and he hasn't exactly been able to bring the Leafs to success the way some thought we would. Although he has definitely had his share of individual success in Toronto, that's about the only type of success he's brought. He's grown a terrible rep through the Leafs media and even earned the nickname "Coach Killer" after Carlyle was fired.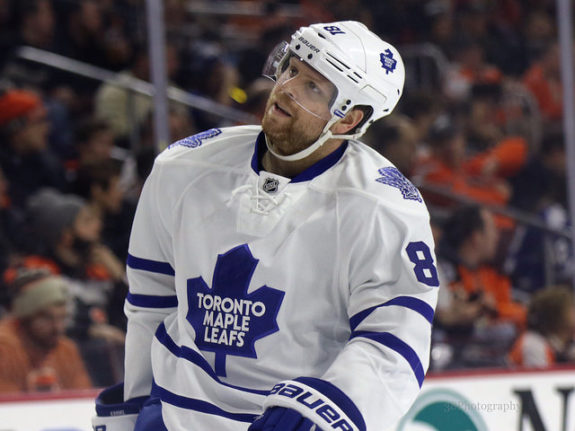 Still, there aren't many natural goal scorers in the league and Kessel, at 27 years old, has scored 30 goals in every season with Toronto (2012-13 pro rated). With his reputation and contract, he would be a tough sell, but there's no doubt plenty of teams would be interested. For that reason, a trade may not be imminent, but if not by the Trade Deadline, he must be gone before next October.
Dion Phaneuf- 
With the Leafs on the brink of scrapping their core, it would begin with both Kessel and Phaneuf. The Leafs captain has been great on the back end since being acquired from Calgary. To this day, Toronto would be considered the winners of that trade, but it hasn't resulted in much team success. Phaneuf hasn't turned into what fans expected offensively, especially after beginning his career with a 20 goal season.
Like Kessel, the Toronto media has portrayed Phaneuf to be a much worse player than he truly is. But, in some ways, they're right. On a brutal possession team, Phaneuf ranks dead last on the team in SAT (Shot Attempt Differential) with a -172 rating. Again, like Kessel, a big contract makes him difficult to move. Phaneuf is in the first year of a 7 year deal worth $49 million contract. He must go before the rebuild can begin.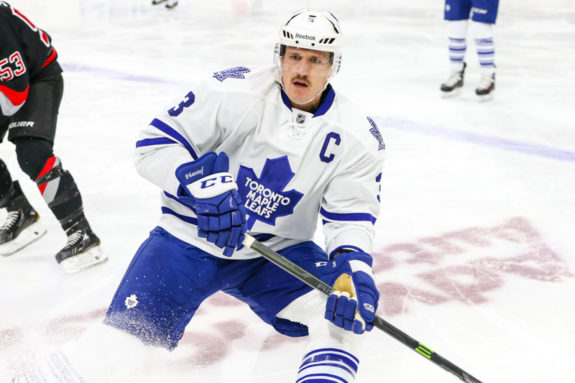 Roman Polak- 
A much smaller name in comparison to Phaneuf and Kessel, Polak was also acquired by the Leafs in a trade. Although Polak hasn't been horrible in his first year in the blue and white, he is most certainly not in the teams future plans. Ranking second last on the team only to Phaneuf, Polak has a miserable -169 SAT.
At a still fairly young 28 years old, Polak just doesn't have the mobility or puck moving skills that the Leafs are looking to implement into their new style of play. Polak has just one year remaining at a cap hit of $2.75 million, a very reasonable number for the defender. Multiple teams would be interested and the Leafs could likely acquire a decent prospect and a 3rd round pick for the Czech Republic native.
Who else do the Leafs need to trade right now? Let us know in the comments!
Contributor for the Toronto Maple Leafs and Prospects. Scout with the Oakville Blades of the OJHL. For questions, concerns, or comments, contact me at devinslawson123@hotmail.com or on twitter @SlawsonTHW.