The New Jersey Devils and the Florida Panthers are returning to the playoffs after varying periods of absence. New Jersey missed the postseason in 2011 after making it for 13 seasons in a row, while the Panthers have not been in the playoffs since 2000.
Florida comes into this Eastern Conference Quarterfinals series as the third seed with a record of 38-26-18 for 94 points, and New Jersey is the sixth seed with a record of 48-28-6 for 102 points.
It's time to break down this matchup and see who has the edge in each major category.
Regular Season Series
Before we get into the playoff breakdown, let's review the regular season meetings between these two teams:
Nov. 21, 2011: Panthers 4-Devils 3
Dec. 13, 2011: Devils 3-Panthers 2 (shootout)
Jan. 6, 2012: Devils 5-Panthers 2
Feb. 11, 2012: Panthers 3-Devils 1
Season series tied at two games apiece.
Offense
The Devils are ranked 15th in the NHL with 2.63 goals scored per game. However, despite the fact that they are in the middle of the pack, seven players have at least 40 points, and three have scored 30 goals or more.
Ilya Kovalchuk leads New Jersey with 83 points, which is good for fifth in the NHL. He is also sixth with 37 goals (first on the Devils). Zach Parise is second with 31 goals and third with 69 points, while David Clarkson posted the first 30-goal season of his career.
Patrik Elias is the Devils' second-leading scorer with 78 points.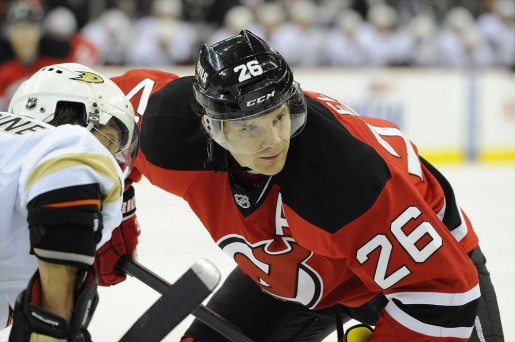 The Panthers are 27th in the league with 2.40 goals scored per game, the second-lowest of all playoff squads (only the Los Angeles Kings are ranked lower). They have no 30-goal scorers, but boast three 20-goal scorers. Tomas Fleischmann leads the team with 27 goals and 61 points.
Four players have at least 50 points, bringing their total of 30-point players to six. Stephen Weiss is second on the Panthers with 57 points, and Kris Versteeg is behind Fleischmann with 23 goals.
Edge: Devils, as they have a wider range of pure goal scorers and NHL leaders
Defense
New Jersey ranks 10th in the league with 2.50 goals surrendered per game. Their defense is led by Adam Larsson, who has 18 points, and Bryce Salvador, who is first on the team with a plus-18 rating. Twelve players boast positive plus/minus ratings, but New Jersey is 17th in the NHL with a team plus/minus rating of minus-eight.
Florida sits 12th with 2.63 goals surrendered per game. It has a dismal team plus/minus rating of minus-23 (23rd), and 10 players have positive plus/minus ratings. Jason Garrison leads that category with a plus-six.
Brian Campbell is Florida's best offensive defenseman, leading all Panthers blueliners with 53 points. Two other defensemen, Garrison and Dmitry Kulikov, have at least 20 points, with Garrison posting 33 points and Kulikov with 28.
Edge: Panthers have more offensive production from their defensemen, but the Devils have a stronger all-around defensive game. New Jersey gets a slight edge.
Goaltending
As everyone knows, New Jersey has one of the best, if not the best netminder of this generation in Martin Brodeur. Brodeur has won three Stanley Cups and set numerous Devils and NHL records over his career. He is in the twilight of his career, but he can still put up solid numbers, finishing the 2011-12 season with a record of 31-21-4 to go with a .908 save percentage and 2.41 GAA, as well as three shutouts.
In the playoffs, he has a career record of 99-82 with 23 shutouts and has posted a .919 save percentage and 2.01 GAA.
Brodeur is backed up by veteran Johan Hedberg. This year, Hedberg went 17-17-2 with a .918 save percentage and a 2.23 GAA (eighth in the NHL). He has a playoff record of 10-12 with two shutouts to accompany a .914 save percentage and 2.33 GAA.
In Florida, Jose Theodore has served as the Panthers starting goalie this season. He posted a 22-16-11 mark with three shutouts as well as a .917 save percentage and a 2.46 GAA. However, he has struggled in the playoffs, as his record is 19-28 with a .911 save percentage and 2.82 GAA.
Scott Clemmensen serves as Theodore's backup and finished the year with a 14-6-6 record, posting a .913 save percentage and 2.57 GAA. However, he has no playoff experience, playing just seven minutes of one game with the Devils in the 2006 postseason.
Edge: New Jersey. Brodeur may be old, but his skill and experience should not be overlooked in the postseason.
Special Teams
The Devils power play is 14th in the NHL with a 17.2 percent success rate. Kovalchuk leads New Jersey with 10 power-play goals, and Elias and Clarkson are tied for second with eight power-play goals.
Florida's power play comes in seventh at 18.5 percent. Garrison had nine-power play goals this year, more than half of his 16 goals, and Versteeg comes in second with eight.
On the penalty kill, the Devils' unit is tops in the league at 89.6 percent. Rookie Adam Henrique led New Jersey with four shorthanded goals, while Kovalchuk, Parise and Dainius Zubrus tied for second with three.
The Panthers penalty kill is in 25th with a weak 79.5 percent success rate. Four players (Weiss, Versteeg, Sean Bergenheim and Jack Skille) have each scored a shorthanded goal.
Edge: Pretty even, as each team has one weaker special teams unit, but New Jersey's slightly better power-play production is good for an advantage.
Coaching
Peter DeBoer is in his first year as New Jersey's head coach, but he has never led an NHL team to playoff success. Prior to coming to the Devils, he spent three years with the Panthers, and Florida finished last in the Southeast Division in both 2010 and 2011. His last real taste of coaching success came in junior hockey.
Kevin Dineen is in his first year as the Panthers coach. Prior to coming to Florida, he led the Portland Pirates of the AHL to the playoffs every year but once, and the Pirates were two-time Eastern Conference finalists. The fact that he led the Panthers to the playoffs in his first year in charge speaks volumes of his caliber and has put him in serious contention for the Jack Adams Trophy.
Edge: Florida. Dineen may not have led the Panthers to a playoff series win yet, but his success in Portland shows he is capable of doing so now or in the future.
Analysis and Prediction
The Panthers should be taken seriously, as they earned a high seed in a competitive conference and boast Stanley Cup winners from the 2010 Chicago Blackhawks, as well as another Cup-winning veteran in Mikael Samuelsson. They also have a coach who is one of the NHL's up-and-coming bench bosses.
However, the Devils have the more complete team, so their lower seed should not fool anyone. Martin Brodeur has done this several times over, while Ilya Kovalchuk will be out to prove he can find posteason success. Adam Henrique and Adam Larsson are two of the league's best young players, and they only compliment experienced players such as Zach Parise and Anton Volchenkov.
Florida deserves credit for finally breaking into the postseason picture, but not much will come of their first trip to the playoffs in over 10 years.
Devils in five