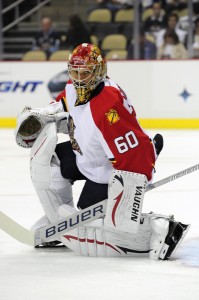 There was a three week stretch in mid-March where Jose Theodore was the best goalie in hockey. Between March 9th and March 29th, Theodore gave up 3 goals just once in regulation through a 9 game streak. He, and the Panthers as a team, surrendered just 16 goals in those 9 games. But then something funny happened. As Florida was trying to seal its first division title in team history, Theodore fell off the wagon. Sometime during the night of April 3rd, as Florida held a 3-0 lead over Winnipeg, Theodore lost his way. 5 goals later, Florida was still waiting to clinch the title. Head coach Kevin Dineen stuck with Theo in the next game, hoping he could regain some of that magic that led the team through late March. No such luck, as the Washington Capitals scored four times and forced the division to be decided on the season's final day.
With the 3rd seed on the line, Theodore would be benched in favor of backup Scott Clemmensen. Clemmensen has been more than adequate as the 2nd stringer, posting a 14-6-6 record with 25 starts this season. In that division clinching game, Clemmensen was spectacular, stopping 34 of 35 shots as the Carolina Hurricanes tried in vain to ruin Florida's party.
Now, on the eve of Florida's first postseason game in over a decade, the Panthers have yet to announce their game 1 starter. This is nothing new for Dineen, however, as he's often times waited until game time to reveal his decision. Having two goaltenders you can rely on is certainly a dilemma worth having, but a week ago, there would have been no doubt that Theodore would be in net when Florida hit the ice in game 1. But of the 9 goals he gave up in his final 2 games, more than a few of them could be considered soft. And when Clemmensen answered the bell when his team needed a win to earn that 3rd seed and home ice, it created a bit of uncertainty moving forward.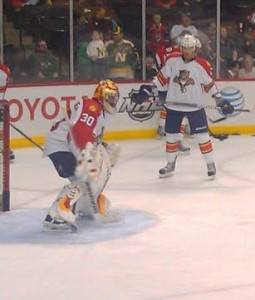 Looking at the two candidates playoff records doesn't exactly clear up the problem either. Theodore has plenty of postseason experience, participating in 51 playoff games. His record, however, is far from reassuring, winning just 19 times while losing 28. Theo's last two trips to the postseason were with Washington in 2009 and 2010. In 2009, Theodore was benched after game 1 after allowing 4 goals on just 21 shots. In 2010, Theo appeared in just 2 games of a 7 game series with Montreal, which the Canadiens won despite Washington being the top seed in the east.
But if you were to look for Clemmensen's playoff numbers for comparison, you wouldn't be able to, because the Des Moines, Iowa native has appeared in just one single playoff game, that coming in relief with the New Jersey Devils in 2006. He was able to stop all 3 shots he faced in his 7 minutes of playoff hockey, though.
So where does Dineen go? Should he stick with the man who was his number one all season? It's not like Theodore had a bad year. His 2.46 GAA places him 20th in the league, not bad but not great. A .917 save percentage, again, places him right in the middle of the pack, tied for 16th. But Clemmensen has very similar numbers, and the Panthers earned points in 20 of the 26 games Clemmensen was the goalie of record. Plus Clemmensen was clearly the most confident looking of the two in the season's final pressure filled week.
With the Panthers opening round series with the Devils not starting until Friday night, Kevin Dineen will have had nearly a week to watch his goaltenders in practice, judge their psyche, conduct some sort of Herb Brooks-on-Jim Craig tests, or come to a conclusion in whichever manner he deems fit. Whether he's known all week, or all season which man he's going with, or whether he decides in the hours leading up to game 1, we'll probably never know. But what's a postseason without a good ol' fashioned goalie controversy?