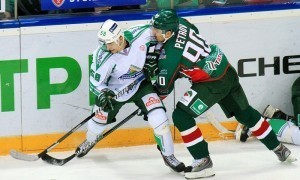 On Wednesday, May 27th, the Edmonton Oilers agreed to a three-year, entry-level contract with Russian forward Anton Slepyshev.
Originally a third-round selection of the Oilers, 88th overall, in the 2013 NHL Entry Draft, Slepyshev has spent the past four years of his career in the KHL, most recently with Ufa Salavat Yulayev. It was with Ufa Salavat Yulayev this past season where Anton enjoyed a breakout year, scoring 15 goals in 58 games, good for third best on the team.
A young 21-year old, Slepyshev has good size, standing in at 6 foot 2, 187 pounds. A right-handed shot who plays the left wing, he is a talented winger who loves to score goals and celebrates them emphatically, similar to countryman and teammate Nail Yakupov.
A Wealth of Experience
Despite his young age, Slepyshev has considerable experience, especially so on the international stage.
In 2013, he played for the Russia at the World Junior Hockey Championship, winning a bronze medal alongside Yakupov while registering one assist and a plus four rating. In 2014, Slepyshev once again represented his country at the WJHC, this time captaining Russia to yet another bronze medal over rival Canada for the second straight year.
More recently, Slepyshev and his team played in the Spengler Cup, reaching the finals before falling to eventual champion Geneve-Servette HC. However, Slepyshev was one of the tournament's top players, recording five points and was named a tournament all-star.
Big Man, Big Skill
Although Slepyshev is a big, solid player, he does retain a tremendous amount of skill with the puck. In fact, it is his high level of skill which made him the first-overall pick in the 2011 KHL Draft. Take a look at all of Slepyshev's goals from the 2014-15 KHL season:
Future Projection
In terms of Slepyshev's future, a realistic projection would be for him to one day become a top-nine NHL forward with tremendous offensive upside. Will he be the type of player who scores 30 or more goals? Not likely. However, an annual output of 20 goals or more per year could become a reality if Slepyshev is properly developed over multiple seasons at the AHL level.
Brett Slawson is a four-year veteran of The Hockey Writers who covers the Toronto Maple Leafs, NHL prospects, and the OHL's Mississauga Steelheads.
Contact Brett on Twitter @brettslawson92, or by email at brett_slawson@hotmail.com.