On Friday general manager Jason Botterill will undertake his first big challenge with the Sabres. He will submit his exposed list to the NHL. Of that list, the Las Vegas Golden Knights will select one player from Buffalo.
My colleague Brian Matthews gave his thoughts on who he would expose, check that out for some opinion on the trade options the Sabres could make.
Here is a full list of the squad I would protect and those I would expose split into six categories: excluded, definitely keep, on the fence, just miss out, not good enough and free agents.
Excluded From the Expansion Draft
Per the expansion rules, players have to have played more than two seasons in the NHL to be eligible for expansion. Luckily for the Sabres, that protects some of their best assets. Here is the full list.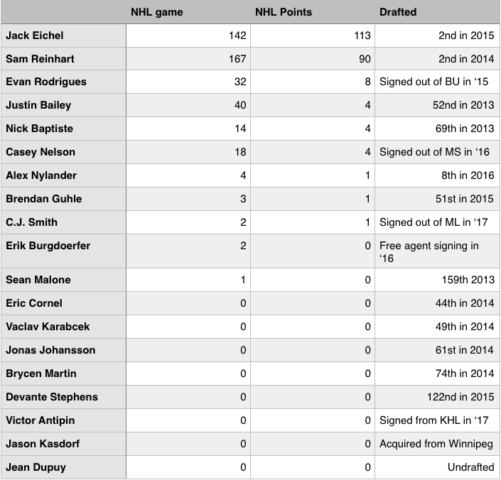 Freeing up what would have certainly been protected players Eichel, Reinhart and Nylander means that three more players can be protected by Botterill.
Integral to the Sabres
These are the players that are an integral part of the Sabres roster.
Kyle Okposo has a no-movement clause meaning he would have to waive it by Friday. Marc-Andre Fleury has agreed to waive his NMC for the Penguins and Dion Phaneuf has declined the Senators request to waive his. No such news out of Buffalo, Okposo will be protected, and honestly should be anyway.
Ryan O'Reilly has performed well in a bad team over the last two years. Botterill has already had his say on him saying "You look around the National Hockey League, people are craving for centermen like O'Reilly and Eichel," he said to AP. "And the fact that we have them here, it's a good feeling." Bet your house he stays.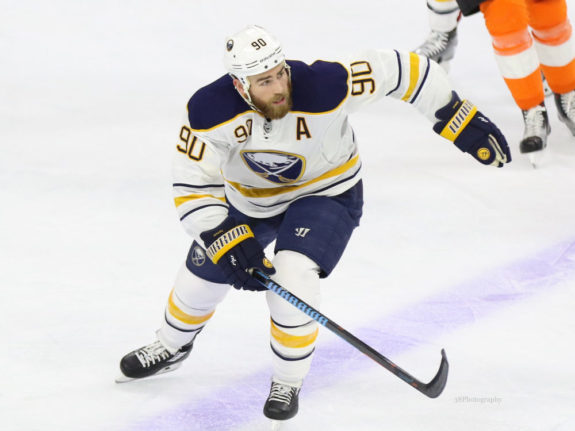 Evander Kane has put the off-ice issues behind this summer and is coming off of a 28-goal-season. With only one year left on his contract, few would say Kane is indispensable. But he is still too good to give up for free to the expansion draft.
Rasmus Ristolainen finished 15th in defenseman scoring in his fourth year in the NHL. He is a fan favorite around Key Bank Centre and has a fair amount of admiration around the league. His biggest detractors come from the analytics community. Dom Luszczyszyn's game score has Risto at 0.40 putting him in the 2nd pairing bracket. All considered he makes my list no problem.
Robin Lehner has still not won over the Sabres faithful, despite being arguably their best player last year. Tim Murray traded a first round pick for Lehner to be his starting goalie. In his first healthy season, he had a 0.920 save percentage despite taking on 1910 shots against. Only Cam Talbot and Frederik Andersen had more shots against last year and Lehner had a better save percentage than both. Lehner is an NHL starting goalie and makes my list for that reason.
Jake McCabe has grown into a solid NHL defenceman and they're not easy to come by. Similar to Kane, few would be picking up their pitchforks if McCabe was to leave but shows enough to build around. He improved his points total from 2015-16, scoring 20 points and put up a Corsi of 45.9 percent.
Just Make the Protected List
These are the players who just make the cut.
Marcus Foligno was a favorite of Bylsma having him predominantly play on a line with Jack Eichel. Despite playing with a centre who was almost a point-per-game, Foligno only had 23 points and 10 assists. He is probably more suited to a shutdown role but did enough to be protected.
Zemgus Girgensons had his worst season with only 16 points last year. Under Dan Bylsma, Girgensons was relegated to a mostly 4th line role and averaged 13:10 of ice time. A former first round pick he still has some potential maybe the new coach can finally unlock it.
Johan Larsson had his season cut short with an injury after briefly putting together a decent run. He scored 11 points in 36 games while playing on the shutdown line with Foligno and Brian Gionta. His 46.3% Corsi isn't terrible considering his zone starts were 64% in the d-zone.
Zach Bogosian was part of the Tyler Myers trade. When you see Bogosian play it seems at times he could be the next Brent Burns (see his OT winner below). The numbers are just not there: 2 goals and 9 assists in 56 games. Bogosian can count himself lucky the Sabres don't have a better defender to protect.
Will Carrier showed brief moments of improvement in his rookie season. Carrier shows a willingness to hit, finishing 18th in hits per 60 minutes in the NHL. His speed and skating ability is also not in question.
Just Miss Out
Botterill has to get this part right. Expose the wrong player and it could cost the team dearly. Expose the right player and it would save cap space and roster room.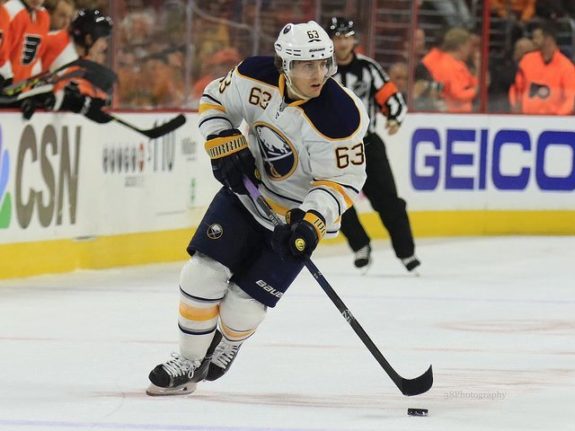 Tyler Ennis is only two seasons removed from back-to-back 20 goal campaigns. Why expose him to Vegas? Since then he has struggled with injury and consistency. Last year, playing with the top line, he had five goals and eight assists. Being patient with Girgensons and Carrier is one thing but being patient with a 27-year-old who earns $4.5 million for the next two seasons is another.
Justin Falk fitted in as a third-pairing defenceman. Unspectacular and solid Falk likely will be the 7th defenceman going into next season.
Linus Ullmark has some serious pedigree, young goalie of the year in both the Swedish development league and in the Swedish Elite League. That being said Ullmark isn't proven in the NHL yet. For better or worse Lehner is. I don't believe Vegas will take Ullmark anyway as they have their pick of a lot of good goalies, such as Philipp Grubauer and Marc-Andre Fleury.
Expose To Expansion
The less said the better about these players that the Sabres would much rather lose than the above players.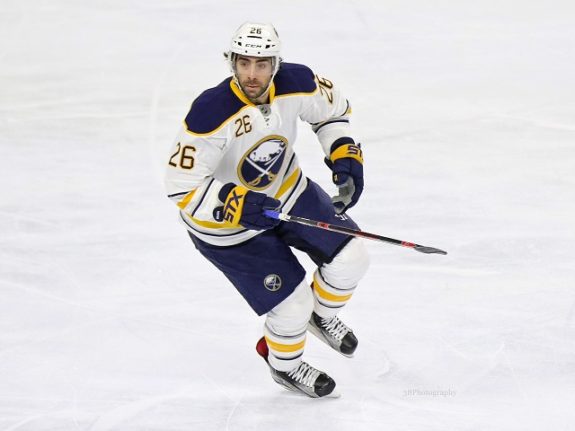 Matt Moulson had a weird year. According to the analytic community, he is far and away the best player available to the Golden Knights. His game score of 0.42 was double that of Foligno's and good for a 3rd liner average among the league. 14 goals 18 assists seems a decent haul but most of that came on the league's best power play. Only three of his 14 goals came at even strength. Not to mention his $5 million salary until 2019.
Nick Deslauriers similar to Carrier skates well, works hard and hits anything, not in blue and gold. Unlike Carrier though Deslauriers has little offensive potential. Like many fighters in the NHL Deslauriers' a dying breed, and probably won't peak Vegas' interest.
Josh Gorges was brought to Buffalo to toughen up the Sabres and make them an instant playoff team. He has had a steep drop in play last year and is surplus to requirements. A free agent next summer sooner or later we will see the last of Gorges in Buffalo.
Including the aforementioned, Rochester American players Cal O'Reilly, Justin Kea, Derek Grant, Cole Schneider, Mat Bodie, Taylor Fedun and Brady Austin would also be exposed.
Free Agents
Some of these players will be leaving Buffalo July 1st or possibly refuse to sign in Vegas, they will be exposed.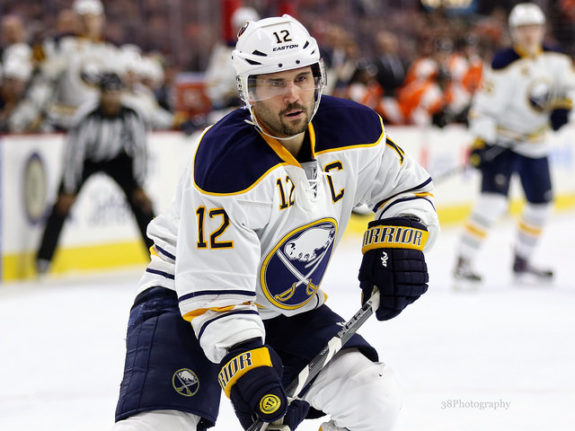 Brian Gionta will have spoken to the Vegas and Botterill about his future. Gionta could potentially re-sign with the Sabres or even Rochester. At 38-years-old and a Rochester native, he will stay in western New York, either through retirement or a new Sabres deal.
Anders Nilsson looks like he has been replaced by Ullmark as the Sabres back-up. He put in some strong performances and will be remembered fairly fondly.
Cody Franson is another player adored by the analytic community. He ranked consistently as the best Sabres defender last year in Corsi and Fenwick. His time seems up in Buffalo a fresh start is needed for both parties.
Dmitry Kulikov showed flashes (very brief) of his ability playing with Ristolainen. His stock is low amongst the league after a bad year, maybe it could be a free agent steal for Botterill.
What would your Sabres exposed list be? Let us know in the comments below.