Zach Parise served as the New Jersey Devils captain for one season before signing with the Minnesota Wild last week. Now that he is settling into his new home as an alternate captain for his new team, the Devils must look ahead and decide who will be the next player to wear the C.
Here are some players who could take on a leadership role if given the chance:
Patrik Elias has been a career-long Devil and won two Stanley Cups. He can still produce, as he put up 78 points this season, which was an increase from his 62 points in 2010-11. He served as an alternate captain this past season, and giving him the captaincy would be an honor as he begins looking towards the end of his career. He already has a great legacy in New Jersey and knows what it takes to lead a team to the top of the mountain.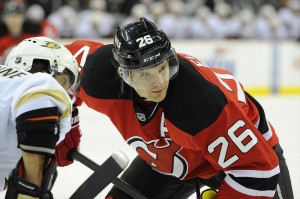 However, Elias' contract is up in 2013. If he chooses to retire, the Devils will have to repeat the process before the 2013-14 campaign, and that may not be their preferred scenario.
Ilya Kovalchuk completed his second full season in New Jersey this past year and led the Devils with 83 points in the regular season. He was also first on the team with eight goals and 19 points in the playoffs. Like Elias, he was an alternate captain this past season. He also improved upon his 60 points in 2010-11.
The 2011-12 campaign may have been the year that really put Kovalchuk on the map. He went to the playoffs for the first time since 2007 and made his first career Stanley Cup Finals appearance.
Kovalchuk is tied to New Jersey for the next 15 years and could become the new face of the franchise now that Parise is gone and Elias' and Martin Brodeur's careers are coming to an end. He is 29 years old and has plenty of productive hockey left in him, giving him time to continue building a following among Devils fans.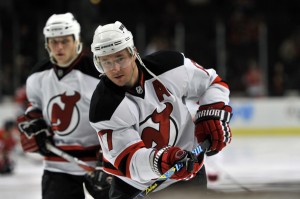 Travis Zajac is 27 years old, the same age Parise was when he was appointed captain. Up until this season, Zajac had only missed two regular season games, but played in just 15 contests this year because of an Achilles' injury. He had six points in the regular season. However, he regained his touch in the playoffs, ranking 10th in the NHL with 14 points in 24 games.
Zajac has been with the New Jersey Devils since 2006-07 and has one year left on his current contract. If he performs this year, he should have no problem getting a new deal. Like Kovalchuk, he is a young player who could gain a further fanbase as the Devils' captain. Zajac is also one of the team's most consistent and underrated players, so putting him in a leadership role would get him more recognition around the league.
Bryce Salvador re-signed with the Devils last week, inking a three-year deal. At 36 years old, he has shown longevity throughout his career. Prior to coming to New Jersey, he played five-and-a-half seasons with the St. Louis Blues. He just finished his fourth season with the Devils, putting up nine points and a plus-18 in the regular season. Salvador put himself on the map in the playoffs with 14 points in 24 games, tying with Zajac for 10th in the league.
If the Devils are looking for stability in their next captain, Salvador is a safe bet. Although he struggled with injuries with the Blues, he has only missed six regular season games since coming to New Jersey.