With the departure of Shawn Horcoff, the Edmonton Oilers were left with more than a vacancy at centre. They now have no captain.
Wearing the "C" the last three seasons, Horcoff was criticized by many for his play on the ice, but one thing that was rarely disputed was his commitment to team and his leadership in the dressing room.
New GM Craig MacTavish has made it clear changes will be made and there will be a new culture in Edmonton. Part of that transition happened last year when Ralph Krueger named Jordan Eberle, Taylor Hall and Nick Schultz alternate captains, a change from previous years when Ryan Smyth, Ryan Whitney and Ales Hemsky wore "A's". Horcoff was the holdover as captain.
Now going into 2013-14 there is a new GM, a new coach in Dallas Eakins and a new attitude. With so many changes and a goal of being a playoff team, it will be interesting to see who MacTavish and Eakins choose to lead the Oilers. Coming into last season it looked Eberle was on track to be the new face of the franchise and inevitable to wear the "C". His stock may not have dropped, but after last season Taylor Hall's has certainly risen and many see him as the frontrunner.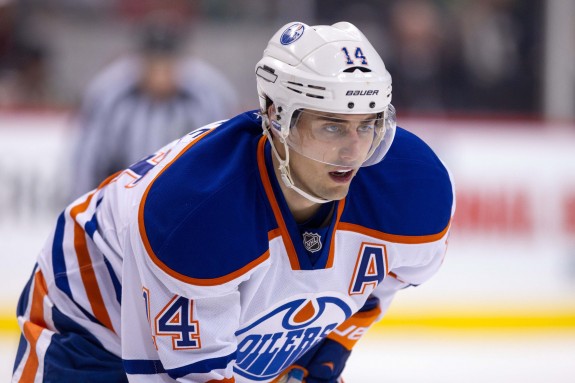 There are multiple options and different philosophies on the type of player that is ideal to be captain. Those entering the league with a high profile and the tag of future star often are considered at a young age and before they are mature enough to understand what it is to be a leader. In some cases it works out. Sidney Crosby and Jonathan Toews were named captain in their early 20's and led their teams to a Stanley Cup before their 25th birthday.
Others, such as Vincent Lecavalier, the first time he was named captain, had trouble handling the responsibility and all that went with it. He was named captain at age 20 in 2000, wore it for just one season and relinquished it to veterans Dave Andreychuk and Tim Taylor the following years. With the pressure lifted, Lecavalier went on to establish himself as one of the league's best players over the next few years and won a Stanley Cup in 2004. Lecavalier later re-assumed captain's honours in 2008 and has been a very well respected captain and leader.
Some team's, like the Minnesota Wild under Jacques Lemaire, rotated the captaincy each month and did so for a long time before the team eventually found their leader in Mikko Koivu.
Each situation is different as is each player's personality and each stage that a team is at.
Here's a look at some of the Oiler candidates:
Jordan Eberle
Wore an "A" last season and along with the other young stars is one of the faces of the franchise and well on his way to being an NHL star. If not for Taylor Hall's emergence last season, Eberle would be the odds on favourite to wear the "C".
Not only is he one of the key players on the ice, he is a quiet leader in the room and respected by teammates. He's also used to being under pressure as no Canadian hockey fan will forget his heroics wearing the Team Canada jersey.
Taylor Hall
Established himself last season as one of the top left wingers in the NHL. He played with fire and passion and while he continued to play with his typical aggressive style, he tempered some of the reckless abandon and was able to stay relatively healthy.
A more in your face leader than Eberle, Hall is a more of a vocal presence in the room and an energy presence on the ice.
Andrew Ference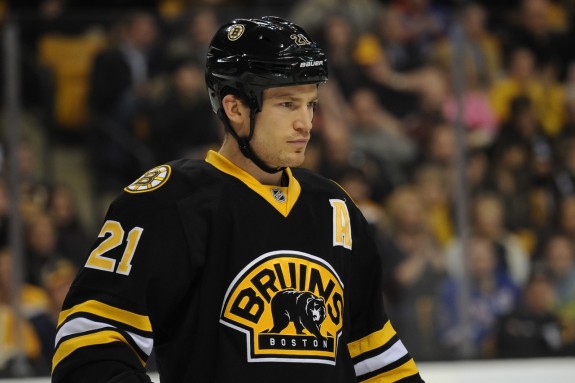 A free agent signing this summer, it's rare that a newcomer would be made captain but Andrew Ference has what few Oiler player do. Championship experience. A Stanley Cup winner in 2011 and in the Finals in 2013, Ference is a veteran with playoff experience.
He's an Edmonton native who chose to come back home and is a hard working tough competitor, something MacTavish and Eakins are hoping rubs off on the rest of the group.
He wore an "A" in Boston in a leadership group that included Zdeno Chara and Patrice Bergeron, he could be an Oiler captain in the mold of former defenseman Jason Smith.
Ryan Smyth
A few years ago if the situation were the same, he'd likely already have the "C" sewn on. However, such is not the case as the 37 year old forward has been in decline and was a fourth line player for most of last season.
Smyth still possesses many of the traits the Oilers need in a captain. He's well respected and experienced enough to have seen just about everything in the game. He's a heart and soul type player and no one is more associated with being an Oiler than Smyth.
Unfortunately for Captain Canada, it's not likely the Oilers will name someone with such a limited role as the leader of the ship.
Future Addition
There is always the chance that MacTavish is not done dealing and is still able to pull off a blockbuster deal to bring in say a top pairing defenseman with some experience . The longer into the summer it goes, the more unlikely that possibility becomes.
Nobody
If there is no frontrunner and the team can't decide on one player they can either just name an extra alternate and no captain, or rotate the "C" until someone takes it and runs with it.
The approach certainly has some merit, especially if there are a number of candidates, however with Eakins and MacTavish wanting to start a new era in Oilers hockey, they will no doubt want a captain and a face of that new culture.
My Take?
It's inevitable that one of the young stars will wear the "C", be it this year or a couple down the road. Whether it's Eberle, Hall or even Ryan Nugent-Hopkins. The odds on favourite at this point is Hall, who is more dynamic both in ability and personality than the other two.
The issue being is that at age 21 is it too early? He has had one breakout year and has yet to play a healthy 82 game season. A year ago it was Eberle who was set to be annoited, Hall last year and after next year it could be someone else.
Eberle could be the best choice in the long run as he presents as a more even keel leader, calm under pressure but still vocal when necessary. Hall in contrast is more impulsive and high energy all the time, not necessarily a bad thing. Another reason why it is a difficult choice to name one of those two at this stage, when they are both still learning how to be pros.
I could easily see Ference given the "C" this season and Hall or Eberle transitioning into the role in a couple of years. Ference is a veteran who can handle the pressure and is the type of gritty, physically fit, team first guy that Dallas Eakins covets. 
That way Hall or Eberle don't have to shoulder the responsibility of being captain and leading a team back to the playoffs from a long hiatus and feel the pressure from a hockey crazed Canadian market.
Oilers analyst Bob Stauffer had a similar take:
I could see Ference being sort of a transitional captain for the Oilers for a couple of years. That is an option to the coaching staff, and that way we don't have to force a letter 'C' on maybe a Taylor Hall or a Jordan Eberle or even Ryan Nugent-Hopkins. You can take a little bit of time and see which one of those younger guys really comes to the forefront here in the next couple of years.
Make no mistake, Hall or Eberle will be the long term captain of the Oilers and it could very well be next season, however it may be more prudent to allow them to grow into the role and establish themselves a little more, so that it is not overwhelming and they don't have to bear the brunt of fans in Oil Country who will not be satisfied with anything less than playoffs in Edmonton.
What say you?
___________________________________________________________________________
Follow Carl on twitter @maloney3383 and Google+ for more articles.