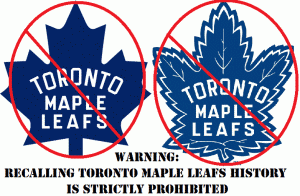 Forget James Reimer and Jonathan Bernier's fight to seize the crease next season. MLSE's new CEO Tim Leiweke embroiled the Toronto Maple Leafs in a new controversy that will dominate discussion of the blue-and-white this summer.
In an interview published earlier this week, Leiweke proudly paraded about his plans for the Leafs moving forward. Indeed, part of his plans include mapping out the parade route that will be taken as the Leafs celebrate their first Stanley Cup Championship since The Beatles broke up. Other plans involve putting some "sacred cows" out to pasture. More specifically, he plans to remove pictures of bygone heroes (such as the members of the cup-winning 1962 Leafs) from the Air Canada Centre. By keeping those images out of his players' sight, he hopes to encourage current Leafs to create their own legacy.
I've curated some articles on this controversial move that has already divided members of the always-fractious groups of fans that comprise Leafs Nation. Reactions from fans have generally been mixed, scornful, or irate. While it seems like only the dog days of the offseason could see a team's attitude toward hockey history cause such outrage, this source of frustration is only the latest contentious move during an eventful down-period for the Leafs. The franchise has already riled up fans by (perhaps needlessly) deepening its goalie depth, buying out admired centre Mikhail Grabovski, and giving questionable contracts to David Clarkson as well as Tyler Bozak. These recent events (all occurring around the same time mere weeks ago) have undoubtedly made fans primed to react critically to the organization's next move.
Before discussing the articles, I thought I'd offer a few points. While my first post on this subject (included below) discussed how Leiweke might have decided to remove relics of the past in order to diminish the pressure on today's Leafs, I've since reconsidered that position. Leiweke might have actually been trying to accomplish the exact opposite of what I previously suggested.
By putting away artefacts and telling today's Leafs that the team's legacy is in their hands, Leiweke may actually be putting more pressure on them to succeed. Those images of past championships could make current Leafs complacent about the team. Leiweke perhaps feels that the franchise itself has been lying about on a bed of withered laurels and hitting the "snooze button" on its alarm clock over the last 46 years. In those decades, the organization may have been guilty of indolently indulging in self-satisfaction like the Greek warriors in Alfred Lord Tennyson's "The Lotos-Eaters."
To make the team successful again, Leiweke must prevent the current team from the complacence (or cup-placence) that affects members of a formerly-successful organization. The Leafs' history helped fans through some tough times, but it may have also exacerbated the team's fruitless seasons by offering underperforming players a refuge–a pleasing conception of the past that players could retreat into when things didn't go well. With that fallback point blocked off, current Leafs must accept and strive to improve upon personal and team failures.

Lucrative mementos of Toronto Maple Leafs' history will not be put aside.
Keep in mind that Leiweke is not trying to erase Toronto Maple Leafs history. If he were, he'd have to make entirely new uniforms, burn all the banners in the ACC, and withdraw from the 2014 Winter Classic's alumni game. The inverse is actually the fact: Leiweke needs fans to celebrate the past as well as the present in order to meet his goal of doubling the value of MLSE during his tenure. The purpose of removing mementos from the players' areas of the ACC is either to take the pressure of the past from their shoulders or to make them feel that they must succeed on their own; they can't stand on the shoulders of giants from Leafs history who hoisted the Stanley Cup decades ago.
Leiweke's plans, however, might backfire by causing conflict within his own organization. It would not surprise me if Leiweke and head coach Randy Carlyle clashed over the undecorating of the ACC.
Last summer, Randy Carlyle announced his plans to redecorate the Leafs dressing room in a way that would inspire the players to be more competitive. In the following quote, Carlyle explains why he decided to redecorate the dressing room and what he planned to change:
I just thought the room looked dark and tired in places . . . . A lot of things had to be updated, such as the carpets, but we've also added some art work (murals and photos). It's going to be partly a nostalgic tribute to the past of this team, but there will also be some changes to things such as the stalls that a modern day player in Toronto is going to appreciate.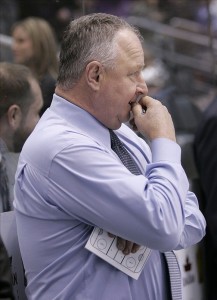 Randy Carlyle pensively ponders the fate of his decorations.
Will the removal of some of those decorations cause tension between the team's management and its head coach? It certainly could. After all, Carlyle seems to think that one of the decorations he added to the dressing room (a slab of blue limestone) helps establish the team's ethos, so he might feel that the pictures of past legends are also essential to forging a team strong enough to weather the arduous regular season and as many playoff games as it takes for the Leafs to recapture the Stanley Cup after nearly 50 fruitless seasons.
Here are the links!
Jeff Veillette, "Paradonomics"
Jeff Veillette of theleafsnation.com offers the most positive reaction to Leiweke's plans, but that doesn't mean he's chugging down MLSE's newest batch of Kool-Aid. While acknowledging that planning a parade route this far in advance is rather silly, Veillette sees this kind of move as beneficial: "being over confident is a necessity for reshaping this organization." By announcing the organization's determination to win, "Leiweke and his employees must now continue to move forward before the plug is pulled on them and they are left looking dumb." In order to succeed, the team must put aside its past, which "has become more of a crutch than an example." Those previous championships  "can't be replicated in any way, shape, or form," so the organization should stop using them as the bar that measures each later team's success.
Greg Wyshynski, "Maple Leafs' new CEO has literally planned their Stanley Cup parade already"
Greg Wyshynski of Puck Daddy disccuses reactions to Leiweke's comments and wryly concludes, "in the end, all that matters is what happens on the ice. If the Leafs needed a guy who was all bluster with little to show for it, they wouldn't have fired Brian Burke." This conclusion implies the following question: "Did MLSE fire the previous General Manager simply because too many Burkes would spoil the broth?"
Sean McIndoe, "New MLSE chief Tim Leiweke's plan to bring the Stanley Cup to Toronto"
Down Goes Brown offers a humourous take on how Leiweke intends to "change the culture and finally bring the Stanley Cup to Toronto" again. I can't include the funniest joke because it's best saved for last, but this one should entice you to check out his post. MLSE's old way resulted in the Leafs "fail[ing] to sign players to mega long-term contracts because the GM spent the free agency period in Afghanistan." Whereas now, after seeing how the organization's contracts have turned out, MLSE will "look into having the GM spend the free agency period on Pluto."
Michael Langlois, "I already don't like Tim Leiweke…"
As you can guess by the title, Michael Langlois of vintageleafmemories.com is absolutely thrilled about Leiweke's plans. Langlois' blog focuses on sharing more than five decades' worth of memories as a Leafs fan, so his outrage over how Leiweke is treating the past is entirely understandable. That said, Langlois is also very reflective on his initial reaction to Leiweke's announcements. As a result, he offers clear reasons why Leiweke can't put aside the Leafs' rich history as though it were a simple matter of packing away form old photos. By removing artefacts the recall the the team's past from the ACC, the new CEO of MLSE is essentially turning his back on an essential aspect of what defines both the team and its fans.
Brad Smith, "Leiweke Lays It Out"
Brad Smith treads lightly on the issue of how to solve a problem like the Leafs' history. That past, he writes, is important but not essential to the team's present. Indeed, Smith sees the last four decades of playoff futility as a past that the Leafs need to put aside in order to create a winning atmosphere in the dressing room. Such a change in the team's attitude requires its problematic past to be left in the past–not buried and (Smith implies) resigned to forgetfulness but put aside so that a new history of the blue and white can begin.
James McClure, "The Scorned Identity: Tim Leiweke's Bold Iconoclasm"
Sorry for the blatant self-promotion; I'll keep it brief. This blog post discusses Leiweke's possible motivations behind his plan and the risks as well as potential rewards involved. I make some references to Seinfeld, Greek mythology, and the First World War along the way.
James McClure is a contributor to THW's features on hockey history. When not procrastinating, he is a doctoral candidate who studies Shakespearean drama. His graduate work also analyzes representations of Canadian national identities in literature of the First World War. He blends this serious approach to literature with his hockey humour blog in order to offer a humourous approach to reviving hockey's past in the present.