Toronto Maple Leafs Prospect Camp took place at the MasterCard Centre from July 9th to 12th with 34 players taking part. There is a lot to like about the group of young players that Toronto has been able to stockpile the past few years but here are 5 Maple Leafs prospects in particular who you might want to keep tabs on.
Morgan Rielly
Some compare him to Jake Gardiner and part of me agrees with that statement, but another part of me thinks he'll be better. Clearly if you're taken 5th overall in an NHL draft you're expected to be pretty good and with Rielly that certainly seems to be no exception. He rushes the puck with confidence because of how well he sees the ice and he can skate like the wind but he's also now over 200 lbs.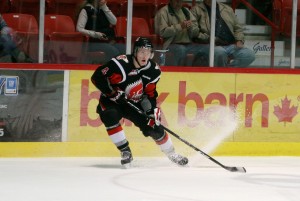 This season he had almost a point-per-game on a bad Warriors team that missed the playoffs (only 2 other players on the team have been drafted by an NHL team and one got traded halfway through the season). Since Rielly's junior season was over early however, it allowed him to get in some time at the AHL, something that was vital because he proved he's most likely ready for the NHL. Here's the kicker: Rielly can't start this season in the AHL; he isn't allowed to play for the Marlies because he's not 20 years old until 2014.
He either makes the big club, or it's back to junior for another year, where he'll likely dominate, to the point where it may not even be worth it. Either way, this is a MAJOR decision for Leafs management, one that will mean Rielly gets a long look at camp and in the preseason in September.
From Jim Hughes, Maple Leafs Director of Player Development: "Morgan is very mature. He's sharp, he's physically strong; he's got the wide base and foundation [and] doesn't get knocked off the puck. It's going to be real dicey to see how this unfolds; it will be a September into October assessment. We know he's a high character kid, very talented, very driven, very motivated, but we have to remain patient and make sure we make a good decision."
Josh Leivo
Leivo was taken in the third round in 2011 for his offensive skill and he appears to be developing according to schedule. Two early OHL playoff exits have meant he's spent a bit of time on the Marlies in April two years in a row, which have shown him what it takes to be a professional hockey player. In junior, he recorded over a point-per-game two seasons in a row. Most importantly though, he's gotten bigger; when he was drafted he wasn't even 180 lbs but now he's almost 200. On a Leafs team that covets size up front, that's a must.
He's ready for the AHL now and it just so happens that his coach will be following him from junior to the AHL: Steve Spott, who coached the Kitchener Rangers for 12 seasons (as well as Canada's world junior team), was just hired as the new coach of the Toronto Marlies.
From Jim Hughes: "He made himself strong. [When we drafted him] we knew he had hands, we knew he had his stick, but he was weak. He knew that, so he took that weakness and he understood and realized it and did something about it; he put the work in. He's very slippery and he knows how to use his body to protect the puck and all of a sudden he can find the back door seem."
Tyler Biggs
Truculence. That's Tyler Biggs. After spending one year in College, Biggs figured (and probably rightly so) that his game was more suited for major junior. So he came north of the border and spent this past season playing for the Oshawa Generals where he compiled 53 points and and 55 PIM in 60 games. He was cold in the playoffs but after his junior season ended he got in four games with the Marlies and netted his first career goal.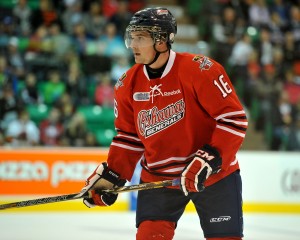 Biggs may very well be a not-as-offensive Milan Lucic given that he possesses tremendous size (6-foot-3, 224 lbs), finishes every check and just has a mean streak to his game. He's almost ready for the NHL and his style fits in perfectly to what the Leafs are looking for. Steve Spott himself admitted that Biggs' and David Clarkson's game have a lot in common and that the Leaf prospect may be viewing some video of the newest member of the Toronto Maple Leafs.
From Jim Hughes: "[He needs to] make his presence early and grow as a hockey player. His skating has come a long way. He gets up and down the rink well. He does a lot of good things well, yet I'd like to see his mentality grow as well, the psychology of the sport."
Petter Granberg
Granberg was a late round pick from 2010 and has quietly been developing very soundly over in Sweden. Well, it depends on what you consider "quietly", because all Granberg has been doing is win. He has a World Junior gold under his belt, a Swedish Elite League title, AND a world championship gold. For a kid who can't even legally buy a beer in the States yet, that's quite impressive.
However, don't expect him to put up any eye-popping offensive totals. Granberg plays a stay-at-home game but he does so very well. He'll head to the AHL this season where it may take some adjustment after spending his entire career on the bigger ice surface across the pond.
From Jim Hughes: "He fronts people and he's got a great stick. He's a containment guy [with] tight gaps off the rush. You can't beat him off the rush. Now he's got some aggression too, some push back. He's a pure defender; a PK guy, a 5-on-5 guy, 4-on-4 guy."
Carter Verhaeghe
Verhaeghe was taken in the third round of this year's entry draft but it appears Leafs brass are already excited about what they saw in prospect camp. The Waterdown, ON native has spent the past two seasons with the Niagara Ice Dogs of the OHL and has put up underwhelming numbers but that has nothing to do with his impressive skill set, and a lot more to do with his limited opportunity.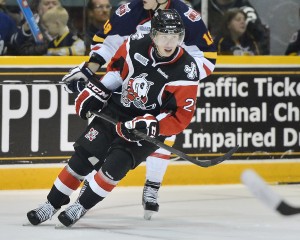 With Ryan Strome and Brett Ritchie (among others) no longer in Niagara, Verhaeghe should get the top line center spot which would result in his 44-point total from last season to rise significantly.
Gauthier was drafted for his size and two-way game but Verhaeghe has the offensive tools. He's still very young (not 18 yet) and it should be interesting to see what he can do this season in junior with more ice-time. Hughes says he'll eventually be an "100-point guy" in junior, and though that may be a bit of a stretch, it gives you an idea for highly management thinks of the kid.
From Jim Hughes: "You can see the skills sets and the poise with the puck; the play making ability. He can buy time and space and he thinks the game. When you project it out, when he gets stronger and older, he's gonna be an elite player."
**A Couple other Notes: – 1st round pick Frederik Gauthier is a long-term project for the Leafs and though he has the size (6-foot-5, 214 lbs), the Leafs feel no need to rush him. Jim Hughes said he looked nervous at his first camp, which is understandable, and that he can't wait to see Gauthier return in 2 years where he says Gauthier will likely be "a man-child". One thing he needs to work on is his skating.
– Matt Finn and Stuart Percy are two other promising D-men who are both a couple years away. Percy will start for the Marlies this season and Finn appears headed back to junior.
– Connor Brown is another interesting one because hes got great leadership qualities and work ethic and the offensive numbers are just starting to show. He played with Connor MacDavid in Erie last season and managed 69 points, and he will head back there again this fall. Hughes thinks he is a 2nd line player but I'm not convinced yet, so this season will say a lot about just how much upside he has.
Nathan Kanter covers the Vancouver Canucks and Toronto Maple Leafs for The Hockey Writers. He received his master's in journalism from Western University in May of 2015 before serving as the first ever Digital Managing Editor at Western's university newspaper, The Western Gazette, in 2015-16. From 2016-18, he served as the radio play-by-play voice of the Battlefords North Stars in the SJHL. His work has been published in The Hockey News, at Sportsnet.ca and at Dobber Prospects.