As the year 2016 is just getting started, the Washington Capitals finished the previous year with a historic start to the season.
With a 28-7-2 record in 2015, they have been having the best start in franchise history and only the 31 wins by the 1929-30 Boston Bruins had more in their first 36 games than Washington.As is always the case for teams performing so well, many are wondering if we can set things in stone and hand over the Stanley Cup to the team that "rocks the red". In modern NHL history, that hasn't been the case.
Of the 30 years the Presidents' Trophy has been presented for the team with the most points in the regular season standings, only eight have gone on to claim hockey's greatest prize. Along with that, Washington and it's fans still haven't seen a Stanley Cup come their way in it's 41-year history. Whether it's to keep the pessimism going or to let the analytics speak for themselves, let's take a look at some teams that have a shot at impeding Washington's chances of winning it all this season.
Dallas Stars
http://gty.im/467380868
For those that don't think Washington is the most fun team to watch this NHL season, Dallas certainly is the most popular alternative. If you want a measure for "fun" is with total shot attempt events per 60 minutes at even strength and Dallas leads the NHL in that category with 110.9. With Jamie Benn and Tyler Seguin on the team, it is very hard to find a better duo at forward in the league.
With such great duos, some may wonder if the rest of the team is not good enough. That is no longer the case for Dallas after plenty of acquisitions from last summer and the increased development from a couple of their young players. John Klingberg has come from nowhere as a fifth round pick to become one of the best defenseman in the world. Patrick Sharp has been a major upgrade to the hodgepodge of Jason Spezza, Patrick Eaves and Cody Eakin to round out the team's top forward line. It's not so much that Sharp is talented then the aforementioned three more than his presence in the lineup adds depth to an already potent offensive group of forwards. Mattias Janmark has been promoted to the club and added additional scoring to a second line of Spezza and Ales Hemsky. Even with the additional help that may be required on defense, Dallas is more talented than it has been in previous years and it will be difficult for any team in the NHL to prevent them from scoring goals.
Montreal Canadiens
Sure, Carey Price has been a gigantic loss for this year's Canadiens since his knee injury on November 25th, but all year Montreal has been the best possession team in the Eastern Conference. Not only does Montreal give up less than 50 shot attempts per 60 minutes at even strength, but they have the fourth best shot generation in the NHL at even strength with 56.4 per 60 minutes and their penalty kill is tied with Toronto in shot suppression with 81.6 shot attempts per 60 minutes. This is a significant improvement from the team last year where Montreal was only seeing 48.6% of their shot attempts go in their favor at even strength, along with only generating 52.3 shot attempts per 60 minutes in that situation.
One reason for that has been the improved defense since the trade that brought former Edmonton Oiler Jeff Petry aboard. With his arrival, the increased playing time for Nathan Beaulieu and the removal of aging defensemen Sergei Gonchar and Mike Weaver, Montreal has become a deeper team in defense that no longer lives and dies off of the production of its top pairing of P.K. Subban and Andrei Markov.
The increased depth in defense has allowed it's already talented depth of forward to forecheck harder and generate more shot attempts. There has never been any denial that Max Pacioretty has been one of the best in the league at that, consistently generating over 21 shot attempts per 60 minutes on his own at even strength, but it's others that have come out of their shell and joined in on the offensive end of the rink. The acquisition of Thomas Fleischmann has added even more punch into the attack and even Dale Weise is getting more involved by increasing his even strength shot attempt rate from 10.10 last season to 14.58 this season.
Alex Galchenyuk may finally be coming of age as he is shooting a career high 15.07 shot attempts per 60 minutes at even strength. His 2.25 points per 60 minutes in that situation is also the highest it's been since his lockout-shortened rookie season and if he can improve his shooting percentage and maintain his individual points percentage of 89.5%, the 22-year old can finally be considered among the best young players in the league.
Put all these improvements together and you have yourself a potential rematch from that infamous 2010 first round series.
Los Angeles Kings
Under head coach Darryl Sutter, Los Angeles has always been among the best possession teams in the league. However, there was evidence where the team's shot quality was not good enough that lead to them not making the playoffs last season. While generating the third highest even strength shot attempt rate at 58.0 per 60 minutes, the Kings only generated the ninth highest scoring chance rate at 26.6 per 60 minutes and the fifteenth highest high-danger scoring chance rate at 10.65 per 60 minutes (all numbers are from war-on-ice.com). That still may sound good if it were looked as a consistent season-long rate, but as you can see from the 15-game rolling chart below, the lack of shot quality was Los Angeles' downfall ever since the New Year and, then again, at trade deadline.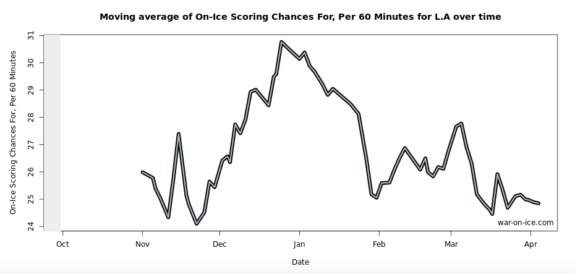 Things did not help when two of the team's best puck moving defensemen, Slava Voynov and Alec Martinez, missed a combined 101 games due to off-ice legal trouble and injuries, respectively. Without them, it caused opposing defenses to put tons of pressure on Drew Doughty and limited the goal-scoring abilities of all forwards except for the "70s line" of Jeff Carter, Tanner Pearson and Tyler Toffoli.
This season, Christian Ehrhoff has added more offensive firepower to the blue line as Alec Martinez has returned from injury and Brayden McNabb has developed into a very solid top-four pairing defensemen. Up front, out goes poor possession forwards Jared Stoll and Mike Richards and in comes the heavy hitting Milan Lucic and youngsters Andy Andreoff and Nick Shore. While Andreoff has been mainly cover for when Dwight King returns from a broken bone in his foot, Shore has been the team's best shot suppressor at even strength. While the 23-year old has been on the ice, the Kings only see 38.6 shot attempts go against them per 60 minutes at even strength.
All the additions to this team have also helped Los Angeles become one of the most potent power play units in the NHL; something you would never suspect out of a Darryl Sutter-coached team. From 2011-2015, the Kings generated a solid, but not great, 97.3 shot attempts per 60 minutes. This year, that number is the fourth best in the league at 110.2 shot attempts per 60 minutes. The return of Martinez and the acquisition of Ehrhoff has brought plenty of scoring options to the power play units.
Like all previous years when Los Angeles has contended for a Stanley Cup, the amount of talent that is either currently, or previously reached, world class status is what has made the Kings so dangerous. With another offseason of adding such high caliber talent and removing players that can't live by those standards anymore, Los Angeles are back to their best.
Tampa Bay Lightning
You may think that any team that is on pace for 88 points has no business being in this conversation, but don't sleep lightly on the defending Eastern Conference Champions. Steven Stamkos certainly hasn't been himself, and there has been plenty of reasons behind that. Some have argued that he is not shooting the puck enough, while some argue he hasn't been the same since Martin St. Louis left. One trick that has helped is to have John Cooper no longer have Ryan Callahan, Valteri Filppula or Alex Killorn as his linemate.
With 51.1% of the team's shot attempts going in his favor when on the ice at even strength, Stamkos has that number drop to 49.5% when playing with Callahan, 45.1% when playing with Killorn and 46.2% when playing with Filppula. Lately, Stamkos has been playing with Vladislav Namestnikov and Nikita Kucherov. With all three together, they generate 69.3 on-ice shot attempts per 60 minutes and 60.7% of them going in their favor at even strength.
Having Tyler Johnson and Ondrej Palat hurt for most of the season has not helped the Lightning one bit, but if they can them get back healthy and have them play as well as they did last year, Tampa should be back in the running with Boston and Montreal for the Atlantic Division title.
http://gty.im/502951890
Now you may think that more teams deserve to challenge Washington by the time mid-April comes around. Chicago are the defending champions and, despite losing a decent chunk of their key role players last summer, are still looking solid in puck possession and in the standings. The same can be said of the New York Islanders after being among the best shot generation teams at even strength and giving the Capitals fits in their first round series loss last season. Possession, however, can not be the name of the game for this year's edition of the New York Rangers. Even with the losses of great possession players like Brad Richards, Benoit Pouliot, Martin St. Louis and Carl Hagelin in the last two years, the ghosts of playoff series past will surely haunt Capitals fans if they were to meet again this year.
With all that said, Dallas, Montreal, Tampa Bay and Los Angeles are the current chosen four to look out for as the rest of the season rolls along.