It's no secret that being selected to compete for your home country in the olympics is an honor that many will never have. However, it is even more of an honor to be asked to carry your country's flag during the Opening Ceremonies of the olympic games. Many don't know but often times in the winter games, hockey players are chosen to carry their country's flag, but this year… that will most likely NOT be the case.
The problem isn't that countries don't want their hockey starts to carry the flag this year; rather, the Opening ceremonies in Sochi 2014 are February 7th and the NHL break doesn't officially start til February 9th, meaning that most of the countries superstars will be unavailable to their country until days after the ceremonies.
For many countryman, it will surely sting if they have to turn down offers to carry their country's flag. But none will sting more than those players from Russia who will likely have to turn down the chance to carry the home flag at the Opening Ceremonies that will take place in their home country. Russia has a few big name players that were rumored to have been asked to carry their teams flag; do the names Alexander Ovechkin, Evgeni Malkin and Pavel Datsyuk ring a bell? 
Oh well, I guess there's always Ilya Kovalchuk.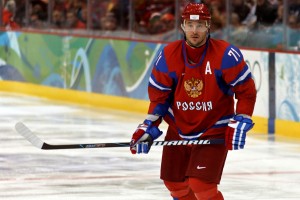 NHL players will play 82 games this season. And probably 82 games next season. And on and on etc. However, they may only get 3 games at the olympics. And in 4 years, they may not be back. Shouldn't the players get the chance to experience all the olympic games have to offer, including the Opening Ceremony in Sochi? (It is up to their NHL teams whether or not to let them go.) Or do you think that they are contractually obligated to put their NHL team first? I want to hear what you have to say. So join the conversation on Twitter by using the hashtag #THW and tweeting @BSmithTHW.  Or comment below.
To find out which of your favorite players will be representing their country's in Sochi, click here.