Don't look now, but the Sabres are playing some strong hockey.
With a 5-3-2 record over their last 10, the Sabres are consistently playing tough, smart hockey to counteract their serious talent deficiency. They're still the lowest scoring team in the NHL by a mile and that will likely persist throughout the year, but they're finding ways to not only stay in games but even steal a few.
Part of that is because of Ryan Miller. With all due respect to Jonathan Quick, how does the Team USA brain trust not see what Miller is doing? How is he not the starter? Quick has the better resume the last few years, but he's also got a better team in front of him. He's hurt right now, so why not go with the incredibly hot hand? Miller is playing out of his mind and with a chip on his shoulder. Unleash him at the Olympics and you could recreate the magic of 2010.
Let's take a look at the week in review.
1/7 vs Carolina
This one never happened. A worrisome weather situation developed – a blizzard in Buffalo, who knew? – and this game was eventually rescheduled for a post-olympic date of February 25th.
Carolina is treading water a bit right now and rumors continue to surface that the team could deal star goaltender Cam Ward to Edmonton for center Sam Gagner. A rejuvenated Sabres team would probably like to face the struggling Hurricanes right about now.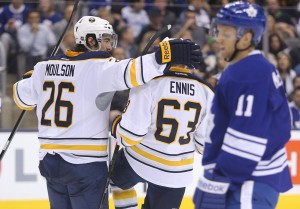 1/9 vs Florida
This is always going to be one of those games that frustrates me regardless of how the Sabres are doing as a team. The Panthers suck. They will likely always suck until they cease to exist in about six years. Losing to them just feels dirty and wrong.
Still, Jhonas Enroth played his nards off by stopping 34 of 35 shots and the Sabres managed to grab a point. The extra session/shootout has been kind to the Sabres this year (6-2), but not so much in this one as former Sabre Brad Boyes was the only one to light the lamp.
The Sabres might have the most underrated goaltending tandem in the game with Enroth and Miller. The two Olympians give the Sabres a chance to win every night and saying that with the talent on this roster is noteworthy.
1/12 @ Washington
Man, the Caps have to hate Ryan Miller at this point. He wasn't quite as ridiculous as the last time out, when he stopped 49 of 50 shots, but he was exceptionally sharp on Sunday. He turned aside 28 of 29 shots, including this save that should've just made the Caps give up forever.
Insane play by Miller aside, the Sabres played a solid game. They got pushed around a little at one point, but they work hard, win some battles along the walls and use the points well. When they start putting some talent around Cody Hodgson, things will get infinitely better.
Until then, Miller will just have to keep standing on his head.
Ryan is a lead writer for The Hockey Writers and co-owner of The Farm Club. He also writes for Rant Sports and Puck Rant covering the Colorado Avalanche. Follow him on Twitter to discuss all things puck, Bills football, or his hatred of all things Philly.