It's no secret, there's a huge drop-off after the two generational talents in Connor McDavid and Jack Eichel. That's why the 3rd overall selection will be so debated upon.
For the Arizona Coyotes, it was the worst-case scenario at the 2015 NHL Draft Lottery in April, when a team below them won and pushed them out of the running for either generational player. Now, they've got a very tough decision to make.
At 3rd overall, there's an excellent defenceman available and a few very talented and highly skilled centers. Without considering what exactly Arizona really needs at this point in their rebuild, let's take a look at who really deserves to go 3rd overall in the 2015 NHL Draft.
---
Who's Available?
Noah Hanifin: 37GP, 5G, 18A, 23PTS, +12, 16PIM for Boston College. 
Hanifin is as solid a defender as they come. He plays all parts of the game well and has no great flaws. Noah models his game after Drew Doughty of the Los Angeles Kings. He is terrific at transitioning the play from the defensive into the offensive zone. Hanifin is a very smart player who can get shots through the lanes and on net to create scoring opportunities.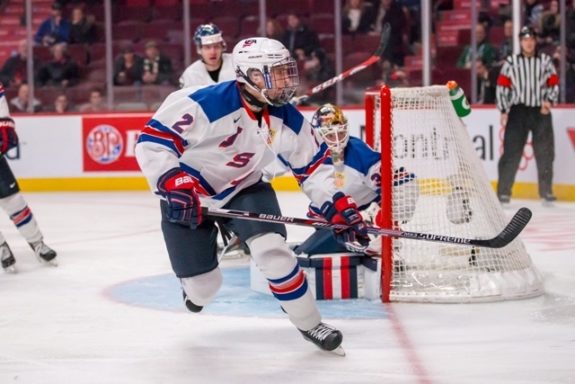 How He Fits in Arizona:
Hanifin would become the Coyotes top defensive prospect, and best overall prospect. He'd likely be able to come straight into the NHL next year and begin to hopefully turn around this franchise. Imagining a future with a blueline starring Oliver Ekman-Larsson and Hanifin is something to be excited about.
---
Dylan Strome: 68GP, 45G, 84A, 129PTS, +47, 32PIM for the Erie Otters.
Strome is a highly skilled center who has a big frame at 6'3. He uses his reach to his advantage and is also a very strong skater. He has the competitiveness that it takes to be a winner and engages in every battle. He's not only a natural goal scorer, in that he knows where to go for scoring chances, but also a very smart playmaker who can create chances when it seems nothing is available.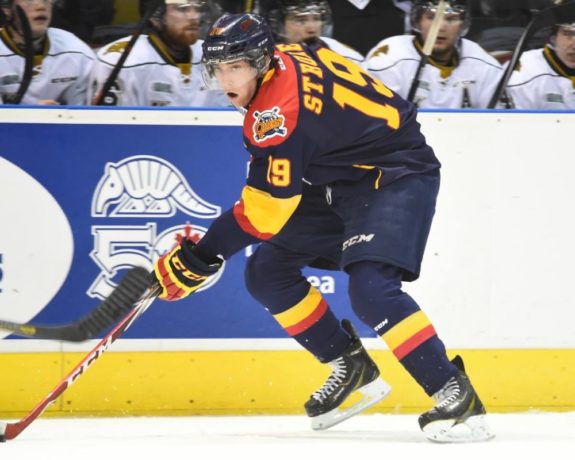 How He Fits in Arizona:
Strome would join a somewhat deep pool of center prospects for the Coyotes, but would be the future first line center. He may need another season in the OHL to become stronger and more physical, but a future with both Strome and Domi down the middle is promising. The offence in Arizona may take a while to become successful still.
---
Mitchell Marner: 63Gp, 44G, 82A, 126PTS, +36, 53PIM for the London Knights.
Marner, like Strome, is another highly skilled center. The only doubt scouts have is his size, standing at 5'11 and only weighing 160 pounds. He hasn't let that hold him back yet, as he battles each night and never shies away from a puck battle. He's a natural playmaker, who easily has the best hands in this draft, besides McDavid. He's a terrific skater and is very agile with the puck. Plays similar to former London Knight, Patrick Kane.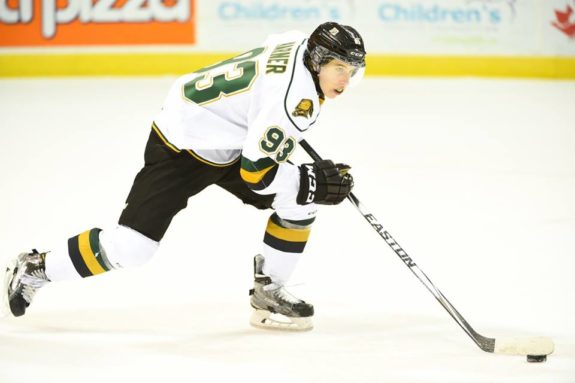 How He Fits in Arizona:
Marner would also become their top center prospect and provide a promising future down the middle. However, the Coyotes may need to consider their need for size, as pairing Marner with Domi doesn't exactly give much confidence at center. Marner also needs around two or three more years before thinking about the NHL, to become heavier and stronger to reach his full potential.
---
Lawson Crouse: 56Gp, 29G, 22A, 51PTS, +10, 70PIM for the Kingston Frontenacs.
Crouse is a big bodied power forward who uses his 6'4, 215 pound frame to protect the puck well and plays a very physical style of game. He's a solid skater with decent hands. Lawson knows where scoring chances come from and goes to the tough parts of the ice to score goals. Plays with the tenacity of Milan Lucic, but can score goals like Rick Nash.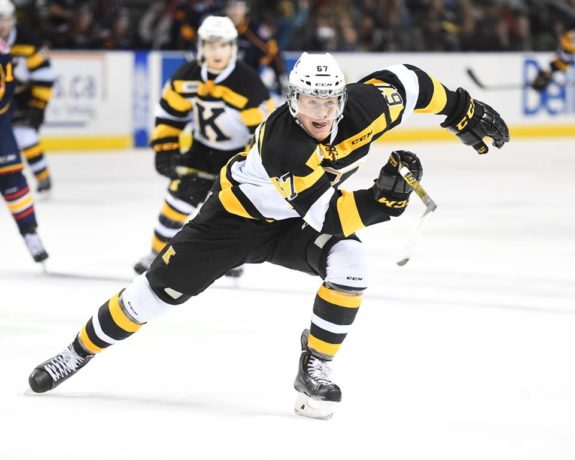 How He Fits in Arizona:
Crouse would become another of multiple promising prospects on the wing. He fits well into the style the Coyotes need to play to become successful and would add great depth for the future. Lawson could use one more year in junior in order to become a more prominent scoring forward. Crouse would serve better for Arizona's future than Marner, because of what the team currently needs.
---
Who Deserves to Go 3rd Overall?
In the aspect of overall talent, potential, and probability of success, I'd say Noah Hanifin would be most deserving of the 3rd overall selection in the 2015 NHL Draft. As for who Arizona should draft in order to stock their prospect cabinet, Hanifin again seems like the likely candidate. He is just so dependable at both ends of the ice and leaves no doubts in his game. He is a player who can become a leader for his team and play many roles with success, which is just what the Coyotes will need once Shane Doan retires. Overall, Noah Hanifin is the best choice to make at 3rd overall in the 2015 NHL Draft.
Who do you think should be drafted 3rd overall? Let us know in the comments!
Contributor for the Toronto Maple Leafs and Prospects. Scout with the Oakville Blades of the OJHL. For questions, concerns, or comments, contact me at devinslawson123@hotmail.com or on twitter @SlawsonTHW.