Over the last few seasons there has been plenty of talk about expansion in the NHL. Along with that talk, fan bases have wondered what their respective team would do if an NHL Expansion Draft were to take place. Los Angeles Kings fans are no different.
Across the Kings' 23-man roster is a fluid mix of veteran leadership, youthful talent and future skill. If a draft happened what would the Kings do? Would the future take priority and the Kings' young studs be protected? Or would the Kings look to keep their window for success open now and protect their veterans?
Let's take our best shot at who would get protected and who would be left vulnerable and possibly grabbed by a new franchise.
The Rules
In the history of the NHL, the 2000 NHL Expansion Draft is the only draft of its kind. For continuity purposes we'll proceed with the idea that any future Expansion Draft would be conducted with the same set of rules as the one that took place in 2000.
There were two possible combinations of protected players. The first, a combination of one goalie, five defensemen and nine forwards and the second, a combination of two goalies, seven forwards and three defenseman.
Along with these combinations came an experience requirement. For clubs protecting one goalie there is no experience requirement associated with the goalie left behind. Outside of goalies, one defenseman and two forwards with at least 40 games played in the previous season or 70 total games played over the last two seasons needs to be left unprotected.
Players on entry-level contracts along with unsigned draft choices are exempt from the draft.
The Goalies
This is the easy part. There is no doubt the Kings would go the route of protecting one goalie, that one goalie being Jonathan Quick. Anyone that wants to argue otherwise would probably have their sanity questioned. This would leave Jhonas Enroth available for selection in the draft.
This should play out fine. If Enroth is selected, which might not even happen, the Kings have J.F. Berube down in Manchester.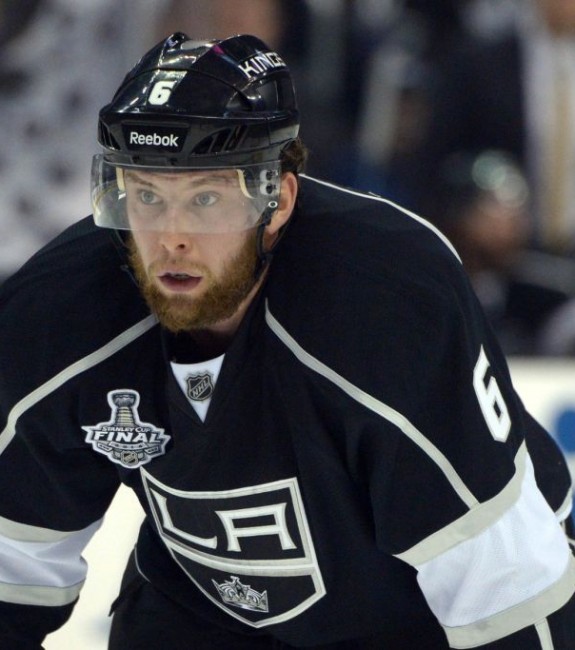 The Defense
We'll proceed through this section with the assumption that Slava Voynov returns to play for the Kings next year. The five defenseman protected would obviously include Drew Doughty, Jake Muzzin and Voynov. Now is the first instance of veteran versus youth. Do you protect veteran and established leader, Matt Greene, even though he's a bottom of the rotation guy, or do you go with players like Brayden McNabb or Jamie McBain who are slated to carry the load in the future?
A solid mix of youth and veteran presence has to be found on the blue line for the Kings. A group of Doughty, Muzzin, Voynov, McNabb and Greene would probably be best. Leaving McBain and Alec Martinez unprotected. Martinez's 56 games played last season fills the experience requirement as well.
Of course things play out little differently if Voynov is not reinstated by the NHL and doesn't suit up for the Kings again. There are parties that argue he will be back and there are parties that argue he wont, we'll just have to wait and see.
The Offense 
Now for the jigsaw puzzle that is the forwards. Nine names need to be selected, nine names that set the identity of a team. Of course there are the locks to be protected. Anze Kopitar, Jeff Carter, Marian Gaborik, Tyler Toffoli and Milan Lucic can be added to the protected section right away. That's five of nine spots filled and there are still some influential names on the outside of the bubble.
Does team captain, Dustin Brown, get into the protected group? Or does he lose his spot to a younger kid like Tanner Pearson? The remaining four spots can vary dramatically depending on who's deciding. You can go the grit rout and grab players like Kyle Clifford and Dwight King. Or you can go for a little more speed and versatility and protect a player like Trevor Lewis.
All in all, the protected nine players should look a little something like this, Kopitar, Carter, Gaborik, Toffoli, Lucic, Pearson, King, Lewis and Brown. Brown is listed last in the group because he barely squeezed in there. Clifford and Nolan, just to name two, meet the two unprotected forwards that played in 40 games last season requirement.
Who would you protect and who you leave vulnerable? Let me know in the comment section below.