With Brent Sutter stepping down as coach of the New Jersey Devils to spend time with family (AKA go coach the Calgary Flames), the Devils coaching job is now vacant.
There have been so many rumors flying around about who the next coach is going to be, that it is tough to tell who Lou Lamoriello is going to hire. However, there have several names popping up more than once and I believe that the New Jersey Devils' search for a coach is going to come down to three names.
Jacques Lemaire, John MacLean, and Mike Haviland.
Each coach brings something to the table and they all have some bright sides as well as some downsides.
Jacques Lemaire:
Lemaire knows the game of hockey very well. As a player, he played 12 seasons in the NHL with the Montreal Canadiens. Lemaire won the Stanley Cup eight times and he was an outstanding playoff performer. He was very accustomed to winning as a player and when he became a coach, he also taught his teams how to win.
His first coaching gig came in 1983 when he took the head coaching job of his former team the Montreal Canadians. He coached them from 1983-1985. Lemaireled the team to the playoffs in back to back years, but both trips resulted in losses in the conference finals and the semifinals.
In 1993, he stepped behind the bench of the New Jersey Devils. He immediately impacted the team in his first season. He lead the Devils to the conference finals and they almost made it to the Stanley Cup Finals, but they lost in overtime of game 7. The following season Lemaire would lead the Devils all the way to the Stanley Cup Finals, where the knocked out the Detroit Red Wings in four games. The victory was Jacques Lemaire's first Stanley Cup as a coach.
After the Stanley Cup victory, he was never able to lead the team back to the finals and he no longer coached the team after the 1997-1998 season.
In 2000, Lemaire took the head coaching job of the Minnesota Wild (first head coach in team history). He experienced moderate success in Minnesota. He never really had a strong team, but he was able to lead the Wild to the playoffs three times in his eight year stay with Minnesota. He stepped down after this year, and there has been a lot of speculation that he will take the head coaching job of the team where he had the most success, the New Jersey Devils.
Bright Side:Jacques Lemaire is a very good coach. He has won the Jack Adams Trophy twice in his career (1994 and 2003). Lemaire is known for his great work with young players and balancing youth with veterans (something the New Jersey Devils currently have). He allows for rookies and veteran alike to play up their full potential.
Most importantly, Lemaire has had success in New Jersey before. He made the most out of a no name team in 1994 and 1995, and he lead them to great success in the playoffs. There's no reason that this can't happen again if he becomes the Devils' next coach.
Down side: Lemaire uses a very old fashion system with all the teams he coaches. He uses a strategy dedicated to defense; a strategy known as the trap. The trap reduces scoring and it makes the game very boring for fans in attendance and fans watching at home. What Lemaire fails to realize is that the trap is not as effective as it once was. The new NHL is now more open, faster, and it encourages scoring. The new rules sort of prevent the trap from being successful.
Lemaire would bring this system in and it would take away from all the excitement that New Jersey Devils' hockey has displayed in recent years.
Another down side about Lemaire is the fact that he is inconsistent with lines. He is known to shift players up and down lines. When he does this, he never allows for chemistry to form and everyone knows that if a line has great chemistry it makes for winning hockey.
For example this year the Devils' top line, the "ZZ Pops" line (Parise-Zajac-Langenbrunner) had great chemistry and the Devils' were successful because of it. With Lemaire there would be no more consistent lines and it would destroy all of the good things that Brent Sutter did for this team.
John MacLean:
MacLean is one of the greatest players in the history of the New Jersey Devils. He was selected 6th overall by the Devils in the 1983 NHL draft. He spent most of his career with the Devils and had great amount of success. Devils' fans will always remember him for scoring an overtime goal which launched the Devils into the playoffs for the first time in 1988.
John MacLean currentley holds the Devils' franchise record in goals (347), power play goals (92), power play points (197), and game winning goals (55). When his career came to an end in 2002, he finished with 842 career points (413 goals and 429 assists).
Shortly after he retired, he joined the Devils coaching staff as an assistant coach in 2002. He has remained an assistant coach ever since. MacLean has been a candidatefor the New Jersey Devils' head coaching job once before in 2007, but Lou gave the job to a more qualified Brent Sutter.
Many fans believe that this year could be the year that John MacLean becomes the head coach of the New Jersey Devils. If MacLean is passed over again, then it will become very clear that Lou Lamoriello does not see him as head coach material.
Bright Side:John MacLean knows this team very well and has been with the organization for many years. John Maclean can build on what Brent Sutter did and he can possibly help take the Devils to the next step and help them go deeper into the playoffs. The system they play would not have to change and the players would not have to worry about learning a new style of hockey.
MacLean is a fan favorite and many people would love to see "Johnny Mac" get a shot at coaching the team and see if he can be a successful coach in addition to being a great player.
Down side:  MacLean has never been a head coach before, so it's very unclear how he will do in this position. Can he deal with all the pressure that comes with being a head coach? Can he win the respect of the players? Can he be a winner? There are way too many question marks about MacLean, but we won't get the answer to any of these questions until he gets a shot at head coach.
Mike Haviland:
Haviland is a New Jersey native out of Middletown, and has been a hockey coach for many years. He was a great hockey player at Elmira College and was even drafted by the New Jersey Devils.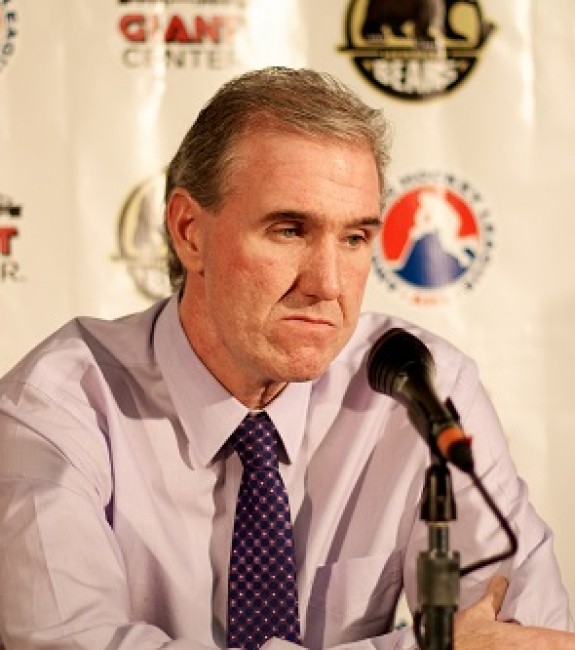 Sadly, Haviland suffered a career ending shoulder injury. After this he got a degree in marketing and he was salesman for nearly two years. However, hockey was always his passion and he spent a lot of time as a youth hockey coach, until one day he caught a break and landed an assistant coaching job with the ECHL Trenton Titans.
He would later work his way up to head coach of the Atlantic City Boardwalk Bullies in 2001-2004 and he head coached the Trenton Titans in the 2004-2005 season. Haviland would then move up to the AHL in 2005 when he was head coach of the Norfolk Admirals, the AHL affiliate of the Chicago Blackhawks. In the 2007-2008 season he coached the other minor league affiliate of the Chicago Blackhawks, the Rockford Ice Hogs.
His big break came this season when the Chicago Blackhawks brought him up to be the assistant coach of the Chicago Blackhawks.
Bright Side: In eight years of coaching, Haviland's teams have never missed the playoffs and he lead his ECHL teams to championship victories twice. Basically the guy is a winner and he always has been.
Haviland is great with his players and he knows their strengths as well as their weaknesses. He's open with his players and he knows how to relate to them. He has been known to pick up a player when their down and he's a very approachable coach.
The last bright side is that he's from New Jersey. I'm sure he'd take a lot of pride in coaching a hockey team that is in his home state. He would relate great with the young players and I'm sure the fans would love this guy.
Down Side: He has only one year of coaching experience at the NHL level. His inexperience might be what keeps Lou away. However, there isn't too much of a downside to this guy. He's a great coach and has proved it. I believe he's worthy of an NHL head coaching job.
If I had to pick one coach out of these three it would be Haviland, just because of what is said about him and the amount of respect that his players have for him.
Who will Lou choose? We'll all have to wait and see, but we will definitely have an answer very soon.