Another season has passed for the Detroit Red Wings, and while they made the playoffs, the Red Wings find themselves picking in the top 20 for the 3rd straight season. However, the Wings are without a 2nd and 5th round pick this season (traded for Erik Cole and Marek Zidlicky respectively). With only 5 picks currently available to the Red Wings in the 2015 NHL Entry Draft, will the Red Wings stay at the #19 position?
Let's face facts: it would not be out of the realm of possibility for the Wings to trade down this year. The Red Wings didn't even have 1st round picks in 2012, or 2011(or 2009, or 2006, or 2003, 2002, 2001… I could go on) and they still have an astounding drafting record. As it stands as of May 13th, 2015, the Wings pick at #19, and then not again until #73. This isn't exactly a problem for Ken Holland and company, but it would not surprise me at all to see the Wings trade down in the 1st round in order to acquire a late 2nd, or early 3rd round pick.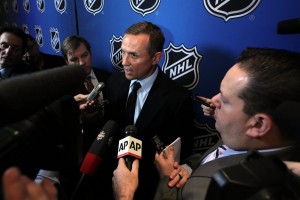 Let's do some speculating.
Considering Ken Holland and Steve Yzerman are close friends, let's assume that the Lightning are looking to move up in the draft. The Lightning currently hold the Rangers' 1st round pick in 2015 from the Ryan Callahan/Martin St. Louis trade; assuming the Rangers get knocked out in the Eastern Semi Finals (despite their knack for game 7 heroics), that Lightning pick would be around #26 overall. If the Lightning were willing to give up their 1st round pick (#26) and their 2nd round pick (#44) for the Red Wings 1st overall (#19), the Red Wings would probably bite.
At this point, purely based on the NHL Central Scouting final rankings, the Red Wings would select Paul Bittner from the Portland Winterhawks; upon further inspection, this seems like the pick they need to make. The 6 foot 4 winger plays for a good program in Portland, and was a fairly consistent scorer this year, not going more than 2 games without a point from November on. His 71 points in 66 games is a big improvement from his previous high of 49 as a 17-year-old. Biter's size is something the Red Wings desperately need, and one NHL scout had many good things to say about the Crookston, Minnesota native:
"He's going to be huge. He'll be a 220-pound guy," John Williams of NHL Central Scouting said. "He's a smooth skater, really good hands and [can] make plays and good in tight along the wall. He protects the puck well and can retrieve pucks on the forecheck and obviously at that size the fact he's able to do those things, that's what people like. He's not a power forward in the classic sense of 200 penalty minutes. With his size and strength and reach, he's tough to handle."

http://www.nhl.com/ice/news.htm?id=748390
Bittner's head coach in Portland praises Bittner's ability to maintain control of the puck, which is something the Red Wings would value immensely in their puck possession system.  Another thing that he would have going for him is that he's got a teammate already in the organization, Dominic Turgeon. It's not farfetched to say that the Wings scouts would have been watching Turgeon this season before signing him to his Entry Level deal, and would have laid eyes on the 6 foot 4 winger he played with in Bittner.
Related: Wings Ink Center Prospect Turgeon
Bittner is also a winner. He has been to the WHL final in each season he's played in Portland, and won the WHL championship in 2013. On the culture in Portland, he said
"We have a winning attitude here. Going to the finals the last four years and going to the Memorial Cup two years ago, we expect to go far in the playoffs every year. We work for it and prepare for it, but we expect to be there. We have those expectations every year."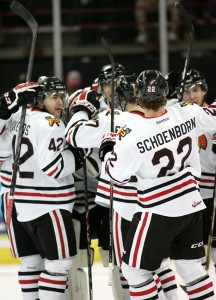 A 6 foot 4 winger who models himself after Rick Nash and Marian Hossa, who played with a current Red Wings prospect? Seems like quite a viable pick for Ken Holland to make.

Out of Left Field

It wouldn't be the offseason without some more crazy speculation. If the Red Wings were to surprise everyone at either #19 or #26, they should take the speedy winger out of Kelowna, Nick Merkley.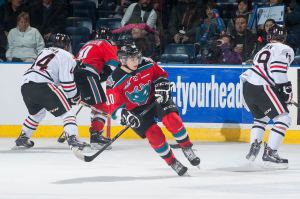 The 5 foot 10 Calgary native put up 90 points this year on a stacked Kelowna Rockets team, but he brings so much to the table that he cannot be overlooked. Out of those 90 points, 70 of them were assists. That's right, 70. The kid has playmaker written all over him, someone who makes his line mates better. For example, his linemate this season was Rourke Chartier. Last year, Chartier had 24 goals. Playing with Merkley this season, Chartier doubled that number to 48.
Related: Nick Merkley's 3 points boost Rockets to 2-0 lead
If Detroit is looking for players to set up Nyquist, Tatar, Jurco and Mantha for years to come, Merkely may just be that guy. The folks at Elite Prospects have this to say about Merkely:
A playmaking center that has an excellent eye for the game; sees the ice like a hawk from above. Creates scoring chances and on-ice energy through taking advantage of puck-possession and making the most of turnovers. Incredible work ethic; will battle against larger players and isn't afraid to do the dirty work in front of the net. Does not possess the largest frame or a dynamic level of skating; however, he does boast a remarkably high level of Hockey-IQ and a deep understanding of the game.
Will the Red Wings trade down? Will they draft according to the NHL Central Scouting rankings? Will they go off the board? Ken Holland has our answers on June 26th.