Back in April, Edmonton Oilers General Manager Craig MacTavish had a very clear plan for what he wanted his team to look like in the upcoming season. Since then, part of that plan has been accomplished. But not all.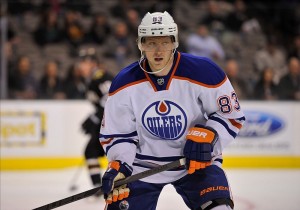 In June, he addressed the statuses of veterans Shawn Horcoff and Ales Hemsky, saying that ""[The] ideal scenario would be to move them on and wish them the best" (TSN)
That would be ideal. He has since shipped Horcoff off to the Dallas Stars for a decent return. But Hemsky remains an Oiler. At least for now. If MacTavish could get a young player and a draft-pick for Horcoff, it's surprising that nothing came to fruition in a deal involving Hemsky. Maybe MacTavish was asking for too much. Realistically, what is the 29-year old forward worth?
Hemsky will be entering his 11th NHL season. He has 133 goals and 451 points in 597 career games. Good numbers. But injuries have gotten the best him the past few years. His inability to stay healthy over the course of a season might have scared teams off, especially if the asking price was too high. Hemsky is one of those players will immense skill. He can wow you with highlight reel goals. His talent, at times, is among the best in the league. But he hasn't become the superstar so many thought he would be.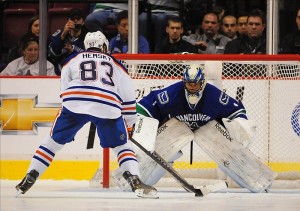 Craig MacTavish and the Oilers might be stuck with Hemsky, for lack of a better word. The GM is saying all the right things, as all good GM's normally do. But when Hemsky and his $5 million dollar cap hit becomes a free agent next summer, he probably won't be getting any Edmonton-area phone calls.
"We all know how good he is and we all know what an impact he had the last time the Oilers made the playoffs," MacTavish said. "We're hopeful that given this new environment and more competitive team going forward, that's really going to play to Ales' skill set and he'll be able to help us. I know one thing, he's a real good player," he said. "Given the right situation, he is going to score 65 points in this league if he stays healthy. Those guys are normally pretty coveted." (TSN)
Normally pretty coveted. But not in this case for some reason. We don't know what MacTavish was asking for, nor do we know what offers were made. Looking at the type of money being thrown around this offseason, one year at five mil couldn't have been that big of a deterrent. Some age comparables:
David Clarkson (age 29) Cap hit: $5.2 million
Ryan Clowe (age 30) Cap hit: $4.8 million
Alex Semin (age 29) Cap hit: $7 million
Stephen Weiss (age 30) Cap hit: $4.9 million
Ales Hemsky is capable of 65 points a season, like MacTavish eluded to. He's on an expiring contract and he could be a final piece to the puzzle for contenders looking for secondary scoring. But yet, the Oilers retain his services. Hemsky could still be dealt. The start of the season is far away still. Potentially, he could begin the year in Edmonton, and then be moved as a rental at the trade deadline. The future for Ales Hemsky in an Oilers uniform doesn't appear to be bright. Maybe MacTavish really did change his mind, and decided keeping Hemsky was a better idea. Though the more this story unfolds, the more it seems likely that no one would take him.