The shootout has become a bit of a sore subject for Detroit fans. It's gotten to the point where Jeff Riger of 97.1 The Ticket in Detroit actually asked Mike Babcock if he ever considered pulling Jimmy Howard in favor of Petr Mrazek for the shootout. Mike Babcock, quickly dismissed the idea, but it just goes to show you just how dire the situation has gotten in Detroit. Fans are divided between blaming the shooters, who have gone 3-for-18 this season, and Howard, who has allowed goals on 11 of the 15 attempts he has faced. While the blame should certainly be spread all around, I'm more interested in why Howard is struggling so much in the shootouts this season. Coming in to this season, Howard had stopped 72.1% of the shots he faced in the shootout, nearly 5% better than the league average in the same time period. Check out this graph depicting Howard's shootout save percentage by season when compared to the league average.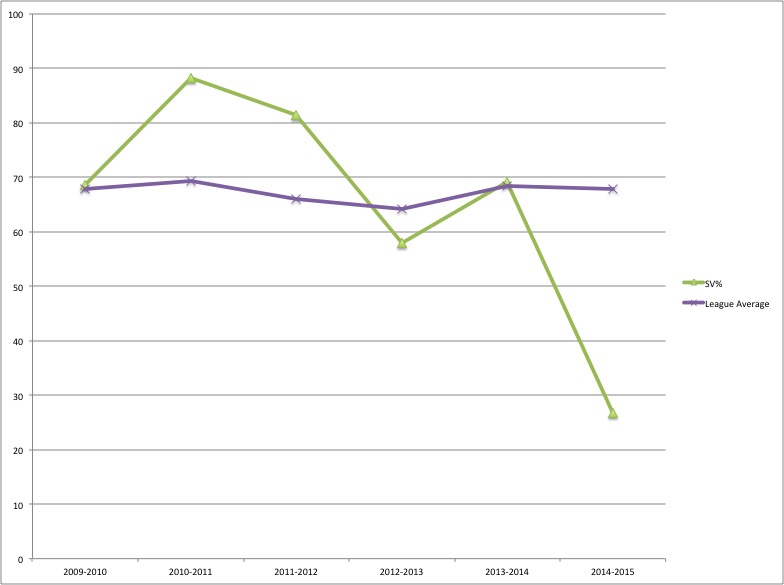 You can clearly see that aside from this season and the lockout-shortened 2012-2013 season, Howard has always been at or above the league average when it comes to shootouts. So why has he struggled so much this season? I decided to go the video to see if it is a technique issue or if this is truly all mental.
Howard's Skating
After reviewing the tape of all the shootout attempts Howard has faced this season, I noticed that Howard's skating is suspect. As a goaltender, the basic gist is that as soon as the ref signals "go", the goalie will skate out to the bottom of the faceoff circle, and then as soon as the skater gets inside the blue line, he will try to match his speed and skate backwards while moving laterally with the skater's moves. Where Howard struggles is that he yields too much space to the shooters and does not hold his ground. Take a look at these screenshots demonstrating what I'm talking about.
Good Howard
This is an example of Howard staying aggressive and utilizing great stick placement to disrupt the move.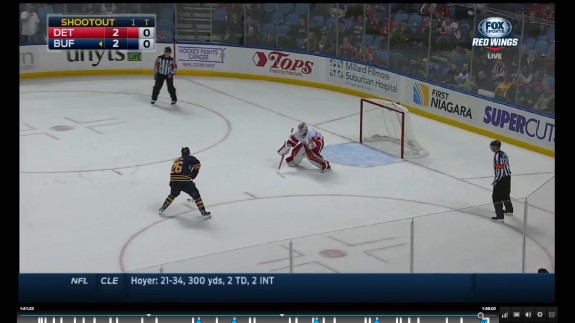 Look at how aggressive Howard is on this play. Moulson is at the faceoff dots and Howard is still well above the blue paint.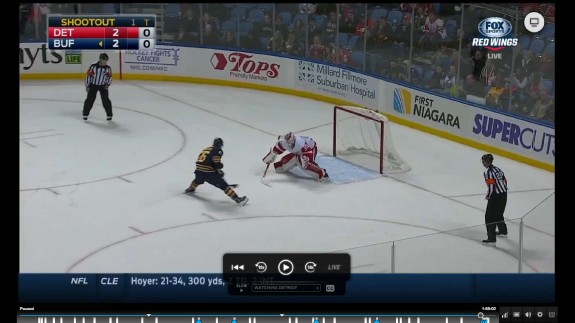 See how Howard refuses to back down from Moulson. He sees that Moulson is putting on the brakes to pull a lateral deke, so he's placed his stick well outside the top of the blue paint. This makes it very difficult for Moulson to pull the puck to either side. This is an example of Jimmy playing with confidence and being aggressive with the shooters. When Howard is at his best, he is confident, aggressive, and well outside his blue paint. You can see that in his positioning on this move.
Bad Howard
This is the goal that I'm going to break down. At this point and time there is no issue with Howard's positioning but watch how this goal develops.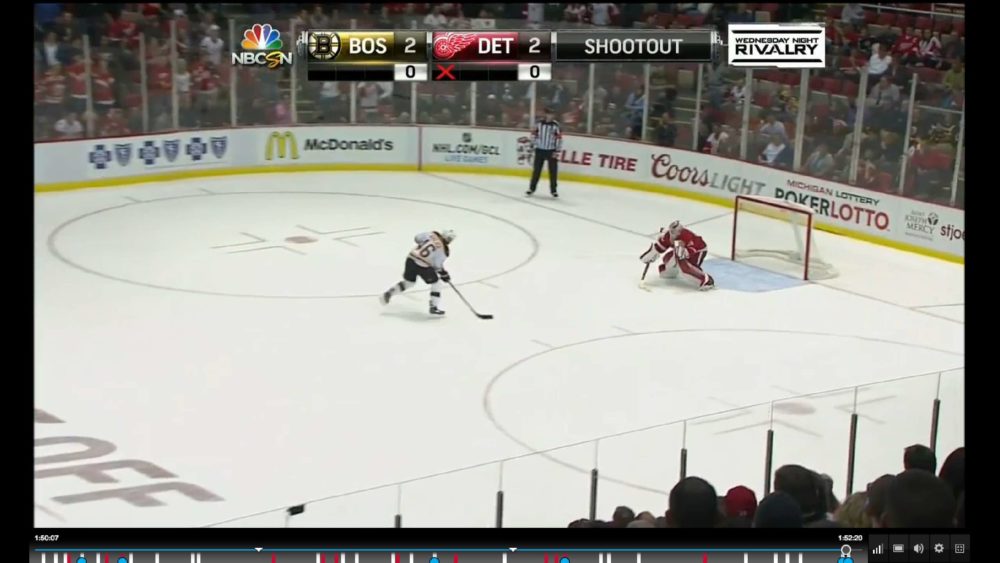 Krejci has now reached the faceoff dots and he's got a little bit of a leg kick going to get Howard to bite on the shot fake. At this point in time, Howard should be slowing up as he recognizes that he is at the top of the blue paint. Again still no major issues with Howard's skating or positioning.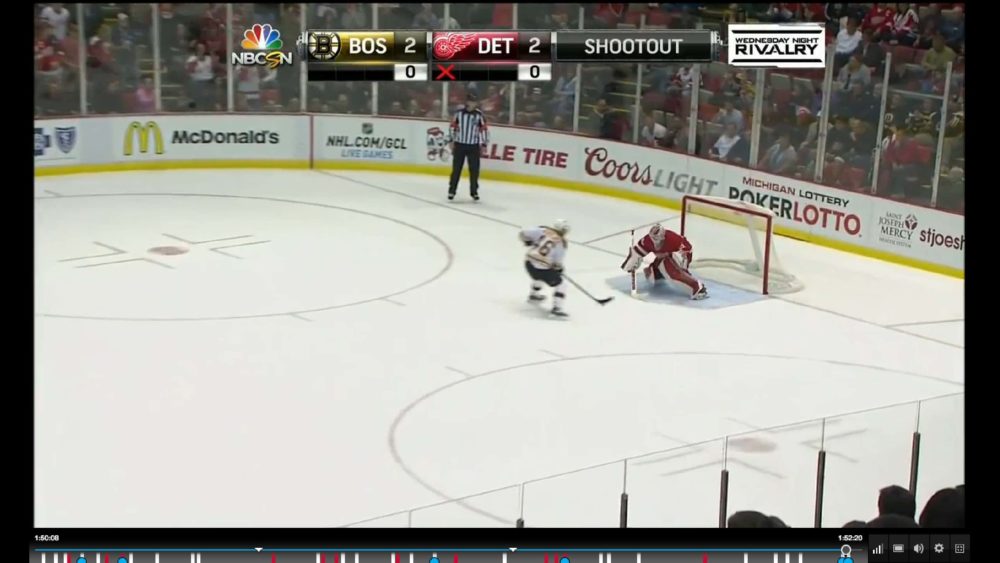 This is where the problem starts to occur. Howard is now square in the blue paint and Krejci is actually stickhandling the puck at the top of the crease. When a goalie gets in tight like this, he is supposed to use his stick to prevent a deke and hold his ground, taking away time and space. Instead, Howard continues to back up, allowing Krejci to actually finish this move with both his skates in the crease.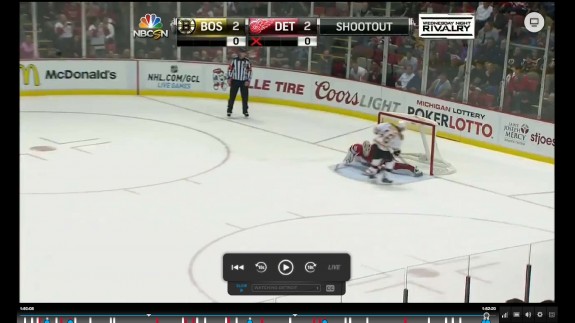 Here's the finish from Krejci's move. You can clearly see both of his skates are in the crease and that Howard is almost into his net. This is an example of Howard losing his crease, backing up too much, and allow too many in tight dekes. I'm sure fans have noticed that the opposition has essentially walked in on Howard, and made a similar move to either the forehand or backhand and easily scored. The reason they are scoring so easy is because Howard is yielding too much ground by not finding his crease and skating into his net too much.
Howard's Five Hole/Blocker
The other areas where i'm sure fans have noticed Howard getting beat is five hole and blocker side. After reviewing the tape, I noticed that Howard has not been consistent with his posture and stick position and that he often leaves far too much room between the five hole. He also sometimes tucks his blocker in too much, leaving too much room on that side. Check out some of these screenshots I was able to pull from shootouts this year.
Good Howard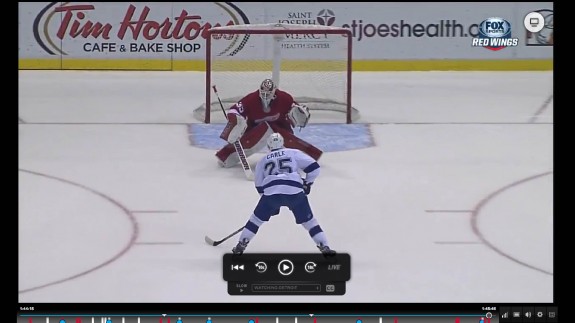 This is a perfect example of good positioning from Howard. Notice how his glove is high, his right arm is tucked in a manner to take away the blocker side, his stick is out in front of the five hole, and his legs are crouched to allow for quick reactions. Carle had nowhere to go on this shot and ended shooting the puck well wide of the net.
Bad Howard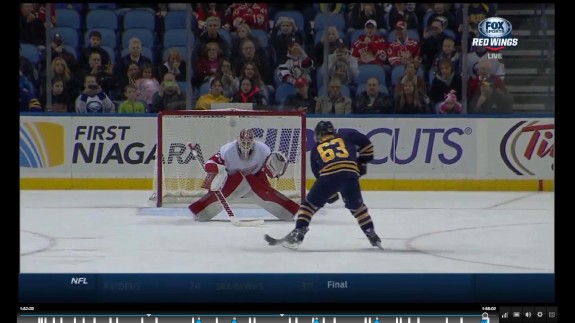 This image shows Howard playing with a couple of flaws. First, his upper body is so compact here, leaving a significant amount of room to the blocker side, which is where Ennis ultimately scores. His pad level is also up a bit, leaving a decent amount of room five hole.
How Does Howard Fix This?
From all the screenshots and video I watched, it's clear that Howard is lacking confidence in the shootout. In years past, Howard was ultra aggressive, owned his crease, and left very little room for shooters to beat him. This season, he's been inconsistent with the position of his pads and blocker, has yielded too much space in front of the net, and is losing confidence with each shootout loss. I know Babcock has been reluctant to practice the shootout, but the fact of the matter is nearly 15% of NHL games have gone to a shootout this season and the Wings have already left six points on the table. I think if Howard can get more repetitions in practice, he will regain his confidence and return to being a nightmare for shooters. As for the shooters, well that's a different story that has been addressed several times, notably by Peter Fish of Octopus Thrower. I'd personally like to see Sheahan, Tatar, and Franzen as the shooters in the shootout, but we'll see. This team will not remain this bad at shootouts, and Jimmy Howard will find the form that made him one of the best goalies in the shootout. All it will take is a little bit of practice.
Prashanth is a fourth-year doctor of pharmacy student at the University of North Carolina Eshelman School of Pharmacy in Chapel Hill, NC. He has covered the Detroit Red Wings for The Hockey Writers since April 2014. He is always willing to hear any and all debates pertaining to his articles, so feel free to email him at piyer97@gmail.com