The National Hockey League playoffs are well underway and there has not been a shortage of excitement. Goaltending has been a hot topic and features players who have won a Stanley Cup before and others who are looking to make their mark in history. As a former goaltender, and now a goaltending coach and consultant, I am excited to cover all things related to the position of goaltending for The Hockey Writers. If you have a topic related to goaltending that you would like covered or have feedback on any of my posts, please feel free to drop me a line. Now, let's get the ball rolling!
Former World Cup alpine ski racer, Jean-Claude Killy, said "the best and fastest way to learn a sport is to watch and imitate a champion." This doesn't mean take an aspiring basketball player and plop them in front of endless hours of film to watch the Chicago Bulls in the 1990s, or a hockey player to watch the high-flying Edmonton Oilers from the 1980s.
Because if you did, it wouldn't take long to figure out that these championship winning franchises were led by individual superstars. Michael Jordan and Wayne Gretzky – among others – guided their teams to consecutive titles and catapulted their careers to iconic status.
The way they played the game made people stop and take notice. Years later, hints of their skills can be seen in today's top-end players and serve as a true measure to how special their talents were.
Now, consider how the National Hockey League awards the Vezina Trophy. By definition, the award is given to the best goaltender in the league. Voting is conducted at the end of the regular season by the league's 30 general managers and each individual voter ranks their top three candidates on a 5-3-1 point system.
It's easy to look at each of the three nominees for the 2012 Vezina Trophy and recognize that each put up the numbers worthy of this award.
Henrik Lundqvist led the New York Rangers to the top of the Eastern Conference. The 2006 Gold medal winner had a 1.97 goals-against average in 62 appearances this past season for the Blueshirts.
Pekka Rinne went 43-18-8 for the Nashville Predators, finishing first in the league in games played (73), wins (43) and saves (1,987).
Jonathan Quick set a franchise record with 10 shutouts for the Los Angeles Kings and was second in the NHL with a 1.95 goals-against average.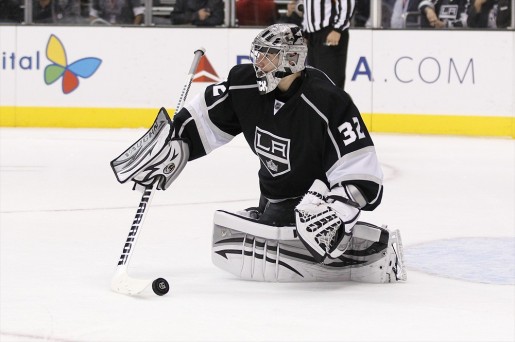 Whatever your recipe is for success at the position, you can't go far without one common ingredient: athleticism. Lundqvist, Rinne and Quick all possess it in spades. They are not typical butterfly-or-nothing types that have occupied most creases in the NHL for the past decade.
In fact, since 1990 only Patrick Roy (1991-02) and Olaf Kolzig (1999-2000) stand out as true butterfly goalies on a list of Vezina Trophy winners that includes names such as Dominik Hasek, Martin Brodeur and Tim Thomas.
Scouts, coaches and general managers have started to judge goalies based on their athleticism more than other intangibles commonly associated with the position such as size, poise and situational awareness on the ice.
Goaltenders who exhibit athleticism along with sound technical skills are often referred to as hybrid goalies. Hybrid goalies are forcing goaltending coaches to re-think how they train goalies and evaluate a goaltenders individual skill. They make us think, 'what's more important: how a goalie looks while going from Point A to Point B, or the fact that they get there and make the save?'
This style of play has become the new standard for how goaltenders play the game and are judged to be the best.
This brings me to Jonathan Quick – a goaltender whose fundamentals are based on being an athlete first. This approach has enabled Quick to maintain his strong skating ability and be smart with his movements, leading to more controlled rebounds and reducing secondary scoring opportunities. His athleticism lends itself to strong hand-eye coordination and explosive movements that made highlight reel saves a regular occurrence during the season.
Some have noted that the Milford, Connecticut native's performance this year was worth a Hart Trophy nomination because, unlike Lundqvist and Rinne whose teams did not struggle to score goals, it's hard to imagine the Kings in the playoff picture without Quick.
Quick deserves to win the 2012 Vezina Trophy not only for his individual numbers, but because his style of play should be recognized as the standard for what defines being the best.
And, especially for young goalies – the best and fastest way to learn to play goal is to watch and imitate Jonathan Quick.