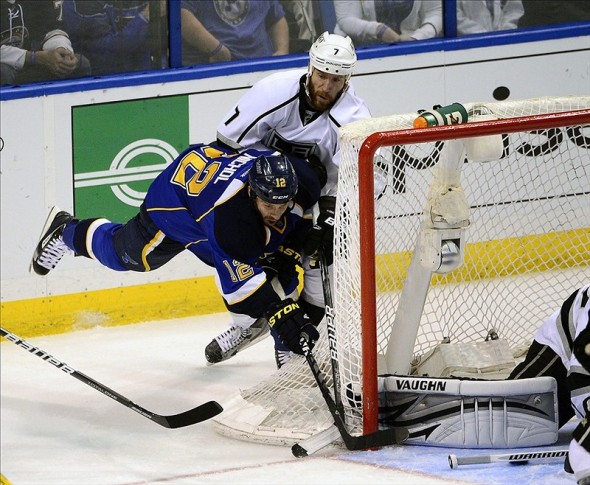 Black and blue.  Black and purple.  Any way you slice it, things are heating up between the Los Angeles Kings and St. Louis Blues.  An ever escalating series, spurred on by a Game One hit by Dwight King, that left Alex Pietrangelo out for Game Two.
Well B.J. Crombeen attempted to take care of King and the hitting,  scrapping and scrums only picked up from there.  While St. Louis may have tried to change the momentum and tone for Game Three, Los Angeles set the tone early and often in Game Two.
Right off the rip and just 31 seconds in, Mike Richards on a feed from Dustin Penner, bested Brian Elliott for a 1-0 Kings advantage in the first.
Then the Kings went to work once again on the penalty kill.  The ever relentless Dustin Brown was making things happen all over for the Kings.  Brown was able to hit Anze Kopitar, who made a nice move to beat Elliott, doubling the L.A. lead.
Late in the frame, Jeff Carter finally paid dividends for the Kings.  With Penner and Richards providing the helpers, Carter got on the board for the first time this post-season.  Following Carter was Kopitar once again, from Justin Williams and Brown.  All in all it was a commanding 4-0 lead through one for Los Angeles.
The Blues would finally break through with an early goal of their own in the second from Andy McDonald, just 18 seconds in.  Yet it wouldn't take long for the Kings to strike right back.
Williams, off a nice touch pass in front from Brown, cashed in for his first of the playoffs, hence putting L.A. back up by four.
Matt D'Agostini beat Jonathan Quick in the third, but that was all she wrote in the scoring department.
From there both sides were sniping and jarring at one another for the remainder of the night.  It was a contest that saw 31 penalties handed out and 100 penalty minutes between both teams.
As was the case in Game One, Game Two was no power-play clinic.  L.A. went 0-for-6, while St. Louis wound up 0-for-9.  A big part of that was the strong finish by Quick, who stopped 26-of-28.  This after L.A. did its job in the first with 16 shots, while mustering only five in total during the final two frames.  The Kings 5-2 victory marks their fifth straight road win of this post-season, as they take a 2-0 series lead on the Blues.
The series shifts to Los Angeles on Thursday night.