This playoff run has been something different for the Capitals, and the change-up has been one that has a lot of people muttering: "you used to be cool, man." The Caps have traded in their high-flying offense, which too often came at the expense of defense, for the inverse: a tight, safe and solid defense that risks nothing for a goal. It's gotten Washington to Round Two, but it's come at the expense of not only offensive production, but also entertainment value.
Defense buys championships, as they say, and you would be hard pressed to find an argument against that this year. Of the teams who finished in the top 10 for fewest goals against in the regular season, six are still alive in the playoffs, whereas of the teams who finished top 10 in most goals for, only two are still alive in the playoffs and two didn't even qualify in the first place. Defense is the new offense. The biggest upset of these playoffs so far has been the Kings over the Canucks, but while the Kings finished 8th in the West they ranked second in the league in fewest goals against thanks largely to Jonathan Quick.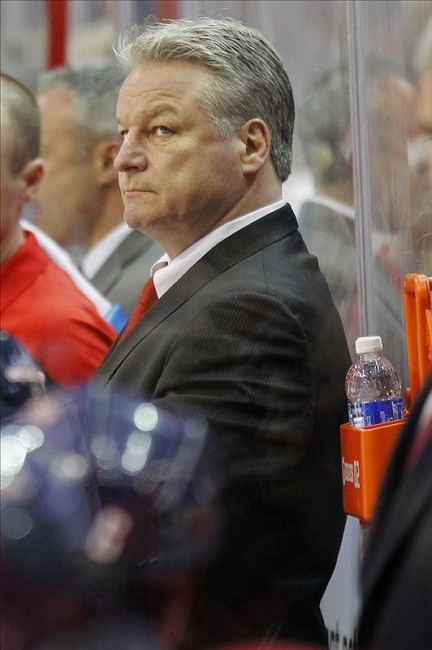 I have a drinking game for anyone who's been following the Capitals playoff run: you can go ahead and take a big chug every time you hear the phrase, "buying into Dale Hunter's system" and two more any time you hear key words like "safe plays" and "-1-4 system".
It's the Caps' new brand of hockey and because it was able to shut down the defending Stanley Cup champion Bruins in the closest series in playoff history, those phrases are mostly said approvingly. You can be forgiven for nodding off during a Caps playoff game given the newfound defensive focus (not to mention all your drinking), but you can be sure these players don't feel the same way about defensively sound hockey.
Just ask Nicklas Backstrom: "This is how it's going to be. For you, maybe it's boring. But for us, it's fun," said Backstrom in round one. Backstrom seems to be enjoying it as much as Boston Bruins coach Claude Julien hated trying to find a way to break past their tight 1-4 system. "You know, they just sit back. They play a patient game," Julien said. "They sit back and get into their 1-4 and if you want to get cute in the neutral zone, you're not getting pucks in."
Hunter's system (drink) didn't take much time to adjust to, with the Caps pulling eight wins from 14 games in Hunter's first full month as the head coach of the team. Hunter finished the year 30-23-7 and managed to take a lot of guff for not guiding his Capitals to a higher seed than seventh. It seems, at least for now, that the heat is off Hunter though, now that he's brought this team to the second round of the playoffs by molding a team that boasts the best penalty kill, most takeaways and second most blocks in these playoffs. In a regular and post-season that have rewarded defense as much as this year has, that's what the buying into the Dale Hunter system is all about. Feeling tipsy yet?