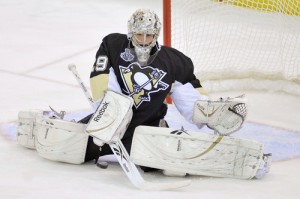 Marc-Andre Fleury should not be benched by Pittsburgh Penguins' Head Coach Dan Bylsma for Game 5. I have continuously debated the issue of benching Fleury for Tomas Vokoun as Bylsma has chosen to do in the most pivotal game of the series. I can understand the maneuver by Bylsma to sit Fleury down, but benching your starting goaltender for Game 5 is not the right decision. This move makes the Pens look like they are panicking. As important as this game may feel, the Pens will still have life left even if they stumble at home.
"Tomas Vokoun will be our starting goaltender tomorrow."-Dan Bylsma
There was an outcry before this series started for Vokoun to play against the New York Islanders since he was 3-0 against the Isles in the regular season. Vokoun's regular season record against any team is meaningless as proved by what has taken place in the Islanders' series. If Vokoun plays poorly tonight and the Pens lose, then the team will lose all confidence in both of their goaltenders.
I hope Vokoun plays well so the Pens have a chance to win, but Vokoun has only participated in 11 career playoff games recording three wins and eight losses. This is not a lot of experience for a goaltender who has been in the league for close to 15 NHL seasons. Vokoun needs to come up huge for a Pens' team that has shown gaping holes in their defense. Vokoun is surely to be nervous at the start of the contest since he hasn't participated in a playoff game since 2007. I hope Vokoun isn't the next player on the Pens' roster to show he is unprepared for playoff hockey given the amount of pressure he will be under to perform.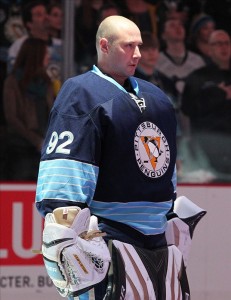 Fleury is notorious for bouncing back after being embarrassed in his previous contest. While he deserves to shoulder a good part of the blame, the entire team has been performing poorly. Since Bylsma has announced that he is benching Fleury, all of the blame is being pointed in Fleury's direction. Fleury isn't the player who is turning the puck over every time he touches it, or the forward who won't back-check. There are many players on the team who deserve just as much blame as Fleury for the Pens not playing up to their potential.
If Bylsma gives Fleury one last chance to prove himself in Game 5, and Fleury shines, this will give the team a huge boost of confidence. If Fleury fails again, then the decision will be a no-brainer to play Vokoun in Game 6 and Game 7, if need be. If the Pens lose Game 5 with Vokoun in the net, the goaltending debate will start over once again. This is why Bylsma should've waited until Game 6 to make a change. By making the decision as he has, there is the possibility of much more controversy. If Fleury got the call tomorrow night and failed, Vokoun would be a unanimous pick by the team and fans to represent the Pens in goal for the remaining of the series. From that point forward, the Pens would either win or go home. If the Pens can't beat the eighth seed in consecutive games in this series, they don't deserve to win.
Justin Glock has covered the Pittsburgh Penguins for The Hockey Writers since 2011. As a lead writer, his Penguins knowledge traces back over two decades. For any requests, please feel free to contact Justin via email: JGlock10@gmail.com.