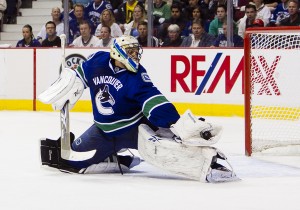 As everyone is well aware of by now, the emergence of Vancouver Canucks goalie Cory Schneider has created an overwhelming amount of speculation regarding current Canucks goalie Roberto Luongo's future with the club. Various rumours have had him headed to Long Island where he would play for the New York Islanders, Edmonton and even to the Toronto Maple Leafs.
At first glance it's certainly easy to see how someone could come up with this. The Leafs recently completed a post-All-Star break collapse and are in need of stability between the pipes, while the Canucks certainly must not be willing to spend $5.3 million per season on a goalie who won't even be the clear-cut No. 1 next season. That doesn't necessarily make him a good fit for the Leafs, though, and that cap hit of $5.3 million is just one reason why he isn't a player the Leafs should pursue.
There's no doubt about it: any player earning more than roughly $3 million per season in an expensive one, but does that make them someone every team should want? Most definitely not.
There isn't a more unpredictable position in the NHL than goaltending, where consistency is key but isn't always provided. That word─consistency─is one that has haunted Luongo over recent seasons. While his goals against average and save percentage have remained impressive, he has allowed a few too many goals that many would consider to be "soft." At such a high cap hit, this just isn't a risk worth taking. If you're looking for previous examples or proof, look no further than the $4 million cap hit that Vesa Toskala provided the Leafs with from 2008 to 2010.
It's not just the amount of money, though. Remember, Luongo's contract does not expire until 2022. Yes, ten years from now.
Even if Luongo were to join the Maple Leafs, manage to find consistency and help the team to playoff contention, doesn't that completely eliminate the chance for James Reimer to become a No. 1 goalie capable of putting up numbers similar to or better than that of Luongo's? After all, it is still believed that Reimer can take over the top job in Toronto with a little help, something that Roberto Luongo wouldn't be able to provide him with.
When people speak of bringing in an experienced goalie to help Reimer along, the belief is that someone along the lines of Jean-Sebastien Giguere, Tomas Vokoun or Johan Hedberg would join the team. That is, of course, a goalie who would be willing to work with Reimer and back him up on most nights. Luongo, at $5.3 million, 33 years of age and a .919 save percentage, isn't that type of goalie.
Another thing that's interesting to note about Luongo is the price that the Canucks will be looking for other teams to pay for his services. While there is no set price out there that has been confirmed, it's easy to say that the Canucks will be looking for a solid prospect as well as a nice draft pick. That, or a talented NHL'er who would make an immediate impact on their team to go along with, again, a draft pick.
Let's assume the Leafs do elect to go after Luongo. In that case, one would have to believe that the NHL'er headed from Toronto to Vancouver would be of the same calibre of Mikhail Grabovski or, at the least, Clarke MacArthur.
So we've established why the Leafs shouldn't pursue Luongo, with his contract, the high asking price and the fact that he wouldn't be a great partner for James Reimer being the key points. But we must also look at this from Luongo's point of view. Keep in mind what TSN's Darren Dreger tweeted yesterday, noting that Toronto is on the short list of teams that he would be willing to accept a trade to that he will or has already submitted to the Canucks.
What it all comes down to with Luongo is this: at 33 years of age and still without a Stanley Cup ring, is he willing to move to a city and play for a team where he isn't likely to win a championship within the next five seasons? That's nothing against the Maple Leafs, but let's face it, the team isn't close to Cup contention.
There are just too many factors that come in to play which suggest the Maple Leafs should not attempt to acquire Roberto Luongo in time for next season. Whether they will or not has yet to be seen, but for now, all Leafs fans should do it hope.
Twitter: @LukasHardonk | Email: lukas.hardonk@gmail.com | Lukas' archive
For every Leafs article on THW, follow @THW_MapleLeafs on Twitter.
Lukas, a student at the University of Ottawa, covers the Toronto Maple Leafs on a part-time basis for The Hockey Writers. Contact Lukas at lukas.hardonk@gmail.com or follow him on Twitter, @LukasHardonk.