Ask any one going into overtime who was going to get the game-winning goal to send their team to the second round of the playoffs and I can assure you Joel Ward wasn't on anyone's list. Ward spent the tail end of the regular season as a frequent healthy scratch, having sat for eight of the last nine games, until playing in the season-closing game against the New York Rangers.  But all bets should have been on Ward, who flies under the radar as one of the league's best playoff performers. Ward was injected into the lineup at the right time, and based on his performance it's his favourite time – when it counts.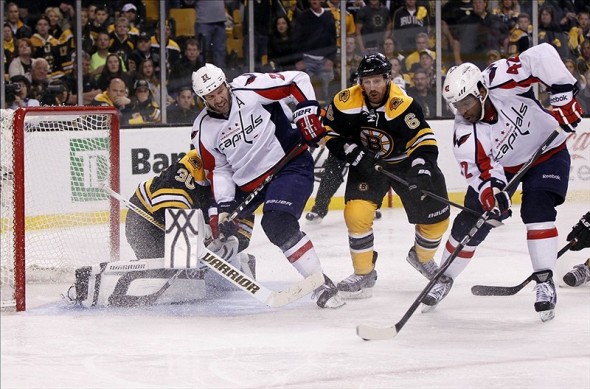 When Ward was signed over the summer, he was coming off an unforgettable playoff performance with the Nashville Predators. He tallied 13 points in just 12 games, not bad for a grinder. Ward's playoff performance with Nashville made him a hot commodity around the NHL, and it came as no surprise when GM George McPhee locked him down to a four-year $12 million contract in Washington. Ward seemed like the perfect fit for Washington. Take a player who has grit, heart and playoff tenacity and put him on a team that has suffered four years of post-season blues due to a lack of just that. And this is what you get:
"I've enjoyed playoff hockey since I was five years old," said Ward back in July after being penned to the Caps payroll. "In the playoffs, it's a lot of grind game. A lot of wear and tear. Your top scorers on both sides are cancelling out," said Ward.  "So you need your back end to fill in, and you can tell that with guys like myself and Brouwer and others that it's going to be a grind game. Keep pucks in our own zone and wear out the other team."
You can call Ward Nostradamus after predicting back in July exactly what happened in the Caps series with the Boston Bruins. For Boston their top scorer in the series ended up being Rich Peverley after stars like Lucic, Seguin, and Marchand fell off the face of the faceoff. Capitals coach Dale Hunter is known for using ice time as a reward system, and true to form he benched a mediocre Ovechkin for much of the series, with the captain only seeing 16:25 in a pivotal Game 7. But who needs Ovie when you have Ward?
Despite Ward and his linemates averaging a team-low 10 minutes per game, they made a lot happen in a little time racking up a combined six points in a series that averaged two goals per game.  In game seven, Ward saw the second-least ice time behind linemate Mike Knuble, but when called upon Ward got it done. The fourth-line flourish in Game 7 wasn't just a coincidence, they've been good all series long. In Game 4 the fourth line struck again to get their team back into the game with a tying goal by Knuble from Ward.
With proven winners like the Red Wings, Penguins, Bruins, Canucks and Blackhawks all out of the playoffs, this year's Cup run is not just ones for underdog teams, but for underdog players too. We'll have to wait and see whether Hunter focuses on a more full-rounded four-line rotation rather than favouring scoring lines and line matching. It will also be interesting to see if Joel Ward continues to produce, and if he'll learn to carry that into the regular season next year.