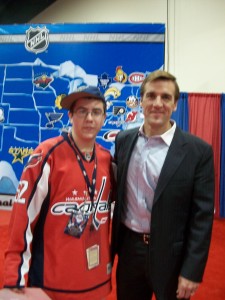 Nay Sayers
Everyone who questioned Caps GM George Mc Phee's moves (or lack thereof) this season owes him an apology letter. In game five, Troy Brouwer netted a power play goal with under two minutes left in regulation that broke the tie and secured victory. Last night, during game seven, Joel Ward scored the overtime game and series winner. No one was happy to see fan favorites like David Steckel, Matt Bradley and Boyd Gordon traded or released. Even more fans were concerned to see twenty goal scorers Tomas Fleischmann and Eric Fehr traded away. The war drums calling for Mc Phee's head resounded in Verizon Center when no splashy move was made at the trade deadline. "No Jason Arnott, no Cristobal Huet?" they lamented. Mc Phee stuck to his plan and boy did it pay off. He signed playoff vets Brouwer and Ward and trusted his coach to put them to good use, along with the other grinders on Washington's bench.
A Wealth of Talent At Goal
Bradon Holtby has been lauded for his cool-as-a-cucumber play in net. NBC broadcaster Pierre McGuire in particular seemed to take a shine to the young goaltender. Holtby is but one of a series of talented net minders that have been drafted by Mc Phee and brought up through the system. A close look at his helmet will reveal the logos of the South Carolina Stingrays of the ECHL and the Hershey Bears of the AHL. Michal Neuvirth came up through the Caps minor league system as well, winning championships and All-Star recognition along the way. The Caps hade so much drafted talent they hade to trade away Semyon Varlamov to the Avalanvce.  Having a homegrown prospect win for your team as opposed to a hired gun like Vokoun fills me with confidence for the future of the Washington Capitals.
Hunter's Game Plan
The plan was simple. Keep the defensive play along the boards. Play chip and chase on offense. Rely on special teams for important goals. Utilize your grinding lines as much as possible. Whatever you do, don't try to run-and-gun. Don't simply rely on offensive prowess to carry you in the postseason. The Caps were all too familiar with what that will lead to. Game seven is a case study in those tactics. The first goal was the result of aggressive forechecking. Jay Beagle forces a turnover down low. They cycle. Defenceman John Carlson lets a mid range slapper fly and Matt Hendricks deflects the puck into the far side of the net from about fifteen feet out. The play was nothing fancy. No one over passed. No one tried to step around a defender only to be planted into the ice. They didn't try to do the same things that had worked in the regular season over and over again to no avail. This tim they took what was given and capitalized on their opportunities.
Overtime
The same was true in overtime. Not five minutes had ticked off in the extra period and the fourth line grinders were out. Some coaches would have been doubling up their first two lines, looking for a quick end. Hunter was doing the opposite. Ovechkin's ice time had been halved for most of the series and last night was no exception. The Bruins attempted to pound the puck deep at the Caps blue line but it was blocked. The rebound launched itself in the opposite direction. Mike Knuble was quick to give chase. With Joel Ward a step behind, Knuble drove the net and attempted to force the puck through Thomas's pads. Before a single Bruin could act, Ward found the rebound and made no mistake. He buried it five hole. Instant victory.
What Have The Caps Learned?
That winning regular season games only matters in that you make the playoffs. Being seeded high is overrated. Playoff hockey is about grinding. It is about simple plays that are executed with discipline. It is about special teams. It is about keeping ones composure in the most trying of times. Would I like to see the refs call the games just like they do in the regular season? Yes. They'd be more offensive and free wheeling. But they don't. So you must adjust your style of play to fit the circumstances. Mc Phee made all the right moves to give them the right tools. Now it's up to the coaches and players.