The acquisitions of Andrew Ladd, Jason Chimera and PA Parenteau have bolstered the New York Islanders physically and offensively following the losses of Kyle Okposo, Frans Nielsen and Matt Martin, but there's still plenty of uncertainty going into the 2016-17 season.
With the underachieving Josh Bailey, Nikolay Kulemin and Ryan Strome, as well as oft-injured Mikhail Grabovski and the young Shane Prince, the Isles could use some more grit and dependability on their forward lines.  One player who could provide both is Eric Nystrom. In the process of being bought out by the Nashville Predators, Nystrom would be a perfect fit on the Islanders for a slew of reasons.
In this exclusive TheHockeyWriters.com list, we break down a handful of reasons why the son of one of the most popular and iconic members of the New York Islanders should be given an opportunity to carve his own different legacy with the team.
Depth: It looks like Chimera will be the Isles' fourth line left wing, but scoring 20 goals last season, he's probably better off on the third line. Although he's a lot older than Matt Martin, even at 33, Nystrom brings a similar skill set and would be a better fit with Casey Cizikas and Cal Clutterbuck.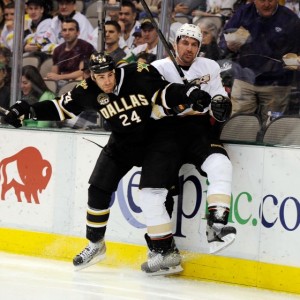 Financially Low Risk: After missing time last season with a lower-body injury and playing in just 46 games, Nystrom has a lot to prove and could be obtained for a decent price, similarly to how Islanders general manager Garth Snow picked up Parenteau for just $1.25M. With cap space remaining, the addition of Nystrom would most likely be less.
Grit: Averaging about 150 hits a season during his career, Nystrom would give the Islanders another player that isn't scared to play aggressively. With finesse players the likes of John Tavares and Parenteau, Nystrom would make sure liberties weren't taken with them. Having already addressed the losses of Nielsen and Okposo offensively, Nystrom would go a long way in helping to give the Isles the toughness they lost when Martin signed with the Maple Leafs.
Legacy: His father, Bobby Nystrom, was "Mr. Islander" and Nystrom brings a similar tenacity and fire. Seeing him in the orange and blue would make a ton of Isles fans happy.
He Can Still Play: He scored seven goals on just 27 shots last season and had 92 hits in just 46 games. If he gets a full season of playtime, he can put up similar offensive numbers to Martin and provide enough grit to warrant a role on the fourth line. The fact that he can kill penalties gives him even more value.