During the first day of the free agency, Russian forward Alexander Radulov signed a one-year contract with the Montreal Canadiens. In this article, originally appearing on the Russian website MatchTv.ru (before he joined the Habs), Radulov's father Valeri tells us five stories about his son Alexander and his brother Igor, who briefly played in the NHL in the early 2000s with the Chicago Blackhawks.
The original Russian article was written by Daniil Ratnikov and Nikolya Munyeshili.
"He's restless since his childhood. He explodes and five minutes later he doesn't even remember about it… (laughs)"
On Emotions and Impulsivity
"Alexander plays on emotions. Of course this has its side effects. Sometimes he explodes and says a lot of things. But I'll tell you once again: five minutes and he won't even remember about it.
"You won't reach a thing in sports without emotions. Even if you're a big talent, if you're too quiet you won't get into a leading role. Alex is restless since his childhood. He always did everything with a lot of alacrity. You couldn't get his stick off his hands.
"Igor, for example, after the practices run to take his lessons, while Alex – to take his stick. He would just shoot at the wall. He turned into hockey everything that went into his hands. In those times it was rare to have open rinks. So they would just clear the snow, assemble something that resembled a hockey goal and run behind a tennis ball.
"Alex always went out there to play with younger guys. If he wasn't picked up, he would play anyway. He could not lose, and it was fights every time. They'd try to calm him down, "Hey, kid, what you trying to do?" and then he would just charge like a wounded bull. His brother was not in comfort zone either, in spite of being four years older. Igor was tested so many times.
"He didn't particularly shine in studies. You have to work very hard for that, and he didn't have much success. He was systematically expelled from the lessons at the boarding school, and he couldn't even keep his spot in the hockey section. The coached called me, and moaned on the phone: "He's out of control, come and take him away."
"So I walked to the school, but the director didn't give me the documents and asked me to keep him at them. So I told him that the decision was up to him. And the decision arrived after one month and a half. We moved to Dynamo, and in Yaroslavl they had a sigh of relief.
"We didn't have these problems with Igor. He spent six years at the boarding school Torpedo in Yaroslavl. Alex was there for only one year and a half."
Playing for Detroit
"During their childhood, both guys dreamed of the NHL. We had posters pinned up in our whole apartment in Nizhny Tagil. There was a lot of red there, they cheered for Detroit.
"Their room was filled by posters of the Russian Five. Fetisov, Konstantinv, Slava Kozlov, Larionov, Fedorov, they were their idols. And this in spite of the fact that at those times no one was broadcasting NHL games in Russia. But we somehow got videotapes of the games. Alex would watch these games with a special attention, and after the game he used to interview himself.
"He brought up his tape recorder, giving himself questions and replying them.
– Alexander, what can you tell us about today's game.
– It was a good game, against a very good team.
Of course he was pretending he was playing for the Red Wings himself.
– You had two goals and two assists, are you satisfied about your game?
– I could have played even better. I'll try harder in the next game. I want to score as many goals as possible for the Red Wings.
"He was five or six years old when we moved from Nizhny Tagil, he asked us to gather all his child sticks and posters. Everything was so wore out, but they are still good memories for us."
About Nashville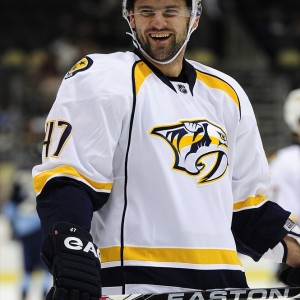 "After junior hockey, Alex didn't play great for the Predators right away. He was very happy during the training camp. But then, the next day, the GM called him to tell that he was assigned to the farm team. "I'm not going to go there! It'd be better to go home!" he told his agent. But the agent got him more relaxed and convinced him that everything will be okay. So he was convinced and in two or three games for the farm team he had seven points. The Preds seen that and they called him up as soon as there was an injury in the main team. He played well for a few games in the NHL, but after a road trip he was once again assigned down.
"Once again he called his agent, saying that he was better than some other players and that he was not going to report. The agent managed to get him calm once again, but he had the same situation other times. Then I have been explained, that in Nashville it works like that: no matter if you're even Sidney Crosby, you have to go through the farm team anyway."
About Family and Cities
"We lived in St. Petersburg for more than ten years. Alexander moved us there. Or better, Alexander forced us to move there. It happened like that. During his time at the boarding school in Yaroslavl, he met a girl. She was from St. Petersburg and we visited her.
"In 2004, right after Nashville picked him at the draft, he called his brother. And it was a lucky call, as Igor met her and the girl that is now his wife.
"As the time went by, both acquired a home in St. Petersburg, and then they got me and my wife there. We bought an apartment and made repairs. In Nizhny Tagil our apartment was nothing great.
"But if we and Igor's family are often in touch here in St. Petersburg, Alex is rarely at his place. Somewhat he prefers Moscow."
About That Infamous Late Dinner
"In 2012, the year when he moved back to Nashville after Salavat Yulaev Ufa was out of the KHL playoffs, he was offered a three-year contract right after his first game. He replied that he was going to sign it in the off-season.
"He may stay in the NHL at that time, if it wasn't for that silly situation…
"A journalist saw he and Andrei Kostitsyn at some restaurant, and he wrote that those were Russian drunks. But they didn't drink! They ate there, but without spirits. But since they didn't manage to report on time at 11:30 PM, everyone decided that they were drunk.
"I was in America then. Therefore I do know what happened. And I can definitely say: they did no drink.
"Moreover, Sergei [Kostitsyn] arrived on time, while Andrei and Alex were late of about ten minutes. The coach seen them in the hotel's hall and scratched them for two games, and you already know the rest of the history.
"But in the end, who knows, maybe it was a good thing that he didn't remain."
A professional hockey writer and translator. Loves Russian culture, language, and hockey. Reachable on twitter @AlexSerenRosso