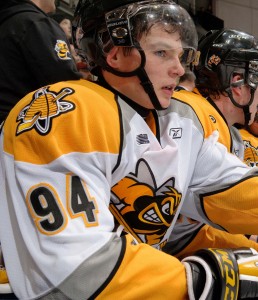 The Toronto Maple Leafs have grown somewhat used to selecting high in the NHL Entry Draft over the years and 2012 will be no different as the team is set to choose at the five spot.
Once again, the Maple Leafs find themselves with many great options to select from. Not just in terms of players, but also when it comes to dealing the pick; move up, move down and move out. Similar to many other teams in this year's draft, the Leafs will surely have teams knocking on their door to inquire about the possibility of moving up to the five hole. That has left the great debate of to trade or not to trade, which is something the Leafs will need to come to a decision on relatively quickly.
Let's weigh the many options when it comes to potential Leaf prospects if they decide to hold on to the pick. Based on the final draft rankings released by NHL Central Scouting back in early April alone, it's clear the Leafs' options aren't just limited to only forwards or only defencemen. Rather they have the option of both and seemingly can't go wrong either way.
Given the fact that the Leafs will be selecting fifth and no higher unless they decide to move up in the draft order, which is something that we will address later, there is no need to mention Nail Yakupov nor Ryan Murray since they are basically guaranteed to go first and second─although maybe not in that order─this summer. Instead, let's look at all North American skaters ranked third to seventh as it's likely it will be one of those five selected by the Buds.
First up is Mikhail Grigorenko who, let's face it, will probably go before the Leafs even have the chance to make their selection. However, he must always be considered given what some people believe to be the "Russian factor," which is, of course, when a player is drafted in the NHL but elects to remain in his native country of Russia, where he could easily make more money sooner.
Regardless, Grigorenko is undoubtedly a talented player who, if the Leafs have a chance to take, should not be overlooked.
Brian Huddle, an OHL scout and columnist for Future Considerations, was kind enough to contribute a few scouting reports for this article. Here's what he had to say about Grigorenko:
Grigorenko is a big play-making pivot who uses high-end IQ and vision to make those around him better. While questioned for his work ethic at times, Grigorenko utilizes tape-to-tape passes, a lethal shot and excellent anticipation to dissect defences apart.
Grigorenko finished the 2011-2012 regular season with 40 goals and 45 assists in 59 games. He followed that up with a tremendous post-season, registering three goals and seven assists in 11 games. Combined, the native of Khabarovsk, Russia finished the season with a plus-33 rating.
Then there is fourth ranked North American skater, Alex Galchenyuk. Although it isn't entirely the right thing, Galchenyuk has been on the mind of many Leaf fans since the team's 2012 collapse was roughly halfway complete. He, like Grigorenko, is a centreman with Russian ties, although to think the "Russian factor" may exist with Galchenyuk as well is just silly given that he was born in Milwaukee, Wisconsin and he─although also similar to Grigorenko─has been playing in Canada recently.
Galchenyuk played in just two games during the 2011-2012 regular season due to injury, followed by a four-point showing in six games during the playoffs.
From Huddle:
A big two-way center, Galchenyuk utilizes his high-end speed and vision on the ice to rack up the points, whether an assist or a goal. Galchenyuk can blow past defenders and use his reach and puck skills well to keep the puck on his tape, drawing defenders in before hitting an open teammate with a beautiful saucer pass. A playmaker by definition, he's also known as a rink rat with very good work ethic.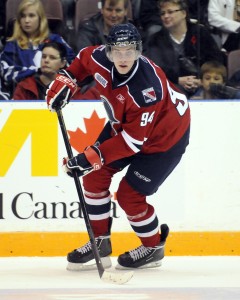 Rounding out the three forwards on the list─all of whom play the centre position─is Kitchener Rangers 22nd overall 2011 CHL Import Draft selection Radek Faksa. Listed as six-foot-three, 202 pounds on the team's website, Faksa is a rather big player. If built with the strength for the NHL one day, Faksa would surely be able to help the Leafs' top-six along the boards, which is something they have proven to be in need of.
There shouldn't be much to worry about in terms of ditching out on the NHL when it comes to Faksa; he was born in Opava, Czech Republic.
Again, from Huddle:
A large center in his first year on North American soil, Faksa uses his size and skills to be a threat in all three zones. Whether lining opponents up for a big hit, hitting a linemate with a crisp pass, or using his pro release bullet of a shot, he makes an impact most shifts. What really impresses people about this 18-year-old on top of his intelligence as an offensive player is his commitment to defence and maturity when breaking up plays.
Are you beginning to notice a trend from the scouting reports provided alone? If not, look again. All three players are known to have a strong passing ability and can certainly play well offensively. Both are reasons why they're ranked so high and both of those traits would come in handy for the Leafs in years to come, to say the least.
Now let's move on to the two defencemen on the list, Cody Ceci and Morgan Rielly.
Rielly, the fifth ranked North American skater, comes from Vancouver, British Columbia. He managed 28 points in 65 games in his rookie season with the Moose Jaw Warriors before posting 18 points in just as many games this past season, followed by three points in five games in the playoffs.
Huddle had this to say about Rielly:
A naturally gifted skater, Rielly is an offensive defenseman who pushes the pace from the back-end. His passing and vision are off the charts and can make checkers look silly when he skates a circle around them before dishing to an open man. Calm and collected, Rielly is the best defenseman on the ice most nights and makes things happen offensively that few others can.
While he may not be defensive-minded all the time, Rielly is a solid defender who could certainly bolster the Leafs' back-end in a few seasons, as could Ceci.
From Orleans, Ontario, Ceci has played for his hometown Ottawa 67's during his entire three-year OHL career. At six-foot-three and 206 pounds, Ceci certainly isn't a small guy. His size would undoubtedly come in handy in the NHL and he could play both on the power play and penalty kill.
From Huddle on Ceci:
Big and strong, Ceci is your prototypical two-way defenceman. While not as mean as teams would like, Ceci utilizes his reach an intelligence to shut down opposing forwards before transitioning the play the other way. He brings a canon of a shot and intelligent puck moving, as well the ability to jump into plays as a well-rounded defender. His size gives him strength to win battles and be a dominant force anywhere on the ice.
So there you have it; of the five players listed above, not one could possibly be seen as a bad choice. And given where the Leafs will select and where Grigorenko, Galchenyuk, Faksa, Rielly and Ceci are all ranked heading into the draft, it's certainly conceivable to see one of them in a Maple Leafs jersey come this June unless the team elects to move the pick. That alone is one of the worst decisions the Leafs could possibly make this off-season.
This isn't to say that the Leafs are in a rebuilding stage, because general manager Brian Burke has made it clear that is not what this is, but to those who do say it is: wouldn't trading the pick just be going back on the entire belief of rebuilding through the draft, as many have suggested the team should? The team would simply miss out on a highly ranked prospect for a roster player or current NHL prospect that may never work out in Toronto. In other words, why take the risk if it's just the same?
Then there are those who take the stand of saying the team should move up in the draft. In this case, the Leafs would likely forfeit their current pick as well as a roster player and/or a strong prospect currently with the Toronto Marlies for a player to be drafted a few spots─hence a few─higher. We must all remember that some of the game's greatest players weren't drafted in the top three. In fact, some of the game's worst were.
All in all, the draft is just as unimportant as it is important. Now is not the time to mess around with things when it's not necessary.
Twitter: @LukasHardonk | Email: lukas.hardonk@gmail.com | Lukas' archive
For every Leafs article on THW, follow @THW_MapleLeafs on Twitter.