With one fell swoop of Adam Henrique's stick, the New York Rangers' Stanley Cup hopes came tumbling down like a house of cards.
It was an end to a playoffs that didn't go according to plan for the Rangers, to put it lightly.
After a strong regular season as one of the league's elite teams, finishing 1st in the Eastern Conference, the Rangers were taken to seven games by the 8th seeded Ottawa Senators, again in seven by the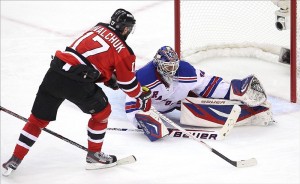 7th seeded Washington Capitals, and then upset in the conference finals against the 6th seeded New Jersey Devils in six games.
With their first finals berth since 1994 hanging in the balance, the Rangers as a team were unable to play their best hockey when it mattered the most.
Now, this isn't to take anything away from a Devils team that, as I wrote in a recent article, has been deeply underestimated by most as a legitimate Cup contender.
But it was hard to watch a team as proud and determined as this year's Rangers sputter out at the end, losing three games in a row to close out the series.
Much talk has been made, from before the series began until the end of it now, about fatigue setting in on the Rangers, especially their top four defencemen: Dan Girardi, Ryan McDonagh, Marc Staal and Michael Del Zotto.
Not only had the Rangers already gone through two grueling game seven series, but those four defenceman had been tasked with handling  a huge workload of the time on ice, especially against top opposing lines. Girardi finished the playoffs with a league-leading total 537:16 minutes played, while McDonagh played 536:22, both in 20 total games.
That's over a hundred minutes of ice time more than New Jersey's ice time leader, Marek Zidlicky. Remember how people thought that NJ overpaid for him at the deadline? He's logged 434:48 of ice time, in 18 games.
When asked about the fatigue factor having a potential affect on his squad,  Rangers head coach John Tortorella was quick to shoo away the notion.
"It has nothing to do with being tired," said Tortorella. "This is part of learning to play. I couldn't be happier how we responded after, again, a pretty shaky first period. I thought we were in a good spot going into that overtime."
But something certainly seemed off with the Rangers in their last three games. Normally one of the league's most prudent defensive teams, they began falling victim to scoring chances that the team would have rarely given up in the regular season.
Exhibit A: Here is Ryan Carter's game-winning goal in Game 5.
Both Girardi and Del Zotto collapse on Ilya Kovalchuk in the corner, leaving Carter alone to Henrik Lundqvist's right. Carl Hagelin was late covering Carter, but that should have been Girardi's man in the first place.
Exhibit B. This was the opening goal on Thursday, once again by Carter.
Bad pinch by Staal, and an even worse defending of the 3-on-1 by the young Del Zotto. 1-0 Devils and the Rangers are behind early with their season on the line.
Exhibit C: Ilya Kovalchuk's powerplay goal.
Easily the most dangerous scorer on New Jersey, and the Rangers PK didn't even look at him for a full 20 seconds before he took a wide-open pass and buried it past Lundqvist. 2-0.
Exhibit D: Henrique's finisher.
This one hurts the worst. Girardi gets caught behind the net while his man, Henrique, shovels home a very dirty goal in the crease to knock the Rangers out. Girardi is an amazing defenceman, so I can only imagine how much it hurts to end such a wonderful season this way.
To see such mental lapses defensively was a rarity for the Rangers this year. To see one end Game 5, and then see three more in Game 6? That's some Twilight Zone stuff right there.
In contrast, the Devils have been giving reasonable ice time to their defensive core throughout the playoffs, and did a remarkable job staying structured and calm throughout most of this series, even when the Rangers applied pressure and erased a 3-0 deficit in Game 5 and a 2-0 deficit in Game 6. On that note, poor first period play also severely hampered New York's chances, but that's doesn't fully explain such uncharacteristic mistakes.
Even if fatigue wasn't the deciding factor, the Rangers will now have lots of time to rest up for next season, stuck with only the memories of what could have been.
Derek Neumeier primarily covers the Dallas Stars, but also other various topics related to the sport of hockey. A Journalism graduate of Mount Royal University, Derek also writes for Defending Big D, and has done previous work with the Edmonton Oilers as a communications intern and Hockey Canada as a freelance writer. You can follow him on Twitter at @Derek_N_NHL