After Dustin Byfuglien signed his massive extension, essentially taking him off the market, the rumor mill picked up on a few other names. One of those names is Hamhuis, defenseman for the Vancouver Canucks. Some of the top NHL minds in the media think the Stars should pursue a Dan Hamhuis trade. In one of his latest 30 Thoughts, Elliotte Friedman mentions the Dallas Stars as a good fit for Hamhuis. At this point, most of the defensemen that are potentially on the market sound like a good fit in Dallas.
Hamhuis, however, would not be a good fit at all. He simply does not have a good place on the Stars roster at this point in time and would not be the worth the price for general manager Jim Nill. Hamhuis is going to be one of the bigger names available at the deadline and the price tag will be high, especially for what he would bring to the Stars.
Dan Hamhuis Trade: Where Would He Fit?
One common misconception around the NHL is that the Dallas Stars have bad defensemen and that's why so many goals end up in the back of their own net. Do they have some defensemen who make mistakes? Absolutely, but the system the Stars play is really what gives up so many goals. They trade a lot of chances with their opponents.
Every one of the current Dallas defensemen would be NHL defensemen on most NHL rosters now. They aren't bad players, just the style of game they play lends itself to giving up some quality chances.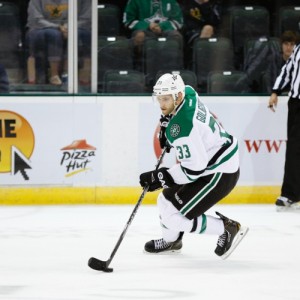 That brings us to Hamhuis and where in the world he would fit on this team. He belongs in a top-4 role, no question about that. Who does he move aside? John Klingberg is a right-handed defenseman (Hamhuis is a lefty) and is far too good to be anywhere but the top-4. Jason Demers has been perhaps the most steady Stars defenseman all season long and is also right-handed so he wouldn't be moving.
That leaves us with Alex Goligoski and Johnny Oduya playing on the left-side of the top-two pairings.
When looking at the statistics and game play of both Goligoski and Hamhuis, it is absolutely no contest. Goligoski is a more physical player, something the Stars desperately need from their defensemen. Hits can be a flawed stat due to consistency issues, but Goligoski has 40 more hits than Hamhuis. Goligoski isn't an overly physical player himself and the Stars have no real need for a player who is significantly less physical than Goligoski. While we're at it, Oduya has also been a more physical player and so has bottom-pairing defenseman for the Stars, Jyrki Jokipakka. From a physicality standpoint, Hamhuis doesn't even have a spot in the bottom pairing.
Goligoski produces way more offense, with 16 even-strength points to Hamhuis' four on the season. Oduya has 13 and once again, Jokipakka is above Hamhuis too. Jokipakka has six even-strength points to Hamhuis' four, although Jokipakka has appeared in nine more games.
Now we come to the possession metrics. Hamhuis' Corsi-for-% at even strength is lower than Goligoski's, Oduya's, Jokipakka's and even Patrik Nemeth's. That being said, Vancouver is not a great possession team so let's look at what the stats look like relative to the rest of each player's team. Hamhuis actually has a .96 CF%rel, higher than Oduya, Jokipakka and Nemeth. So that's looking a bit better. However, Hamhuis has a 56.08 offensive-zone-start-% at even strength. Only Jokipakka has started a higher-% in the offensive zone than Hamhuis.
His statistics don't warrant Hamhuis being in the top two pairings on the Stars and they arguably don't warrant him being on a bottom-pairing.
He's Just Not Worth It
Hamhuis isn't going to come cheap at the deadline. He's a pretty recognizable name and he's on a contract that shouldn't give many teams any salary cap issues. He's been a top defenseman in the NHL for a while but he just isn't the same guy.
For the Stars, it just isn't worth paying the price that it would cost to bring in a guy that probably doesn't belong in the top-two pairings. Add in the fact that Hamhuis has had trouble staying healthy for the past two seasons and it just doesn't make sense to give up anything of significant value for him.
Move along Dallas, there's nothing to see here.