After covering the midseason grades of Stars' general manager Jim Nill, head coach Lindy Ruff and the forwards, we wrap things up with midseason grades for the defensemen and goaltenders.
Currently the Stars have slipped into 2nd place (29-12-4, 62 pts) in the Western Conference. They are 2 points behind Chicago, but still have 2 games in hand. The Stars will look to get back on track Saturday night at the SAP Center vs. San Jose. In their last 6 games the Stars are 1-4-1.
Again the Stars' player grades are my assessment of their performance over the first 41 games of the season. Also, unless noted otherwise, stat references are 5×5 game situations.
Stars Defensemen
John Klingberg (A-): After a dynamic rookie season, Klingberg finished insanely low (5th place) in the Calder Trophy consideration. Now in his sophomore season, Klingberg has been neck and neck with two-time Norris Trophy winner and countryman Erik Karlsson in statistical categories ranging from scoring to puck possession to ice time.
So how does he get recognized? 2016 NHL All Star snub!! Instead of Klingberg, hockey fans will get to see Shea Weber, Roman Josi and Dustin Byfuglien.  Byfuglien will look like a Clydesdale on the ice next to the likes of young thoroughbreds Jamie Benn, Tyler Seguin, Patrick Kane, Jonathan Toews, etc. As Klingberg continues to grow and develop more consistency defensively this grade will move to an A.
Midseason stats: 41 GS 5 G 32 A 37 PTS +12 Plus/Minus
Alex Goligoski (B): Goligoski has partnered with Klingberg all season to form the Stars' top pair. In a perfect world, Goligoski, 30, would be a few inches taller (5'11) and more of a physical defensive presence. Goligoski is second only to Minnesota's Ryan Suter in ice time by American born players. He leads by example and was the obvious choice to backfill a vacant Alternate Captain spot when Trevor Daley moved out of the Metroplex this summer.
The Grand Rapids, Minnesota native averages nearly 2 blocked shots per game. His 1 GWG came Dec. 15th in a 5-1 victory against Columbus. That night, he also had a season high 6 blocked shots and earned 3rd Star honors.
Midseason stats: 41 GS 3 G 16 A 19 PTS +11 Plus/Minus
Johnny Oduya (A-): The 34-year-old Stockholm, Sweden native has performed as advertised. The Stars acquired Oduya in the offseason when Chicago was unable to sign him. The three-time Cup winner, leads the Stars in blocked shots averaging more than 2 per game. Oduya has been a big part of the Stars's PK unit averaging 2:37 PK minutes per game.
He has partnered with Jason Demers to give the Stars a strong second unit. Oduya earned 3rd Star honors in a Dec. 17th 3-1 loss to Calgary. Against the Flames he scored the lone Stars' goal, blocked 5 shots and was plus 1. After 41 games he led all Stars defensemen in shooting-percentage (just under 10%) and plus/minus (+16).
Midseason stats: 41 GS 4 G 10 A 14 PTS +16 Plus/Minus.
Jason Demers (B+): Demers is a glue-guy in the dressing room who plays in all game situations. During 5×5 or the PK he is typically paired with Oduya. He also sees time on the Stars' 2nd power-play unit. The 27 year-old from Dorval Quebec is on pace for a career high in goals and scored his first career SHG this season. He earned 2nd Star honors with 2 assists and a plus 2 in a 3-2 loss to Toronto on November 10th.
Demers has received 2 game misconduct penalties this season for questionable hits. He received a suspension for one of the hits. He is not known as an overly physical or dirty player but now has repeat offender status with the NHL Department of Player Safety.
Midseason stats: 35 GS 4 G 10 A 14 PTS +16 Plus/Minus.
Jordie Benn (C+): Coming into training camp there was talk of younger defensemen (Jyrki Jokipakka, Patrick Nemeth, Jamie Oleksiak, Stephen Johns and Esa Lindell) potentially pushing the 28-year old Benn out of a job. However, Benn has been a consistent 3rd pair performer through the first half of the season.
Spezza snaps one in at 1:48 of first. Jordie Benn with another sweet pass. 1-0 Stars.

— Mike Heika (@MikeHeika) December 2, 2015
He's not known for his offense, but has had a few dandy passes from his own zone to spring Stars' forwards into the attacking zone. He averages close to 2 minutes per game of PK time. Jordie Benn earned 3rd Star honors on November 8th in a 4-1 win against Detroit. He had a strong overall game to go along with an assist and a plus 1.
Midseason stats: 40 GS 1 G 8 A 9 PTS +4 Plus/Minus.
Jyrki Jokipakka (C+): He won a top six job in training camp and has been steady enough to keep it. The 24 year-old from Tampere, Finland has shared most of the 3rd pair minutes with Jordie Benn. He scored his first NHL goal in a 5-3 win at Boston on November 3rd. He rotates in for PK minutes and played a season high 20:01 minutes in the 5-1 NYE game win against Nashville. He's only been a minus player for one home game (Toronto Nov 10th minus 2) this season!
30 GS 1 G 4 A 5 PTS +6 Plus/Minus
Jamie Oleksiak and Patrick Nemeth grade as Incomplete due to playing fewer than 20 games.
Stars Goaltending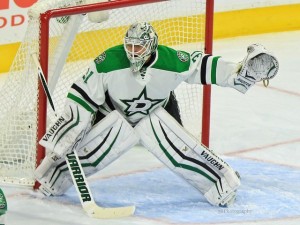 Antti Niemi (B): His 93.45 save-percentage and 93.28 adjusted save-percentage rank 12th overall out of goalies who played at least 600 minutes. The only goalies older than Niemi with a better save-percentage were Henrik Lundqvist and Roberto Luongo. His 87.27 save-percentage against High Danger shots was good for 6th overall. His Medium Danger shot save-percentage of 91.73 slipped down to 31st overall. While his Low Danger shot save-percentage was 12th overall at 98.13.  He had more shutouts (3) than Braden Holtby, Pekka Renne or Lundqvist. He has rescued the Stars (and co-netminder Kari Lehtonen) with strong relief play on 3 occasions. He led the team in wins with 16.
Kari Lehtonen (D+): The Stars acquired Niemi in the offseason to push his fellow countryman. Lehtonen responded with great play in spurts but has also been consistently outperformed by Niemi. Lehtonen's save-percentage stats are at Not Good.  His 90.75 save-percentage ranks 40th out of 41 goalies who played at least 600 minutes. His 91.20 adjust save-percentage is 35th, High danger 84.83 (21st overall), Medium Danger 90.35 (38th) and Low Danger 96.08 (36th). He has won 12 games, but has also been pulled 4 times.