In Game 4 of the Eastern Conference Quarterfinals, Washington Capitals winger Martin Erat was involved in a collision that has him sidelined for Game 5. Erat was acquired at the trade deadline from the Nashville Predators along with forward Michael Latta, for their highly touted first-round pick in the 2012 NHL Draft, Filip Forsberg. Their other first-round pick in the 2012 draft, Tom Wilson, has been recalled from Hershey to join the team in the wake up Erat's injury.
#Caps officially recall Tom Wilson and Joey Crabb.

— Katie Carrera (@kcarrera) May 9, 2013
After taking a commanding 2-0 lead against the New York Rangers, the Capitals now find themselves in a best of three series to advance to the Eastern Conference Semifinals after surrendering a pair of 4-3 losses at Madison Square Garden. The Capitals were outplayed in the physical department and certainly could use a fresh body to contribute with physical play.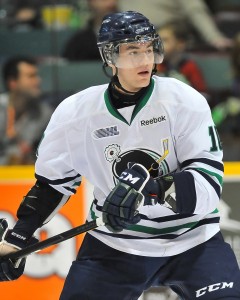 That's where Wilson comes into the picture. He is a 6'4″, near 200 pound power forward with fabulous speed for his size. While he has only participated in three AHL games with the Hershey Bears and zero NHL games in his career, his presence has been recognized by the Capitals coaching staff.
Wilson took part in the Capitals abbreviated training camp before the season, and impressed head coach Adam Oates with his style of play.
"He looked great out there," Oates told the Washington Times in January. "He skated great, he looked like one of the guys and sometimes I didn't realize it was him."
In 48 games with OHL Plymouth this year, Wilson tallied 58 points. In 12 playoff games, he recorded nine goals and eight assists. He tallied a late power play goal in his first game with Hershey, which would be his only point with the Capitals AHL affiliate.
Except he wouldn't be relied upon to score. He would likely be placed on the fourth line with Matt Hendricks and Jay Beagle, which already possesses top-end speed and physical presence. According to Katie Carrera of the Washington Post, that's exactly where Wilson was practicing when he participated in the Caps morning skate on Thursday. Joel Ward, who has been playing on that line, was placed on the third line, while Eric Fehr took Erat's spot on the second line.
If the Capitals want to take back the momentum they are going to need to be physical. Lack of a big physical presence has prevented them from having success in the last two games. While Wilson hasn't played a game in the NHL, the gamble is certainly worth it. The only other options are Joey Crabb, Aaron Volpatti, and Wojtek Wolski, whom don't seem attractive at all.
Give Wilson a chance and see what he can do. The playoffs are where heroes are made. Put him in the lineup.
If the Capitals do advance, they would play either Boston, Toronto, or the New York Islanders.
Matt Schreiber is the Florida Panthers Lead Writer for The Hockey Writers. He grew up just outside of Washington, DC before moving to Boca Raton, FL, where he currently resides. He also covers the NHL for Bleacher Report.