Dakota Mermis – THW Closeup:
Team: London Knights (OHL) Birthdate: January 5, 1994 Hometown: Alton, IL, USA Height: 5′ 11″  Weight: 190lbs Position: Defence Shoots: Left Twitter:
@dmermis06
THW Ranking: 115 CSS Final Rankings: 95 (NA skaters)  
Mermis was originally drafted by the London Knights as a 12th round draft pick in 2010. The reason for going so low however, had nothing to do with his talent but rather his decision to go the NCAA route. After a year with the Green Bay Gamblers of the USHL he committed to the University of Denver.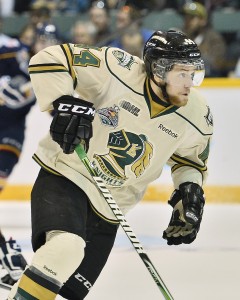 His college career lasted all of 19 games before the lure of the Hunter brothers and the OHL powerhouse Knights came calling.
After being passed over in last year's NHL draft, Mermis felt he wasn't getting the ice time he needed with Denver to take his game to the next level. He joined the Knights in the middle of the season and is now a member of one of the league's deepest bluelines with a chance of playing in the Memorial Cup.
On a defence that boasts captain and Canada WJC member Scott Harrington as well as NHL first rounder Olli Maatta and potential 2013 first rounder Nikita Zadorov, Mermis' transition to the OHL has gone smoothly and he has added significant depth to the Knights back end.
Somewhat undersized, Mermis plays bigger than his 5'11" frame and is not afraid to get involved physically and can play with an edge. He's a good skater with a well rounded game. No one area jumps out as exceptional, but he also does not have many glaring weaknesses either.
His strength is his defensive game, but his offensive side has been developing and he has seen some power play time in London.
He has already jumped from 156th at mid-season to 95th in the final CSS rankings among North American skaters. A good OHL finals and potential Memorial Cup could raise his stock even more.
Scout's Honour:
There isn't one aspect of his game that REALLY jumps out at you, but he's very well rounded. He does a good job of skating the puck up ice and out of trouble, and is developing well as a powerplay quarterback. Even though he was billed as more of an offensive defenseman, I think I was most impressed with him defensively. He closes gaps well and does a great job of defending off the rush. And he's a more physical defender than I expected him to be. – Brock Otten, OHL Prospects
Where He'll End Up in June:
Mermis has jumped as many as 60 spots in various draft rankings from mid-season to know, to where he will likely be around a 4th round pick in the draft.
Statistics: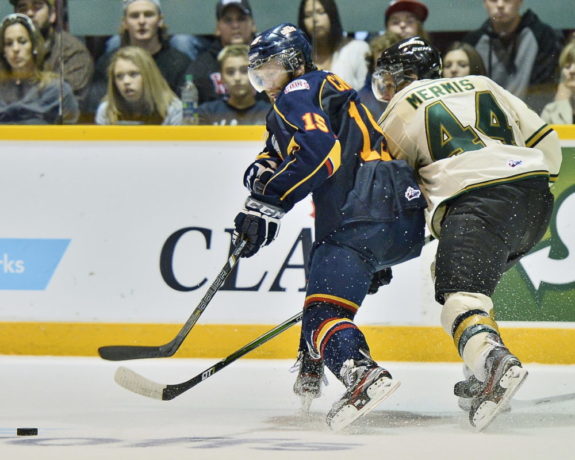 Interviews:
International Tournaments:
2011 U17 Championships – United States – 1 point in 5 games
NHL ETA:
2-3 years
Risk/Reward Analysis:
Risk 3/5  Reward 3/5
NHL potential:
NHL depth defenceman
Strengths:
One on one play
Skating
Puck moving
Physical play
Aggressive; plays with an edge
Flaws/Aspects He Needs to Work On:
Continue to get stronger physically
Positioning (can be over-aggressive at times)
Fantasy Potential:
Offensive 6/10  Defensive 6.5/10
NHL Comparable(s):
Stephane Robidas
Francis Bouillion
Mark Cundari
Video:
THW's The Next Ones prospect profile template design architect: Chris Ralph
Carl covers the Edmonton Oilers for THW as well as providing additional prospect coverage. Follow him on twitter @carlTHW, connect on Facebook or contact at carl.maloney@hotmail.com for questions, comments or if you're interested in him writing for you.