The Philadelphia Flyers ruined their chances of a top ten pick in the 2013 NHL Entry Draft after their resurgence in the last few weeks of the season so unless they decide to move up in the draft, they'll hold the No. 11 pick on the board. With a draft class that is being referred to as one of the deepest in recent memory, the Flyers are actually in a pretty good position.
Historically, though, the No. 11 pick hasn't boasted as much top-flight talent as it's positioning would suggest.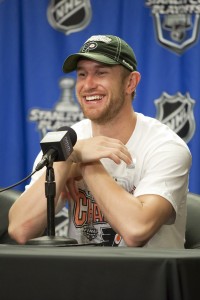 Going all the way back to 1989, there's really only five to six noteworthy players who were selected 11th overall.
The biggest name on that list is future Hall of Fame forward and current Pittsburgh Penguin, Jarome Iginla. In 1995, the Dallas Starts selected the Canadian before shipping him off to Calgary for Joe Nieuwendyk. Since his NHL debut, Iginla has done nothing but succeed at the highest level, scoring 1,106 career points en route to six All-Star selections.
Behind Iginla are a pair of Los Angeles Kings, one of whom has a strong connection with the Flyers organization. In 2005, the Kings picked Anze Kopitar, who has gone on to make two All-Star trips.
In 2003, the Flyers tagged Jeff Carter with the 11th overall pick. Of course, he wound up being shipped away to Columbus two offseasons ago before landing in Los Angeles where he would go on to hoist the Stanley Cup along with Kopitar.
After those three names, two defensemen highlight the list. Brian Rolston, chosen in the 1991 Draft, went on to have a terrific career with five different organizations, including a Stanley Cup victory in 1995 with the New Jersey Devils and three Olympic appearances with Team U.S.A.
Eleven years later, the Buffalo Sabres picked Keith Ballard 11th overall. Until recently, Ballard was a reliable defenseman. However, during the Vancouver Canuck's four-game sweep to the hands of the San Jose Sharks, Ballard was benched and never suited up. The Canucks acquired Ballard during the 2010 draft in a trade that involved Michael Grabner and Steve Bernier.
Two other names avid hockey fans will know who were selected in that draft slot are Brandon Sutter (2007) and Jonathan Bernier (2006).
Hopefully the Flyers' scouting department can find the next Iginla, Kopitar or even Carter (minus the raging alcohol problems) rather than someone like Lauri Tukonen (2004) or Pavel Vorobiev (2000).
A journalism student at Rowan University, Kyle is a Big Ten Reporter for Scout.com (owned by Fox Sports) and spent the 2013 season interning with the Philadelphia Flyers.