This season, Nick Bonino will be playing for his fifth NHL team, after being traded in October for a promising young player in Luke Kunin and an exchange of draft picks. While Bonino isn't the type of player that can help your fantasy squad, he's the kind of player that any coach in the league would love to have. Here is a look at the attributes that Bonino will bring to the Minnesota Wild this season:
Intangibles to Help Change Culture for Wild
General manager Bill Guerin made an emphasis in the offseason to change the culture in the locker room, and one of his moves to help with this task was to trade for a familiar face in Bonino. The two were together in Pittsburgh where they won two Stanley Cups in 2016 and 2017 when Guerin was assistant general manager there. Bonino is the type of player that head coach Dean Evason can play in all situations, especially when the game is on the line.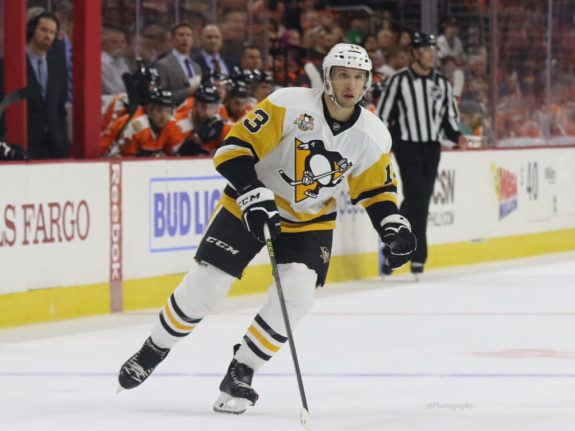 "We've gotten a proven winner in Nick Bonino, another center, a guy that I know well from my Pittsburgh days," Guerin said. "Nick brings a lot of intangibles on and off the ice, and [that is] something that we're looking for." (from Wild continues theme of change; Star Tribune 10/08/2020)
"I love playing in all situations, end of games, whether we're down or we're up, penalty kill, power play," said Bonino, who has logged more than 600 games with four NHL teams. "I've done it all in my career, and I think I can still do it."
Versatility for a Team Lacking True Centers 
For years, the Wild have been searching for a top center, which is a difficult task in the NHL. Guerin traded for three candidates this offseason including Marcus Johansson, Nick Bjugstad, and Bonino. Of the three, Bonino is the most comfortable at center. He has been over 50% on his faceoffs in four of his last five seasons but elevates his efficiency in the playoffs, reaching over 58% each of the last two years with Nashville.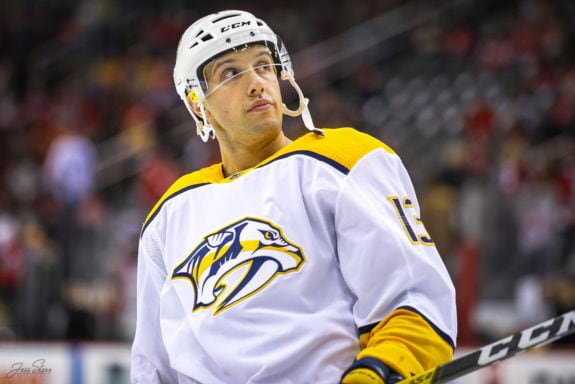 He has never been a prolific point producer, but Bonino does score enough to provide the Wild with valuable secondary scoring. In the last two seasons with Nashville, he posted 35 points scoring 18 and 17 goals. He has hit that mark consistently in his career posting at least 35 points in five of his last seven seasons. His career-high came in 2013-14 with Anaheim where he scored 22 along with 27 assists in 77 games.
Bonino also brings a strong defensive presence and was a finalist for the Selke Trophy this past season, earning one first-place vote from the Pro Hockey Writers Association. He finished 13th the season before in 2018-19. In 626 career games, Bonino is a plus-72, including a plus-17 last season and a career-best plus-27 the season prior.
Proven Clutch Performer
Winning seems to follow Bonino wherever he plays, largely due to his knack for scoring goals in big situations. The highlight of his three-year college career at Boston University was his game-tying goal against Miami (Ohio) with 17.4 seconds left in regulation to force overtime in the 2009 NCAA championship game. Bonino would be named to the Frozen Four All-Tournament Team afterward.
Bonino's goal 6:32 into overtime gave Pittsburgh a 4-3 win in Game 6 of their 2016 second-round series, eliminating the Capitals and sending the Pens to the Eastern Conference Final. He followed that up by scoring the game-winning goal in Game 1 of the Stanley Cup Final versus the San Jose Sharks.
He has had extensive playoff experience throughout his career, having skated in 98 postseason contests, a number he intends to build upon this season in Minnesota.
"Hopefully I can come in and make an impact on a team that is year in and year out a playoff contender, and I love playing in the playoffs," Bonino said. "That's the best time of year. So with Minnesota personally, I'll do everything I can to help our team get to the playoffs and ultimately win."
New Opportunity in Minnesota
"Obviously with every trade, you go through, there are bittersweet feelings. I love Nashville, I love the guys there, that's the biggest thing, it's a great group of guys. Every team I've been on, you can say that about, so I'm excited to get to [Minnesota]. I've already had a lot of guys reach out and welcome me and my family. 
"From everything I've heard, it's a great organization from top to bottom, it's run really well and it's a great team that's always a playoff contender. I didn't expect to be doing a press conference this morning when I woke up, but here we are and I'm just trying to make the best of it."
This season the Wild are positioned in a difficult West Division with three legitimate championship contenders in St. Louis, Colorado, and Vegas. The Wild have a realistic shot at the fourth and final playoff spot in the division. Should they get there, expect Bonino to be a factor in any postseason success the team may have.
---
---