After the significant trades orchestrated by Minnesota Wild general manager Bill Guerin, the team's bottom-six depth up front will play a huge role in the upcoming season. In the past couple of seasons, the Wild have been a four-line team, with the first line and the fourth line being equally valuable and deployable.
The Wild don't have a superstar just yet, albeit Kevin Fiala did have an incredible second half of the season and highly-touted prospect Kirill Kaprizov is entering his rookie season, so forward depth is paramount. The team also got a draft day steal in Marco Rossi, so it will be interesting to see where he fits in the lineup, assuming he makes the team out of training camp.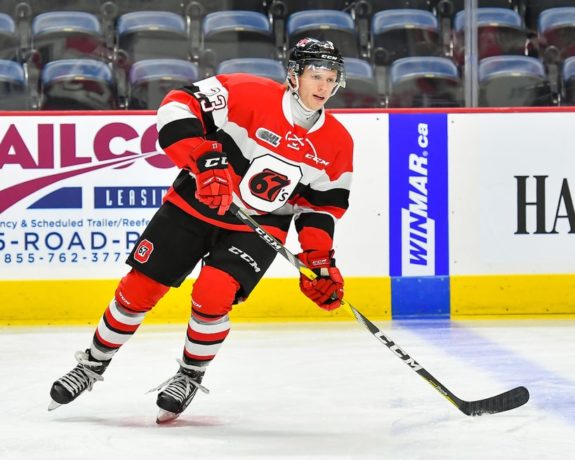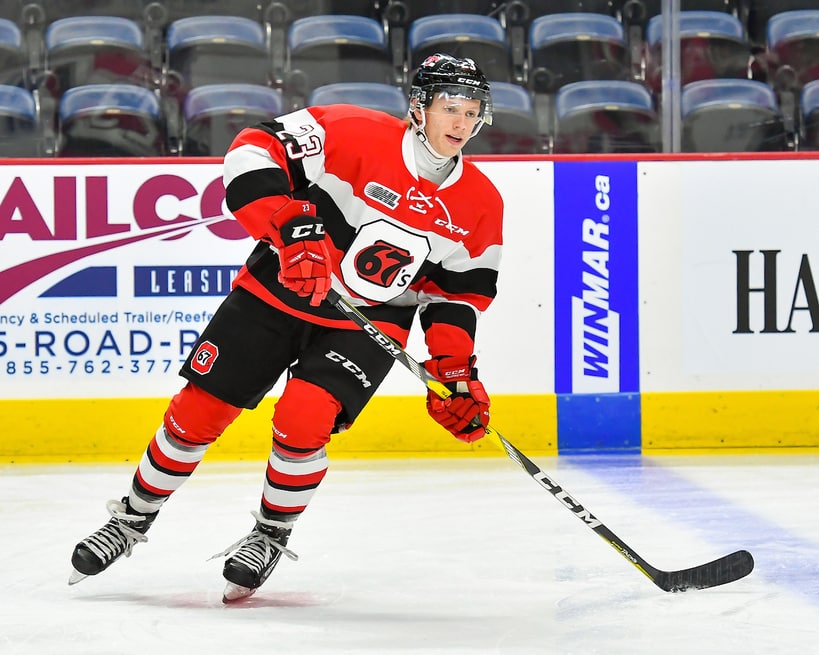 Rossi told the media after the conclusion of the NHL Entry Draft that he is ready to make his debut next season. If he does, this will obviously affect the Wild's bottom six depending on if he were to center the second or third line. For the purpose of this article, he will slot in on the second line.
What Is the Outlook For the Bottom Six?
The Wild had one of the best bottom-six forward corps in the NHL this season. It just got even stronger, faster, and more efficient with the additions of Nick Bjugstad and Nick Bonino. Even though the Wild saw Mikko Koivu depart, their depth is better than ever.
| | | |
| --- | --- | --- |
| Jordan Greenway (1.3) | Joel Eriksson Ek (2.1) | Nick Bjugstad (0) |
| Marcus Foligno (1.4) | Nick Bonino (2.2) | Ryan Hartman (1.6) |
Wild's Bottom-Six Depth Chart 2021
In the depth chart, alongside the players, is their number of wins above replacement in the 2019-20 season. As shown, the Wild have incredible bottom-six depth. It is composed of several top-six players, including Eriksson Ek and Bonino, as well as several middle-six forwards in Foligno, Greenway, and Hartman. Bjugstad was limited to 13 games this season due to injury, which is why he has such a low value.
Jordan Greenway (LW)
The 23-year-old winger recorded eight goals, 20 assists, and 28 points in the 2019-20 campaign. In his 67 games, he played an average of just over 14 minutes. Likewise, he provides the Wild with much needed physicality; he had a career-high 95 hits last season. He has a fantastic two-way game, which helps him be impactful in all three zones.
Greenway is a very strong defensive player, which is displayed in his underlying numbers. He is above average in expected goals against per hour as well as Corsi against per hour. Both metrics portray him as a very strong forward at suppressing high-quality chances. Likewise, he is a strong forward that can control shot quantity against him while is he on the ice.
Although Greenway is a middle-six winger who primarily plays in the bottom six, his deployment has been rather interesting. He played 32.9 percent of his ice time against elite competition during the 2019-20 season. He is getting a lot of ice time against top competition despite being limited to no power play time. The Wild should definitely provide him with some time on the man advantage.
Joel Eriksson Ek (C)
The 23-year-old center has blossomed into a legitimate top-six forward with his outstanding defensive play that is among the best in the NHL. He is similar to long-time Wild captain Koivu who just parted ways with the Wild. The Swedish center notched eight goals, 21 assists, and 29 points this season. He averaged just under 16 minutes in his 62 games. Likewise, he led all Wild forwards in ice time against elite competition.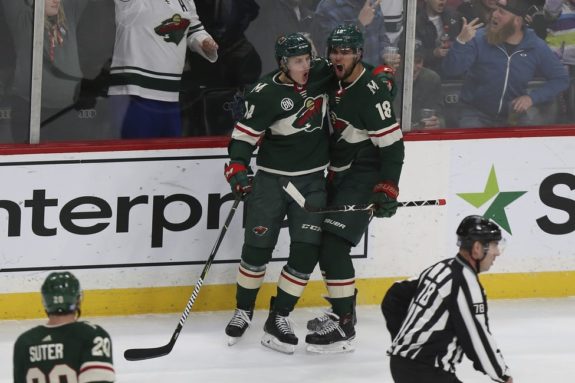 He ranked 11th among all forwards in the NHL in expected goals against per hour. Furthermore, he ranked eighth in even-strength defense and fifth in defense among forwards according to Evolving-Hockey. He is one of the best defensive centers in the NHL and is a deployable asset. He is strong at suppressing shot quality and limiting offensive scoring chances against him while he is on the ice.
Nick Bjugstad (RW)
Bjugstad will play wing for the Wild, albeit he can play center too. The 28-year-old has been dealing with injuries for the past several seasons and was poorly utilized in Pittsburgh. He never really fit in there and desperately desired for a change of scenery.
In 2017-18, before his injuries, he recorded 19 goals, 30 assists, and 49 points. He certainly needs to be find that magic for him to succeed in Minnesota and warrant a second contract. He is decent in the face-off circle, which is something the Wild have lacked beyond Koivu and Eric Staal.
Marcus Foligno (LW)
The Wild acquired Foligno in a trade with the Buffalo Sabres that turned out to be a very successful transaction. That very trade also included Tyler Ennis, Marco Scandella, and Jason Pominville. He has been a phenomenal depth player and has provided the grit and physicality the Wild have lacked in the past years. Foligno recorded 11 goals, 14 assists, and a career-high 25 points in just 59 games. He averaged over 14 minutes a night and finished the regular season with 184 hits.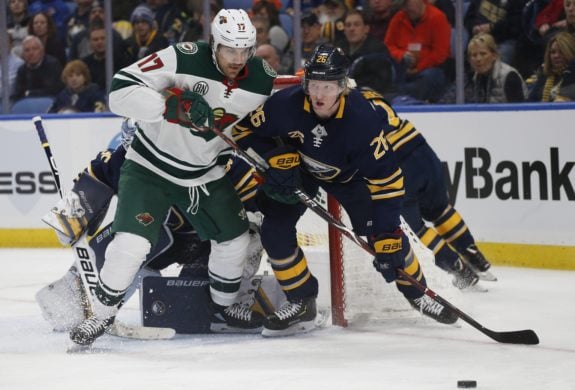 Foligno is known for his physicality, but the best part of his game is his solid defensive play. He ranked 14th in even-strength defense and ninth in defense among all NHL forwards according to Evolving-Hockey. He is defensively sound and helps contribute to the Wild's top defensive play from the top all the way to the bottom of the lineup. Furthermore, he is very strong at controlling high-quality scoring chances.
Nick Bonino (C)
The Wild acquired Bonino this offseason in the shocking draft-day trade that sent Luke Kunin to the Nashville Predators. The veteran two-time Stanley Cup Champion recorded 18 goals, 17 assists, and 35 points this season.
There is far more to his game than his point totals. Among forwards, he ranked 32nd in the NHL in wins above replacement, which is a comprehensive metric that takes all aspects of the game into account. He is a very impactful center with a strong two-way style.
Ryan Hartman (RW)
Hartman was a solid free-agent pickup by former Wild general manager Paul Fenton. The 26-year-old winger notched nine goals, 11 assists, and 20 points this season while playing in a fourth-line role. He is a very impactful forward — he is above average in goals for per hour, expected goals for per hour, and expected goals against per hour among other statistical categories according to Evolving-Hockey. He provides a ton of value in his role and also brings the grit element the Wild lack.
The bottom line is that the Wild have extensive depth and it plays an integral role in the team's success. The depth just got deeper with the new acquisitions and will play a vital role going into next season.
All Data and Information Via Evolving-Hockey, PuckIQ & Hockey-Reference
---
---