The Minnesota Wild knew they had to respond after their dismal performance in Game 2 and they did just that in Game 3 on Friday night, April 21. The Wild were back at home and their crowd was ready to go from the start with injured Mason Shaw giving a very passionate "Let's Play Hockey" chant. The fans kept up the enthusiasm as they booed Ryan Suter every time he touched the puck through the majority of the game.
The Wild fed off their crowd and used that momentum to get the first goal of the game late in the first period. They carried that energy into the beginning of the second where they added another goal for a 2-0 lead but the Stars returned the favor just 11 seconds later. With the score 2-1, the Wild didn't crumple but continued to play strongly until they scored their third goal of the game just over halfway through the second to make it 3-1.
---
Latest News & Highlights
---
The Wild held that lead and extended it by two goals later in the third period to make sure the Stars couldn't try to make a comeback. The Stars weren't able to find any momentum and the Wild took the lead 5-1 and a series lead of 2-1 with another big game at home coming up on Sunday.
Wild's Zuccarello Becomes Hero
Typically Kirill Kaprizov steals the spotlight on the top line but in Game 3 it was all about Mats Zuccarello. He'd struggled towards the end of the regular season with a lot of turnovers and he seemed to be a step behind, but that all changed in the postseason. From his first shift of Game 3 to his last, it was like he was shot out of a cannon for how fast he skated. He also made great decisions with the puck and showed a lot of extra effort.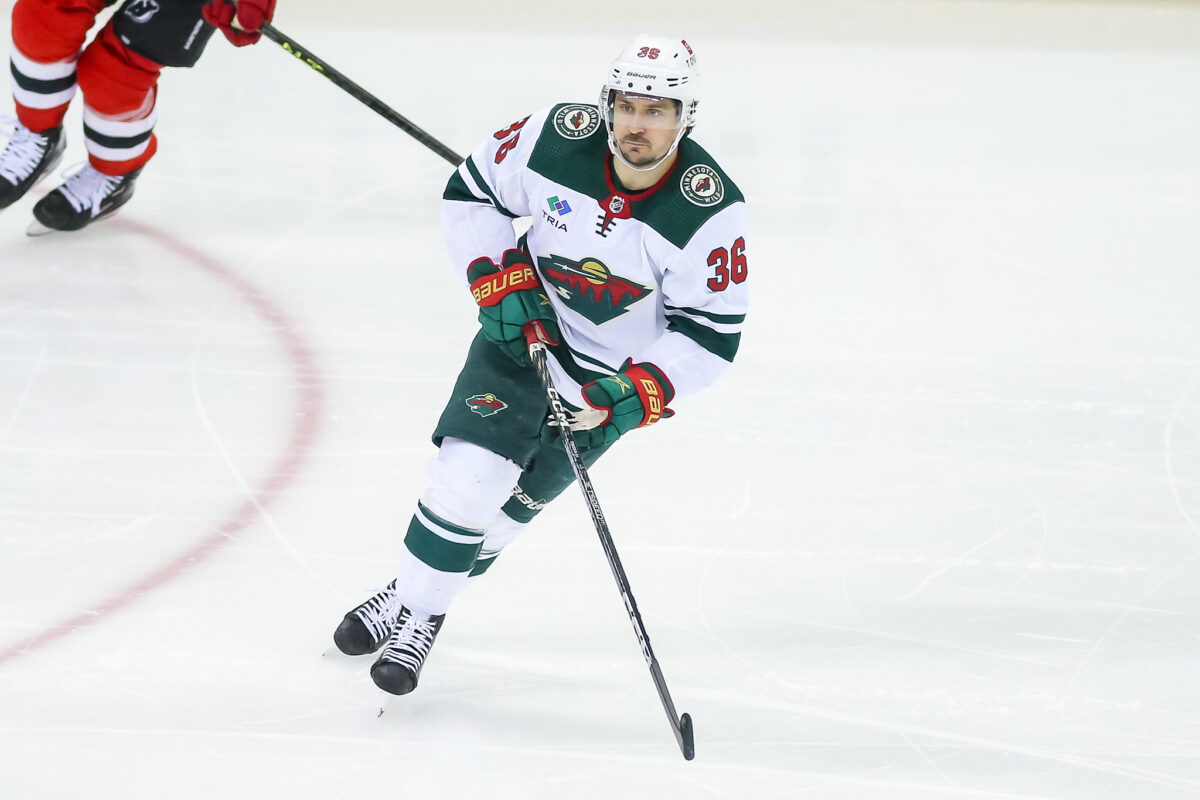 Zuccarello was rewarded for his efforts with two goals and nearly five minutes of power-play time. He got things started with the first goal and gave his team the energy boost they needed to keep being aggressive. His second goal came later in the third and was nearly the final nail in the coffin that made it 4-1 and a heck of a hill to climb for the Stars.
The Wild are going to need the same type of performance out of Zuccarello in Game 4 if they want to get another win. His energy and emotion carries through the team, and while he had a few moments of anger, he kept himself composed and made sure to focus on scoring. If he can contribute that much energy again, it will provide a great help to his team.
Wild's Hartman Back At It
A lot of the news centered around Joel Eriksson Ek and Ryan Hartman returning to the lineup but only one of them managed to stay through the whole game. Eriksson Ek left under 30 seconds into the first after taking the opening faceoff, he skated a bit and then left the ice. Thankfully, the Wild was able to keep Hartman and while he wasn't the hero of Game 3 like he was in Game 1, he still made an impact.
Hartman puts the "Grit" in the Wild's "GritFirst" motto but he's also their perfect all-around player. He provided a much-needed energy boost and assisted on both of Zuccarello's goals plus he scored his own goal, an empty-netter at the end of the third to seal the win, 5-1. Hartman's three points weren't all he provided either; he stepped up defensively, too.
To win games in the playoffs means certain players have to step up and provide that all-around effort. Hartman had three blocked shots, one hit, and one takeaway that helped his team get the win. Without Hartman, this game would've been a lot harder to win and they're going to need his energy and defensive skills to get another win in Game 4.
Wild's Defense Steps Up
After the majority of the defense had a really bad performance in Game 2, they made a resurgence in Game 3. John Klingberg made his playoff debut after being injured for the first two games and he made it count. He helped run the power play and also played well 5-on-5 as he joined Hartman on the assist list for both of Zuccarello's goals. He was paired with Brock Faber and the two hit it off like they were never apart.
Faber has been a shining light since he joined the team just before the end of the regular season. He's a strong skater who sees the ice better than most veteran defensemen and is extremely composed. The Wild was very lucky when they picked him up in their trade for Kevin Fiala during the 2022 offseason. Even when he gets hit by a player bigger than him, he gets right back up as if nothing happened and stays involved in the play. The Wild will need him to continue his strong play as the games get harder.
Another defenseman who struggled somewhat during the regular season but has made a great impact in the postseason is Matt Dumba. He had another great performance in Game 3 and while he didn't register any points, he contributed defensively with some great stick blocks as well as some strong skating. He needs to be trusted with carrying the puck out of the zone more often as he was successful the multiple times he tried it.
Finally, it wouldn't do him justice if the goaltending of Filip Gustavsson wasn't mentioned. He was back in the net after having Game 2 off and was ready to go from the start. He made 23 saves on 24 shots and had a .958 save percentage. He continues to play composed and the Wild will need that same play in Game 4, which is fast approaching.
Wild's Game 4
The Wild will continue to play at home for Game 4 and will need to take another step up because the Stars will do the same. The Stars will not want to lose twice in a row and the Wild have to be ready for everything they'll throw at them. They'll have to continue to push the issue defensively and not allow shots to get through.
Related: 3 Things Wild Need to Improve Before Game 3 Against Stars
Every player on their roster will have to step up and take initiative from reducing their penalties to taking as many shots as possible. One player in particular, Marcus Foligno needs to stay composed and not fall into the Stars' traps. He allows them to fire him up and then he gets stuck in the box. If he can stay calm and let them fall into their own trap it would be very beneficial to his team.
Game 4 is going to be an intense match-up in both scoring and physicality and it'll be extremely fun for fans to watch. Hopefully, the Wild can ride off this win and continue to play well to take Game 4 and a possible series lead.
---
---