The Minnesota Wild have been here before. Slumping through the middle portion of their 82 game NHL schedule and dropping in the standings faster than the winter temperatures in Minnesota. We've seen this before, mid-season skids have marked the Mike Yeo era in Minnesota from the beginning. This year is glaringly different for one key reason though, the Wild have no more excuses to fall back on.
No More Excuses
In the past we've been told that the Wild consistently struggling in December and January — and subsequently putting their playoff hopes in jeopardy — was mostly due to circumstances out of the team's control. I mean really, how could we blame them for falling victim to the injury bug, or an outbreak of the mumps? Sure, every team experiences some difficulties with injury and/or illness that keeps key players out of their lineup at some point; it's a long season after all. But this is Minnesota, we have to keep that "Minnesota Nice" cliché going, right? So Wild fans gave the team a collective pass the last few seasons. Besides, the team has always recovered from its hibernation and managed to scrape together enough wins to sneak into the playoffs so it could be promptly bounced by the Chicago Blackhawks.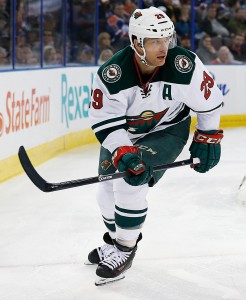 The Wild have gone 3-7-3 in the past 13 games and are once again plummeting out of the Western Conference playoff picture. Minnesota is closer in the standings to last place Edmonton (11pts.) than to first place Chicago (14pts.) and is just 3 points ahead of Nashville for the last wild card spot. The difference this year is that the Wild have no excuses for the latest collapse.
No offense to the Wild's only injury report casualty Ryan Carter, he's a very effective bottom six forward, but it's doubtful that his absence from the lineup as he recovers from a broken hand has significantly contributed to his team's unsightly performance of late.
Likewise, goaltending cannot be blamed for the decline this season. Devan Dubnyk has a .921 save percentage and a 2.27 goals-against average and is going to the All-Star game.
The fact is the team has its full compliment of players and is getting above average goaltending. So why can't Minnesota seem to buy a win?
Explanations
Over the 3-7-3 stretch the Wild are currently on, the team has scored a total of 23 goals. They are 28th in the league in road power play percentage. Simply put, Minnesota can't score right now.
Minnesota's 2.50 goals per game put the Wild ahead of only four other conference opponents. Scoring has long been an issue for this franchise, but strong defensive play and goaltending has given past Wild teams a fighting chance. Still the fact remains that you can't win if you don't score.
The blame for the ineptitude can't be placed on any one player or coach, the list of who is to be held responsible is long and stretches from the top of the organization to the bottom.
General Manager Chuck Fletcher is responsible for assembling the roster, Yeo for coaching the team up, and ultimately, the players are responsible for their performance.
Fletcher has made some good moves; getting Zach Parise and Ryan Suter to sign in free agency was a turning point for the organization. He's also assembled one of the best defensive groups in the league. The acquisition of Devan Dubnyk has proved to be a great move.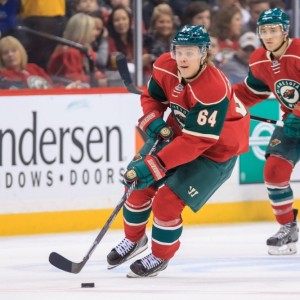 However, Fletcher is also responsible for drafting players that have not performed up to par. Mikael Granlund has been a disappointment for a 9th overall pick with just 22 goals in 207 career regular season games. Charlie Coyle and Jason Zucker have yet to fully live up to their hyped potential. Fletcher also has traded several draft picks for veteran players that haven't panned out. Matt Moulson and Chris Stewart were a couple of trade deadline acquisitions that did little in their time in Minnesota and left in free agency. The most egregious example is the trade for Jason Pominville and his subsequent re-signing to a long-term contract. Pominville has 5 goals and 20 points in 48 games this season and is being paid $5.6 million. He won't be a free agent until 2019-20.
Yeo, too, must accept responsibility. He was handed a team that we were told was stacked with young talent. None of the young players he's handled have truly shown the potential to be franchise cornerstones for years to come. The most damning evidence against Yeo is the continued propensity of his teams to trip on their own shoelaces and land face first during the middle of the season. The repeated struggles have robbed Minnesota of any chance at a division title or home ice advantage in the playoffs year after year and the Wild have never sniffed a conference championship in Yeo's tenure. After five seasons, one has to wonder if Yeo's voice is losing it's influence in the locker room.
The fact is, the Wild have no one but themselves to blame for the all too familiar situation they again find themselves in. There are no more excuses to explain away the losses. Fans are tired of excuses. They are tired of cliches. They are tired of holding out hope for a team that continues to let them down. The State of Hockey is a great hockey market and it is begging for a winner. The Minnesota Wild have no more excuses to not be exactly that.
Nate has been a Minnesota Wild contributor at The Hockey Writers since 2014 and previously spent time covering the University of Minnesota Duluth men's hockey team. For everything Minnesota Wild related, follow him on Twitter @natebauer.