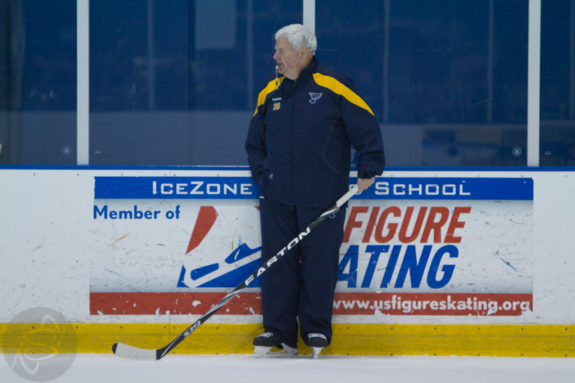 2014-15 was another season with a familiar result for the St. Louis Blues. The Blues lost to the Minnesota Wild in the first round of the playoffs despite having home ice advantage. It was the fourth season in a row they entered the post-season owning home ice, and the third straight ending in a first round loss. Head Coach Ken Hitchcock has been at the helm all four of those campaigns and it may be we've seen an end to the "Hitch" era in St. Louis.
Hitchcock took over behind the Blues bench in November, 2011 after St. Louis fired Davis Payne for a poor start to the season. Hitch would go on to lead his team to four years of regular season success but fell far short of the main goal of winning the Stanley Cup. With Hitch, the Blues won the Central division twice and twice finished with over 100 points, no small feat as the Central is widely considered the toughest division in the NHL.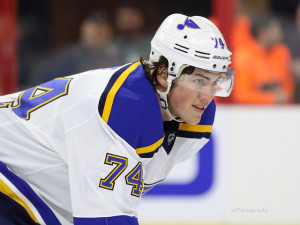 Problem is, Hitch has often been said to wear his players down in the regular season, evidently leaving them little in the tank for the playoffs. The team's performance in the playoffs under his direction speaks for itself: One series win that led to being swept in round two, and three consecutive first round exits. A 10-17 record. Regular season team leaders being nearly invisible. It belies some sort of disconnect and valid or not, it's been suggested Hitch simply overburdens his guys at times. T.J. Oshie came right out and said as much back in late March after a loss to the Vancouver Canucks:
"I know we're not (in the postseason) yet, but there's a lot of information going around, and guys are getting a little indecisive," Oshie says. "I'm not sure what it looks like from up top, but I think guys aren't really sticking with their gut and going with their first instinct."
While I don't believe the playoff failures of Oshie, David Backes and Patrik Berglund (85 games, 15G, 19A,) three Blues "core" players under Hitchcock, are the fault of the coach I do think it's time for the team to go a different direction behind the bench. This team has learned a lot from Hitch. There are young guy who've grown under his tutelage such as Jaden Schwartz, Dmitrij Jaskin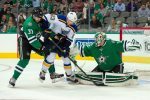 and Vladimir Tarasenko for example, but veteran skaters (like the guys mentioned above) have consistently faded down the stretch for Hitch and failed to perform on the post-season stage. A change behind the bench might provide the spark necessary to pick up after another disappointing finish.
If you believe everything you hear or read, Hitchcock is probably going to return as the Blues coach for another season, at least according to Larry Brooks of the NY Post. He expounded on what things are "sounding" like in this lengthy bit from his column:
Nothing official, obviously, but at this point it is sounding as if Ken Hitchcock will return behind the bench of the Blues.
Yep, that was it. One sentence. That's all he had to say and we're to accept it as a sign of Hitch's imminent return? That and the fact the Blues haven't been shouting from the rooftops in the media about who they're potentially pursuing as his replacement. We're forgetting the club has a history of keeping their cards close to the vest and GM Doug Armstrong said he'd speak to Hitch upon returning from the World Championship tournament while the coach ruminates on how he's feeling about another disappointing finish.
Does Army's radio silence since that press conference imply he's leaning toward inviting Hitch back? Could Brooks have in New York what no one in St. Louis seems to have, an inside track on what the Blues will do regarding their coaching situation? Will I win the lottery this week?  I suppose it's all possible but I simply don't see how any of it is very likely. The question many seem to be dodging is, "Should Ken Hitchcock return to coach the Blues?" I say No.