To say that Pittsburgh Penguins' G.M. Ray Shero faced a rocky off-season would be an understatement.  With decisions regarding key free agents, contract extensions, and media/fan driven calls for changes both behind the bench and in net, Shero was forced to take a long, hard look at his club in an attempt to chart a course for Pens' future.
To the surprise of many, though, there wasn't a great deal of turnover in Western Pennsylvania this summer.  Sure, Matt Cooke and Tyler Kennedy (along with trade deadline acquisitions, Jarome Iginla and Douglas Murray) have moved on but a major shake-up never manifested.  Pascal Dupuis passed on a chance to test the free agent waters for the opportunity to keep his family in Pittsburgh, Chris Kunitz inked a three year extension and Evgeni Malkin signed on to stay in a Pens' sweater through the 2021-'22 campaign.
When Geno signed that extension, though, pundits began to wonder if Kris Letang's time with the Penguins was coming to an end.  After all, Tanger only had one year left on his deal and Shero had already locked up two stars in Malkin and Sidney Crosby for the foreseeable future; would Pittsburgh really be willing to hand out a third long-term deal to help keep their core intact?  Given that those mega-contracts often come back to haunt a franchise (just ask the Islanders about Rick DiPietro or the Sabres about Ville Leino), extending Letang's deal seemed like a bit of a gamble.
Ultimately, though, Shero recognized the unique attributes that his smooth skating rearguard brings to the table and decided to commit to a "Big Three", signing Letang to his own eight year extension.  Say what you will about such a large commitment to only three players or past defensive lapses and inconsistent play but, at the end of the day, the fact remains that Kris Letang is one of the most dynamic defensemen in the NHL who is just entering the prime of his career.  And that wasn't something the Penguins wanted to walk away from.
But with a big-time contract comes big-time pressure and, while Letang's deal doesn't actually kick in until the 2014-'15 season, all the expectations that are riding shotgun alongside it will be felt immediately.  So the question becomes, how will the Norris Trophy finalist handle himself under that microscope?  Obviously, nobody this side of Nostradamus can predict the future but, here, we present three reasons that Kris Letang could have a big year:
"The Piece"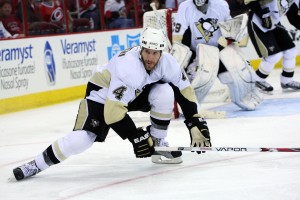 While there is no guarantee Kris Letang will be paired with Rob Scuderi during the coming season, it's certainly the most logical choice.  Scuderi's stay-at-home mentality represents the yin to Letang's thoroughbred yang.  In fact, "The Piece", as Scuderi is referred to, played the last four seasons in a similar position as a defensive anchor on the Los Angeles blue line, freeing up the likes of Drew Doughty and Slava Voynov to star in more offensive roles.  It stands to reason that he'll do the same for Tanger in Pittsburgh.
"To play alongside of Kris Letang would be a good fit – a steadying influence, a defense-first guy, a very good shutdown guy – without a question [would] be a guy that you'd see a Kris Letang, I think, be a good fit with together on that blue line." – Penguins' Coach, Dan Bylsma
Indeed, skating consistently with such a defensive stalwart will surely allow Letang to play even more to his strengths while simultaneously masking some of his deficiencies.  As a result, we may see an even more productive campaign out of the Penguins' most gifted offensive defenseman.
National Pride
As if the manner in which the Penguins were dispatched from the playoffs last season wasn't motivation enough, Letang will surely being driven by more than just retribution this year: a chance to represent Canada in the upcoming Olympic Games.  While his wheels would likely be an enormous asset for the Canadians on Sochi's larger ice surface, Tanger isn't necessarily a lock to crack the Canadian roster.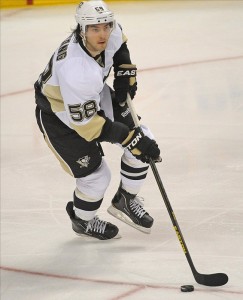 In reality, the Canadians have an embarrassment of riches to choose from on the blue line.  With, for example, Shea Weber, Drew Doughty, Duncan Keith, Alex Pietrangelo, Dan Boyle, Brent Seabrook, Jay Bouwmeester, Marc Staal, Dan Hamhuis, P.K. Subban and Letang all hailing from Canada, Steve Yzerman has no shortage of rearguards to select from when putting together his blue line.
Luckily for Letang, he likely has until mid-December to make a case for himself.  Thus, a strong start to the season will certainly go a long way toward making an impression on Yzerman and the rest of Hockey Canada.  With so much at stake, it's no wonder Letang has embraced such an intense:
Off-Season Regimen
All too often when an athlete inks a long-term deal, he has a tendency to grow complacent.  His numbers drop and, as a result, his club suffers on some level.  That complacency, however doesn't appear to exist within Letang:
"I've always been a fan of workouts, nutrition, sleep, all those things that
help you to be healthy.  Some guys like to play golf, but [working out is] kind of my passion." – Kris Letang, on his off-season workout routine
True to form, Tanger has spent the summer hitting the gym as hard as ever.  Indeed, from jumping hurdles, to performing chin-ups with a 100-pound barbell strapped to him, to one-legged Bulgarian squats (that just sounds fun, doesn't it?), Letang has been an absolute beast in the weight room this off-season.  In fact, he's actually outgrown the facility in some regards.  According to trainer, Jonathan Chaimberg, "…we didn't have heavy enough dumbbells for him. We actually have to bar him off one leg because we don't have [130-pound dumbbells] at the gym."
To hear Letang explain it, though, it's just another day at the office.  Each exercise has a specific function that will best prepare him for a grueling 82-game season:
"They all have a purpose to translate to my game.  If we start by the [hurdle] jump, I'm a guy that really jumps in the rush and I need to be explosive, so the jumps really help to bring that explosiveness in the game. I want to be able to play 25 to 26 minutes a game with a good pace, so when we do sled we try to do a power endurance, matched with the Jacob's [Ladder] which is a high-intensity 30 seconds, that is really like a shift. For the rest with the power, I'm not one of those big guys that can outmuscle Zdeno Chara and those guys, so I try to be as strong as them with some exercises."
Does it guarantee on-ice success?  Of course, not.  But there's no denying that Kris Letang has put himself in position to live up to that investment the Pens' made in their star defenseman.
http://youtu.be/xcDGi8vFZu0
.