Remember the year Erik Karlsson broke out with his massive fantasy hockey season?  People had heard about Karlsson for a few years before but nobody really cared to draft him too early in fantasy hockey. He emerged in 2011-2012 with his 78 point season and now he is a mainstream name in fantasy hockey. Hell, he is the best fantasy hockey defenseman currently in the game.
How does this relate to Patrick Wiercioch? Nobody really knows about Wiercioch right now and the fact he is only owned in half of ESPN fantasy hockey leagues is proof of that. He broke out with five goals and 19 points last season in 42 games with the Senators.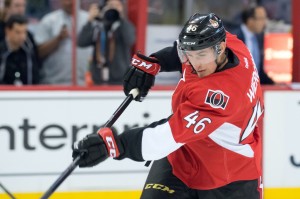 Before Karlsson had his insane season, he had put up a 45 point campaign the prior year. Enough to put him on the radar but not enough to make him drafted in most fantasy leagues. I'm not saying Wiercioch is the next Erik Karlsson and is about to have a 70 point season. All I am saying is Wiercioch is going to be special next season and you better draft him on your fantasy team before he becomes too well known.
So Who Is He?
Wiercioch is a 23-year-old defenseman and has only played in 50 career NHL games. Through two limited seasons with the Senators, he has already put up 21 points. That is almost half a point per game for a guy who has just gotten his feet wet. I feel like I am on to something here.
Wiercioch isn't just a good offensive threat; his plus nine rating was tied for tops on the team last season. He also tallied three power-play markers and his wicked shot is too good to ignore. Sergei Gonchar is off to Dallas so who will play on the point alongside Karlsson? Guess who is a prime front-runner. In 32 games with the Binghamton Senators last season, Wiercioch had ten goals. That is basically a goal every three games. That says something.
His blistering shot makes him lethal on the power-play
Ottawa on the Rise
Bobby Ryan is now a Senator and Kyle Turris and Mika Zibanajed are still continuing to get better. If Wiercioch lands on the top power-play unit, he would be playing alongside Spezza, Karlsson, Ryan and Michalek or Turris. That is not a bad gig at all if he can land it.
When Should You draft Him?
Wiercioch isn't likely to be one of the top 30 defenseman drafted. He will be a top 30 fantasy defensemen next season though so it depends how long you are willing to wait. Wiercioch is starting to get recognition so it's better to be safe than sorry and draft him a little earlier than he is slotted in those projected lists. Bottom line: get this guy on your fantasy team this season.
BCIT Broadcast Journalism graduate and hockey writer. You can follow me on Twitter @BradyTrett.