Times are good for the Winnipeg Jets right now. Since an ugly 4-1 loss to the Calgary Flames back on October 19, the Jets have gone 6-1-2 in their last nine games. The Jets currently sit in third place in the tough Central Division, which would qualify them for a playoff berth. (I know, way too early to think about the playoffs, but I can dream can't I?)
The team has come together over the last two weeks and have shown an ability to play with the big boys of the NHL. Back-to-back shutouts over the New York Rangers and Chicago Blackhawks on the road have proven that. Opponents are taking notice.
Laviolette w a lot of praise for Jets' defensive play. Cited strong play keeping Nashville forwards to the outside.

— PATRICK WILLIAMS (@pwilliamsNHL) November 5, 2014
But success doesn't mean that the troubles are over.
Expiring Contracts
On his excellent "30 Thoughts" column, Sportsnet's Elliotte Friedman wrote about the possible futures of captain Andrew Ladd and Dustin Byfuglien. Here's what Friedman exactly said.
"There is zero evidence Winnipeg is interested in anything involving either Dustin Byfuglien or Andrew Ladd, but opponents are watching (Like Keith Yandle, both are free  after next season.) The Jets know Ladd's trade list (15 clubs), but have to ask for five acceptable teams from Byfuglien should they ever decide to move him. Winnipeg just won three big games and you know they're going for it. As long as they're in the race, there's no reason to expect change."
There are several key points here. It is true that if the Jets are in the playoff hunt, they won't move either Byfuglien or Ladd. But the counterpoint to that is both players market values will rise if the Jets strong play continues. The Jets could strike it rich at the trading post if they play their cards right. Plus it is better to trade one, or both players and get something in return instead of risk losing one or both players in free agency and get nothing in return.
Secondly is the contract situation. As Friedman mentioned, each player has one year left on their current deals. Ladd will make $4.4 million next season while Byfuglien will collect a cool $5.2 million. According to capgeek.com, the Jets are $9.6 million under the cap. If the cap does go up by a significant amount in the offseason, (and there is no guarantee of that) the Jets will have room to deal with contract extensions. However, if the cap only goes up a minimal amount or stays level, the Jets will have difficulty signing both players. In that scenario, the Jets will probably have to choose one over the other.
Byfuglien Prefers To Play D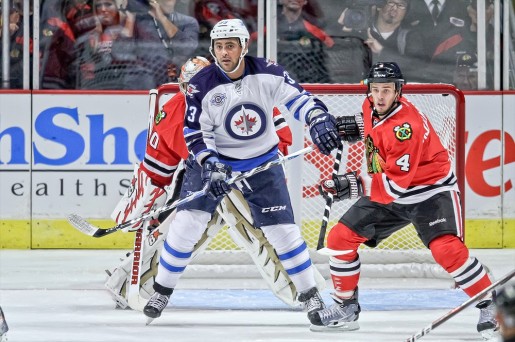 Then there is Byfuglien's desire to play defence. However, head coach Paul Maurice likes Byfuglien at forward, while using him on the point in power-play situations only. So far this season, Byfuglien has mostly seen time on the third line with Mathieu Perrault and Adam Lowry as linemates. Winnipeg Free Press columnist Gary Lawless suggested back in October that Byfuglien would be better served on the blue line. He makes a point.
Byfuglien's fenwick numbers have dropped since his move to forward. In 2011-12, Byfuglien posted a 52.5% fenwick number. He dipped below the 50% number in the lockout shortened 2012-13 campaign, but rebounded up to a 50.8% last season, as he split time between forward and defence.
Jets are listening on some of their players but I don't sense a huge appetite to trade Dustin Byfuglien. They see him as a game-changer.

— Craig Custance (@CraigCustance) June 25, 2014
Would Byfuglien use his preference to play defence as leverage for a trade? There would be teams interested in Byfuglien's services as a defenceman. The Jets could get a good return on a deal, but they would lose one of their most versatile players.
Risk Of Trading The Captain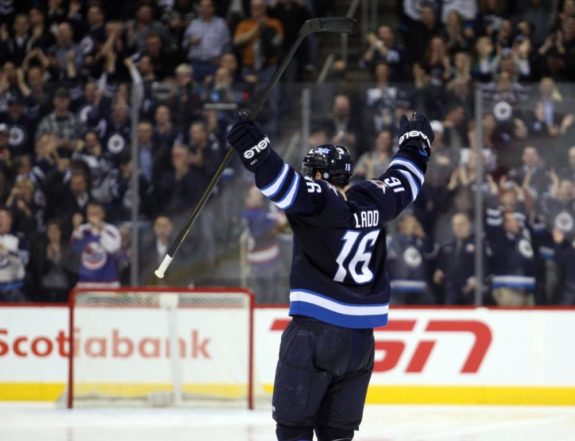 Trading the captain of a hockey team can have an adverse effect on the locker room. The Montreal Canadiens traded six different captains over a 10-year span from 1989 to 1999, with very mixed results.  While the Jets may not trade Ladd, if they decide to explore that option, they will have to take the necessary steps to make the transition as smooth as possible.
#NHLJets captain Andrew Ladd on Paul Maurice: "I want him back. He's a great coach, a great mind and is really good for this group."

— Ken Wiebe (@WiebesWorld) April 13, 2014
Ladd has been under fire in the past for not being the team leader fans and media want him to be. He's not the most vocal captain in the NHL, preferring to take the quiet approach. In fact, it has been Blake Wheeler who has been more vocal about the Jets need to step up their game this season.
Blake Wheeler has been named associate captain of the Jets, joining Mark Stuart and Andrew Ladd wearing letters this season.

— Winnipeg Jets PR (@WpgJetsPR) September 19, 2014
This won't be an easy decision for general manager Kevin Cheveldayoff and personally I'm glad I'm not a general manager of an NHL team. The stress of what to do with players coming near the end of contracts, while trying to improve the current team is a difficult balance. What the future has in store is a great unknown. Let the speculation begin.