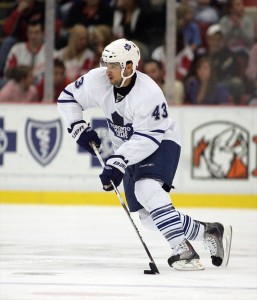 It's been a long two and a half years for Toronto Maple Leafs prospect Nazem Kadri.
When he was first drafted into the NHL seventh overall in 2009, Kadri carried heavy expectations in hockey's largest market, Toronto. After posting numbers in the Ontario Hockey League that were well above average, it was believed that Kadri would be able to jump into the NHL and be a big part of the Leafs' offence. Well, that's not exactly what happened.
After a weak training camp with the Leafs in 2009, Kadri was cut and immediately sent back to the OHL's London Knights where he tore things up offensively. The next season, Kadri returned to training camp with a new mindset, but he was cut once again and sent to the Toronto Marlies of the American Hockey League.
Now finally getting his shot in the NHL, Kadri has still been having his ups and downs. His seven goals and 11 assists in 49 NHL games certainly don't pop out at you, but he has gradually improved ever since he was drafted by the Leafs. Still, though, he hasn't been able to nail down a spot in the Leafs' lineup and stick with the big club.
Perhaps Kadri had his least amount of luck this past Wednesday when he was sent back to the Marlies once again. Normally for Kadri, a trip back to the Marlies would mean that he hadn't been playing up to expectations. This time, however, things were different.
The only reason Kadri was demoted this time around appears to be the fact that both Colby Armstrong and John-Michael Liles were set to return to the lineup, meaning two players had to take the fall. After some impressive play during his most recent stint with the Leafs, there is no doubt that he just happened to fall victim to some healthy veterans.
"It's just a situation where I was able to be sent down and not clear waivers," Kadri said on Thursday. "It's as simple as that. Like I said, I don't know what's going to happen here with the team and the organization in the next couple of weeks, but I sure hope to be a part of it."
Despite a more understanding demotion this time around, though, the question must be asked if Kadri will ever be able to remain a Maple Leaf for an extended period of time. After all, he has been sent down and recalled on numerous occasions over the last few seasons and one can only wonder if his various trips up and down the ranks are beginning to get to the youngster's head.
It was obvious from the moment he played his first NHL game that Kadri was not ready for the major leagues just quite yet; he still played in the NHL just as if he would in junior hockey. The dangles and soft play didn't seem to work on the big boys and that's something that Kadri took a while to learn.
Even once he finally figured that out, Kadri still wasn't able to transform into an everyday NHLer. This had him and others confused, which undoubtedly led to a few upset people. Problems like this can surely affect young players mentally, which isn't good for future development.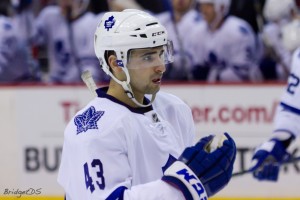 That's not to say that Kadri doesn't have the right mindset to play in the NHL; he has shown flashes of brilliance and seems to handle himself fairly well with the media. However, it's still something that must be taken into consideration when looking at his path to the NHL thus far.
It seems to be that Kadri just might keep on going up and down as long as he's with the Maple Leafs, at least for the foreseeable future. That is, of course, for the same reason that he was sent down just two days ago: The Leafs' forward depth.
Going down the left side of the Leafs' normal lineup, you will see Joffrey Lupul, Clarke MacArthur, Matthew Lombardi and Colby Armstrong, none of whom are likely to be going anywhere anytime soon.
On the right side are Phil Kessel, Nikolai Kulemin, Joey Crabb, Darryl Boyce (who is currently injured) and Mike Brown. You may say that Crabb and Boyce aren't the type of players who are guaranteed to hold a spot, in which case you would be right. However, Crabb and Boyce have both become solid bottom-six players in the NHL. With one spot available for the two of them, the Leafs could end up sending one of the two to the minors as well.
Then there is the centre ice position, which Kadri is supposed to be a natural at. He hasn't been great down the middle in the NHL, though, meaning that it's not likely we'll see him holding down one of those four spots in the near future.
All of this could mean only one thing: If Kadri is ever going to become a full-time Maple Leaf, someone is going to have to be dealt to another team. At this point in time, though, it appears that the Leafs are looking to add to their collection of players with a big-body scoring forward and not a 6'0″, 188-pound sophomore.
Of course no one really knows if Kadri's time in Toronto is running low, but the Leafs still seem to believe in the 21-year-old.
"They told me I had a bright future with this organization, and I believe I do," Kadri said. "Whatever happens in the near future happens, but I'm hoping to stay with this team and this organization, because that's where I want to be."
Quotes obtained from the National Post.
Twitter: @LukasHardonk | Email: lukas.hardonk@gmail.com | Lukas' archive
For every Leafs article on THW, follow @THW_MapleLeafs on Twitter.