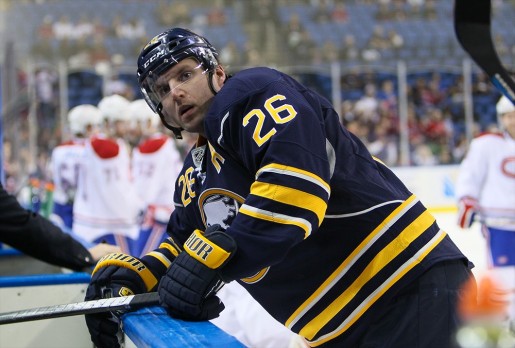 The Buffalo Sabres are 21 games into their season and are quickly approaching the midway point. Despite two straight wins over the Florida teams this past week, Buffalo still find themselves 14th in the Eastern Conference Standings. Since firing Lindy Ruff, the team has played .500 hockey under interim head coach Ron Rolston. Even though this has been a positive, it is simply not good enough when you consider the number of teams they need to jump to make the playoffs, the three-point games and the racetrack that is quickly running out ahead of them.
"We don't have to kid ourselves," said winger Thomas Vanek. "We have what, 29 games left? We probably have to win 21 of them to even have a chance."
This quote by Vanek was taken last week and sums up the situation, .500 hockey might be good enough for teams who got out to strong starts but for the Sabres, it won't get them to the dance.
After General manager Darcy Regier made the move behind the bench, he was quoted at the press conference saying, "There are more changes to come, if we can make our club better."
The Reality
That statement along with recent results begs the question: could the Sabres soon become sellers and just when will they make that call?
As much as people in the organization, specifically Regier for the sake of his job, want to cling to the hope that they can somehow get to the playoffs the reality is this year may have to be written off. The Sabres need many things to go right for them and a lot to go wrong for the rest of the conference.
With that being said, it brings us back to Regier. When does he realize it is not the year and can he put together a convincing enough argument to ownership to allow him to start retooling for next year?
Looking Ahead
Finishing low in the standings and earning a high draft pick may not be a bad thing. Many scouts consider the 2013 draft a very strong one. Looking at a mock draft from The Hockey Writers' own Chris Ralph, the Sabres could land another centre, which they desperately need considering their league-worst 45.8 per cent rating in the dot.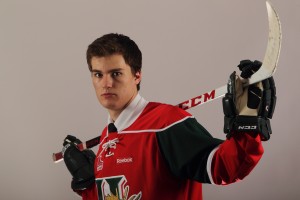 Depending on how the lottery pans out, given the Sabres current position they could be in position to draft Jonathan Drouin, Aleksander Barkov, or Sean Monahan. In fact, six center-eligible players are listed in the top ten, which would directly help the Sabres moving forward.
The tough part about looking ahead is that ownership and fans want to win now and it could be a tough sell to both.
Possible Trade Bait
Let's consider that Regier is able to persuade ownership to let him look forward and rebuild the team, who could be on the move?
Beginning up front two current roster players are unrestricted free agents after this season. The first is Jochen Hecht, one of the former coach's favorite players. Hecht has been a long-time Sabre but the fact is that, much like this Sabres season, he is running out of racetrack on his career. Hecht is 35-years-old, but could have value to a contending team. He has shown the ability to be a defensive player who can be an asset on the penalty kill, especially since he has a 0 plus/minus rating on this team. His faceoff percentage could be better than his current 41.2, but he is a veteran guy and teams always need that in the playoffs.
John Scott is the only other player set to be a UFA, but unless a team sees a matchup against a very physical team the Sabres probably are not getting too much in return.
On defense, things get very interesting with four players set to become UFAs and two set to become RFAs. Robyn Regehr, Jordan Leopold, Adam Pardy and Alex Sulzer are all set to become UFAs and Mike Weber and TJ Brennen are the potential RFAs. This is where the majority of interest could come. Teams are desperate for defenseman and could see some value in adding these guys for a run.
Take a guy like Regehr, who has been part of a playoff run, and if used properly could be a valuable 3-4 for a contending team. Leopold still has offensive upside and teams are always looking for that guy who can move the puck and jump up into the rush. The issue with both of these two is that they are both north of 30 and have had injury issues this season, Leopold missed his fourth-straight against Florida on Feb. 28 with an upper body injury. Pardy has only seen action in three games this season making his marketability limited.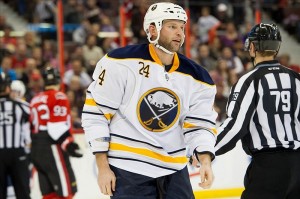 As for Sulzer, he too is dealing with a lower body injury, and is on the injured reserve.
If the decision is made to go in a new direction, spaces need to be made on the blue line to see what exactly the Sabres system has. There are many young defensemen in the system who need to be given the chance to prove they can be every-day players. Other than Weber and Brennen, there are Brayden McNabb, Drew Schiestel, Jerome Gauthier-Leduc and more who the Sabres need to evaluate. Not to mention young Jake McCabe, who was lights out for Team USA at the World Juniors.
That brings us to the net. Jhonas Enroth is a RFA at season's end but based on his 2013 performance, it is likely only a team needing an upgrade at back-up goalie would have interest. As for Ryan Miller, many have speculated that, based on recent comments to the media, he has mentally checked out of Buffalo.
A recent article in The Hockey News suggested it may be time to trade him. While Miller is not getting any younger this may not be the best market for him. The article suggests that there isn't much in the goaltending market, but consider this: Vancouver will have to make a decision on their Roberto Luongo/Cory Schneider situation, Viktor Fasth just received a contract extension in Anaheim (which could make Jonas Hiller available), Calgary will eventually come to the conclusion that they need to rebuild, and if teams are looking for a young goalie to build around, the Kings have Jonathan Bernier, who is set to be a RFA. So the timing to move a goalie may not be right now if they want to maximize their return.
With all that being said, the Sabres are approaching a crossroads and will need to make decisions quickly. There are three possibilities. The truly optimistic will hope that the team can turn things around and sneak into the playoffs. But the two more realistic situations are that the Sabres stand pat and miss out on the playoffs and have nothing to show for it in the offseason or they can begin a rebuild and set themselves up for years to come.