The Toronto Maple Leafs have officially entered year three of their monumental rebuild — a rebuild aiming to transform the franchise from worst team in the league to a worthy Stanley Cup contender. Lately, Maple Leafs President Brendan Shanahan has taken a step back from the center stage, allowing more of Mike Babcock, the club's head coach and chief designer, to be seen and heard.
The Leafs' visionary seeks to give fans back what was once theirs. That is a legacy and something to be proud of. His first steps in the rebuilding process birthed an arsenal of young players. Now, Toronto is starting to look just as jacked as the Edmonton Oilers. Although his team's age, size, and experience are working against him, it's only temporary. In the potter's hands, a new identity is forming none the less.
One of the few questions remaining for the Toronto Maple Leafs is when will they be ready to compete for the Stanley Cup? Will it be this year? Or is it still a few years down the road?
Evidence suggests it's not this year.
In a recent article published by The Editor-in-Leaf, 'Babcock is Mishandling the Leafs Defence,' author Tim Chiasson voiced his dissatisfaction with Babcock's decision not to give majority ice time to the team's best players. In their game against the Winnipeg Jets on Oct. 19, Chiasson believes the Leafs defensive pairings were set up for failure. Morgan Rielly got more ice time than Toronto's best defenseman, Jake Gardiner. Furthermore, Gardiner was paired with Martin Marincin, a player not suitable for the first line.
Hear from coach Mike Babcock following the Leafs game in Winnipeg: https://t.co/GtDldRrfms#TMLtalk

— Toronto Maple Leafs (@MapleLeafs) October 20, 2016
This makes sense if Babcock intends to wait another year before taking a serious run at the Cup. After all, the goal of not improving last year landed the Leafs the first pick in the 2016 Draft. The reason Babcock is intentionally giving his best players less ice time might be in an effort to develop the others faster.
Perhaps this theory can also explain why Mitch Marner is currently playing on the Leafs roster too. Maybe Marner's presence can also explain the signing of Seth Griffith.
Griffith's Impact on the Maple Leafs
Griffith was considered to be one of the best players in the American Hockey League last year, finishing the 2015-16 season in second for most points. Expectations of the 2012 Boston Bruins' pick had always been high, especially since he left his career with the Ontario Hockey League's London Knights as their leading scorer in 2013.
In all fairness, Griffith has been on the verge of an NHL breakthrough for the last two years. In the 2015-16 season, his point production rate was 1.35 over the course of 57 games with Boston's AHL affiliate team, the Providence Bruins. He even played in four NHL games and got one assist that year.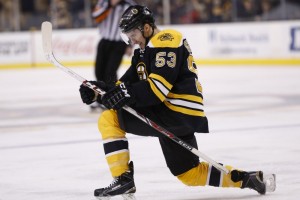 What makes Griffith's situation so unique is that he hasn't been able to translate this success at the NHL level. He played in 30 games with the Bruins in 2014-15, yet only scored six goals and registered 10 points. Unable to harness his full potential, the unwavering question for Griffith isn't when, but will he ever be ready to play in the NHL?
The Bruins didn't think so and they put him on waivers on October 11th, which allowed Babcock to sign him. This now draws new questions about the Leafs. The first is, why another player? They already have four centremen, four left wingers, and four right wingers. Maybe his signing has something to do with Marner's projected length of stay?
Nov. 1 Marks Marner's 10th Game
Assuming Marner plays in all remaining October games, Babcock will have to make a decision on whether or not to keep him in the NHL or send him back to major junior. Their game against the New York Islanders on October 30th marks the ninth and last game the Leafs have to evaluate Marner before his entry-level contract kicks in, according to the NHL's Collective Bargaining Agreement. There's absolutely no doubt Marner is an extremely talented player, which he's demonstrated throughout the 2016-17 season so far:
https://www.youtube.com/watch?v=enPnSW6aYhY
Marner has a higher than average hockey caliber compared to most players his age, but that isn't affecting his readiness to play a full season in the NHL right now. Unfortunately, his size still makes him prone to injury. That's not criticism. It's a stated fact. Even though he's 6-feet tall now, he only weighs 170 pounds, which is still lighter than Patrick Kane was in 2007 when he started his NHL career weighing only 173 pounds.
The issue with players this small is they're easily knocked down and pushed over. Take a look at Connor McDavid for instance. McDavid isn't as small as Marner, but he is just as young. On Nov. 3, 2015, the Oilers played against the Philadelphia Flyers when McDavid was crushed into the boards behind the Flyers' net. The impact broke his left clavicle, which resulted in surgery and three months out of the game.
As you can see, the collision didn't look like a deliberate attempt to hit McDavid. Flyers' defenseman Brandon Manning (23), one of the players involved in the collision, showed his concern by kneeling beside the phenomenon immediately after impact. Obviously, this was an accident. In a press conference, Oilers' general manager, Peter Chiarelli, said the silver lining was McDavid's youth. 
---
Complete Maple Leafs Coverage From THW
---
Accident Prevention Relies on Size
This is what the Maple Leafs don't want to happen to Marner, who's 25 pounds lighter than McDavid was at the time of this injury. That's a huge difference in size. On top of that, Marner's projected role on the roster involves a lot of physical play.
The Leafs strategy relies on moving the puck to set up shots, then battling for tip-ins and rebounds. –Toronto Star
Marner is in no physical position to be assigned a battling role with the Leafs, so where does he currently fit into their strategy? This could be where Griffith plays a role.
Once November hits, we'll know for sure. Marner may very well be sent back to the OHL and Babcock will shuffle up the lines again. For now, he is gaining valuable experience in the NHL, along with a whole slew of other young players.