It was a much-anticipated return for Windsor Spitfires' forwards Logan Brown and Gabriel Vilardi and they certainly made the most of it.
The duo returned to the Spitfires' lineup on Wednesday for the first time in nearly 40-days, picking up right where they left off.
Brown suffered a wrist injury in a game against the Flint Firebirds on Nov. 12. While the play looked harmless, it created some havoc for the Ottawa Senators' 2016 first-round selection. Brown ended up sitting for well over a month, waiting patiently for the injury to heal. Prior to his injury, Brown had 21 points in 15 games.
Vilardi had has a rough go so far in 2016-17. In early August, Vilardi suffered a knee injury during training with Hockey Canada's Under-18 camp prior to the Ivan Hlinka Tournament. The injury kept him out of the Spitfires' lineup until Oct. 6. A 2017 NHL Draft Top Prospect, Vilardi got off to a near-perfect start with nine points in his first four games. He scored 22 points in 16 games before an Appendectomy forced him out of the lineup again on Nov 21.
Two Players – Two Games – Six Points
On Wednesday night in Saginaw, the two showed no rust, playing big roles in Windsor's 4-3 overtime win against the Spirit. Vilardi recorded two goals on five shots, including the game-winner, and two assists. Brown came in with two assists, one of which was on Vilardi's game winner. He also added eight shots and was 11-for-17 on the faceoff.
Here is a video of Vilardi's performance against Saginaw:
In the team's return to the WFCU Centre on Thursday, both were held off the scoresheet but combined for seven shots on net in a 2-1 loss to Kitchener.  With Julius Nattinen and Mikhail Sergachev at the World Juniors, adding Vilardi and Brown as soon as possible was vital for the team.
Creating Offensive Depth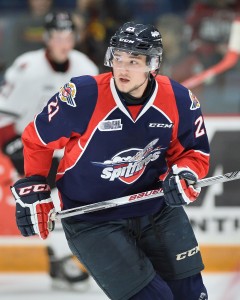 The Spitfires boast one of the strongest potential offenses in the league this season. Players like Sergachev, Nattinen and Jeremiah Addison, all NHL prospects, will be prominent in anything Windsor does offensively.
Brown (pictured, right) is also a crucial piece of the puzzle.  An offensive center is what Windsor needs and having Brown playing his game gives Windsor some lethal production up front.
Vilardi is a potential Top 5 NHL Draft pick for the upcoming draft. Coming back with strong performances ensures he maintains his status and shows the NHL he's not going to be kept down. He has also become a leader on the ice, using his size effectively in the offensive zone.
The productive returns also help Windsor as they can maintain position with contenders in the highly-competitive Western Conference. Windsor is in a fight for both the division and conference titles. After their lengthy road trip, the team showed they can keep competitive with the best in the league. However, the more offensive depth they add, the better shot they have at staying in the race.
Windsor has rarely been able to produce a full roster this season. With two key producers back in the lineup, though, it's one less thing for the team to worry about as the playoff push continues.